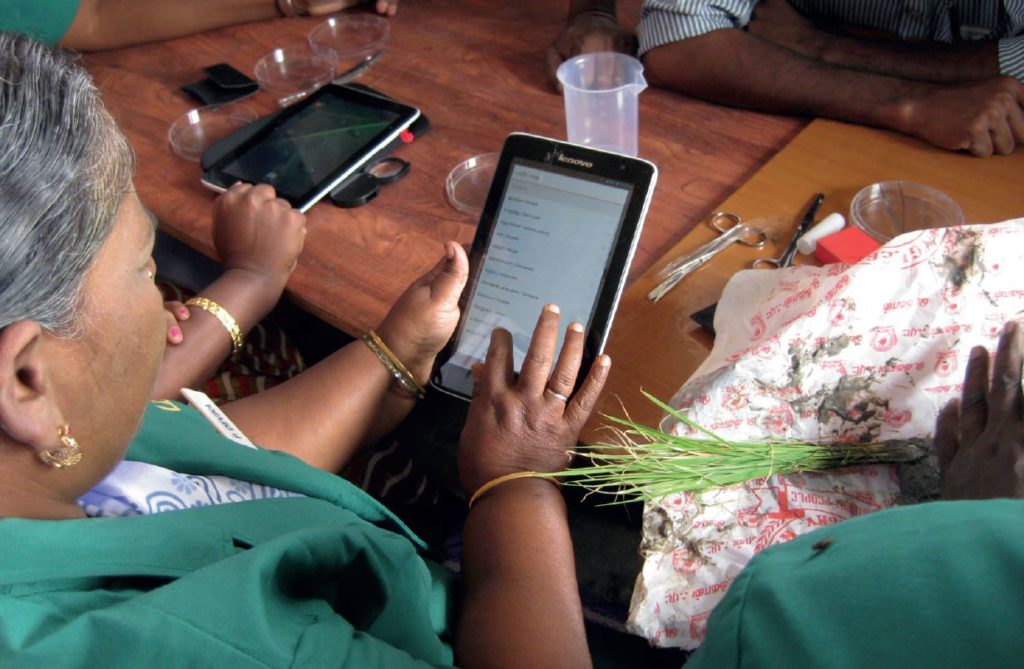 Each year on November 10th, World Science Day for Peace and Development celebrates the significance of science in daily life and the importance of involving the public in scientific developments and debates. This year, the theme for World Science Day for Peace and Development is "Open science, leaving no one behind". The concept of "Open Science" is to make the process, outputs and benefits of science accessible to all, helping to close the gaps between different countries and regions with respect to access to the benefits from science, technology and innovation. CABI is continuously working to ensure that key tools and research needed to solve problems in agriculture and the environment are freely available to those who need it most though our range of open access tools and resources.
Plantwise Knowledge Bank – The CABI-led Plantwise programme, which focuses on reducing crop loss by controlling pests and diseases, has developed an open access knowledge bank containing thousands of actionable plant health information resources. These resources support extension workers, both within and outside of the Plantwise programme, to make safe, effective and practical recommendations to farmers who often have no access to this information. The knowledge bank also collects, analyses, and disseminates pest data, linking everyone in the plant health system together. The knowledge bank has a global reach, with content available in more than 80 languages available online or offline via the Plantwise factsheet app.
Invasive Species Compendium – Part of CABI's encyclopaedic Compendia series, the Invasive Species Compendium (ISC) delivers comprehensive information on the identification, biology, distribution, impact and management of the world's invasive plants and animals. Developed by CABI with support from a consortium of partners, it offers extensive peer-reviewed content on invasive species from all taxonomic groups and ecosystems. The ISC, through development under the Action on Invasives programme, also includes dedicated portals for priority invasive species, Fall armyworm, Tuta absoluta, and Parthenium weed. These portals allow easy access to information, images and distribution for these high priority invasive pests.
Horizon Scanning Tool – Using host, distribution and other information from the ISC, the Horizon Scanning Tool (HST) helps users to identify and categorize species that might enter a particular country from another country. The tool generates a list of species that are absent from the selected 'area at risk', which can be used to prioritize invasive species for detailed risk assessment, surveillance, public awareness, or prevention.
Open Access Books – CABI's open access book programme publishes across a range of subject areas within applied life sciences and tourism, removing barriers to the access of research and knowledge. To achieve this, CABI works for and with universities, national research and extension institutions, development agencies, the private sector, national and local governments, charities and foundations, farmers and NGOs. Popular titles include Agriculture for Improved Nutrition, Fertilizer Use Optimization in Sub-Saharan Africa, and Guide to the Naturalized and Invasive Plants of Eastern Africa (also available as a free Android app).
By delivering scientific information to those most in need, CABI aims to use Open Science to achieve its mission of solving problems in agriculture and the environment. In order to develop tools that are widely used and make a difference to people's lives, each product relies on the feedback of real users around the world. If you have any queries about any of the above tools, please contact us.
Related News & Blogs
Photo credit: Samurdhi Ranasinghe / IWMI Insufficient resources mean that management of invasive species in Sri Lanka are lacking. Climate change, trade and travel have increased the risk of invasive species in Sri Lanka. Invasive species create disrup…
21 April 2023