Invasive species pose a massive economic challenge in many countries around the world. Invasive weeds, insects and other animal pests, and plant and animal diseases have been introduced to regions outside their native distribution and, in the absence of sufficient natural control, are negatively impacting agriculture, forestry, livestock, aquaculture or delicate natural habitats.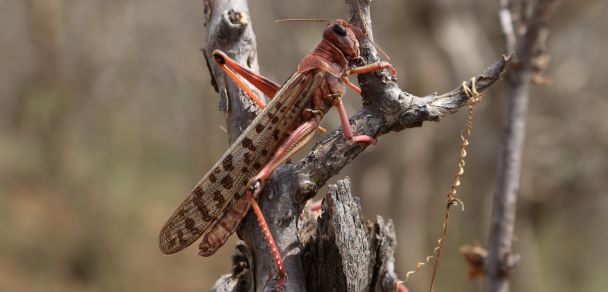 Invasive species particularly affect people living in low- to middle-income countries who depend on natural resources, healthy ecosystems, trade and tourism for their livelihoods. Millions of the world's most vulnerable people, including many smallholder famers in the Global South, face problems caused by invasive species.
Recognising the urgent need for action to reduce the damage caused by invasive species CABI joined forces with the US Department of Agriculture and other partners, to develop the Invasive Species Compendium. The ISC was launched as an open access compendium in 2012. This encyclopaedic online resource aims to provide people working in invasive species management, from researchers to policy makers, with a wide range of science-based information to enable evidence-based decision making.
In 2021, CABI published a working paper on the Assessment of the Use and Benefits of the Invasive Species Compendium. We take a look at some of the highlights of this paper.
The growing use of e-resources to tackle invasive species
Information sharing is critical to addressing the global threat of invasive species. The use of e-resources such as the ISC to deliver information worldwide forms an important part of invasive species management. Advantages include quick access to current and relevant information that may not be available through other means.
While there are several online resources that provide information about invasive species, including the ISC, there has been limited work to assess these websites. Do they provide up-to-date information; what is the extent of their global coverage; and how users perceive their usefulness?
The working paper assesses these factors for the ISC, analysing usage statistics, data from three user surveys and information from key informant interviews. Our findings revealed that the ISC is highly regarded by users, in particular researchers, who value open access to reliable and up-to-date information. The information is particularly valuable to those working in the Global South.
Since January 2019, there have been 3.3 million users of the ISC (52.8% women), visiting nearly 5 million times. Surveys indicate that research and identification of species were the top uses of the ISC by survey respondents. Other frequent uses included policy development, awareness raising, management and risk assessment/analysis.
When asked about the benefits of the ISC, those surveyed responded that it provided quick access to relevant information (17.6%) and that it provided accurate and up-to-date information (13.4%). One respondent stated that "the ISC contains a lot of current and relevant information on invasive species" and that the collection and collation of relevant publications "makes it convenient for researchers and scientists to access information on one platform".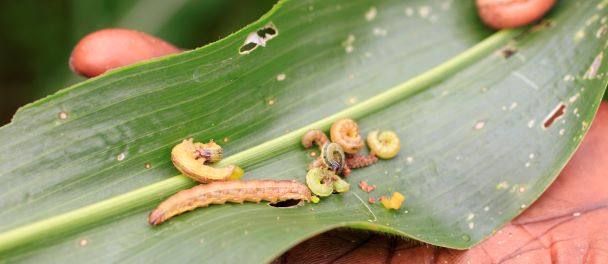 The ISC has been especially useful for those needing to learn about the invasive crop pest, fall armyworm (Spodoptera frugiperda). Native to the Americas, the first sightings of this pest came in early 2016 in West Africa. By 2017, it had spread to most of the rest of Africa. By 2018, it had spread to Asia and, by 2020, to Australia. Analysis of specific use of the ISC shows that the fall armyworm datasheet has been visited the most over the last three years with over 57,000 page views.
The ISC has also helped in the management of an exotic fruit fly programme in South Africa. Due to budget constraints, the open access ISC was used throughout the programme. ISC information was used to develop phytosanitary controls and regulations to govern the movement of host species and infested fruit within South Africa and across borders.
So far, the programme has proved a great success, and CABI has played its role in that, due to the ISC, states Dr Venter, who manages the Plant Health Early Warning section of the Department of Agriculture in South Africa. He explains that accessing the ISC is the starting point for research, and it saves a huge amount of time and effort.
Developing the ISC
Since 2018, CABI's Action on Invasives programme has been supporting and enhancing the ISC. Over time, new features and tools have been added including the interactive species distribution maps, the Horizon Scanning Tool and species portals on particularly devastating crop pests such as fall armyworm.
Going forward, it is critical that the ISC remains an open access resource, with sufficient funding to ensure it is continuously updated. This will enable researchers in the Global South to continue to access key data and literature, while concentrating resources on fieldwork, pest risk analysis, management and control.
See working paper #20 on 'Assessment of the Use and Benefits of the Invasive Species Compendium' in full here.
Read more about CABI's work in invasive species management here.
Related News & Blogs
A potentially game-changing approach used by CABI scientists in Switzerland could help populations detect Asian hornet nests and destroy them
25 August 2023