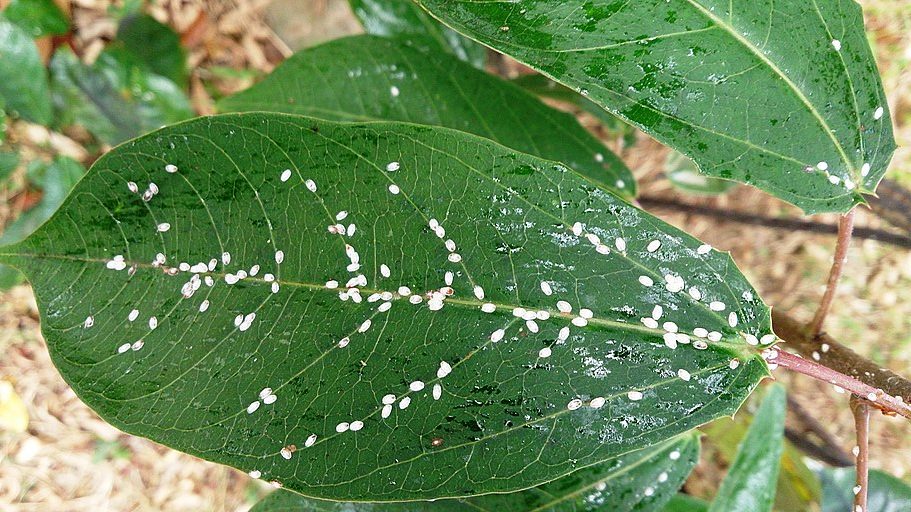 Scale insects are a group of very small insects that often don't look like an average plant pest, but they are a growing problem in countries like Kenya. The pests attack important crops and plants that are integral to the country's economy such as coffee, citrus and mango and in some cases have been known to cause devastating crop yield losses of 91%.
The small insects, specifically the adult females, typically have soft bodies, sometimes no limbs, and may be concealed on the underside of plants meaning they often go unnoticed, or are misdiagnosed as a disease. They attack by inserting their tiny, straw-like mouthparts into the bark, fruit, or leaves.
Knowledge of a pest identity is critical in their proper management. As smallholder farmers often don't know what the issue is when dealing with scale insects, cases of misdiagnosis always arise. This is further compounded by the low taxonomic capacity (farmers and extensionists) of scale insects in the country. In desperation, this can result in inappropriate pesticides use by farmers. This does not resolve the plant's pest problem and further exacerbates the problem by causing unnecessary damage to beneficial organisms such as natural enemies and pollinators in addition to the negative impacts on human health and environmental safety.
To help tackle the growing problem of scale insects in Kenya, scientists at CABI, led by project manager and Scientist-Agricultural Economist Monica Kansiime, have created comprehensive information packages for those involved in helping to tackle the scale insect problem or who are directly dealing with scale insect pests in Kenya, such as smallholder farmers, extension workers or policy makers.
Project manager Kansiime said, "This project is vitally important, especially for smallholder farmers and foresters, who are at risk of yield and income loss, and yet their awareness of scale insects is low to non-existent."
So far, both the fact sheet and photo guides have been created and are hosted on the CABI 'Addressing scale insect threats in Kenya' project page, providing in-depth detail on pests, what they looks like, how to identify what pest you are dealing with, and importantly, how to manage them. Hard copies of the same have also been distributed to stakeholders in selected counties of the country. Additional to the guide sheets produced, CABI have provided training for 15 taxonomists in scale insect collection and handling, preservation, slide mounting and identification.
To further address the problem, future efforts CABI takes part in will be focused on conducting surveys in Kenya to establish knowledge on managing and identifying scale insects, developing a distribution map, and engaging research and policy makers.
The project is funded by The Darwin Initiative – a UK government grants scheme that helps to protect biodiversity and the natural environment through locally based projects worldwide – and includes a comprehensive overview of scale insects with easy-to-read fact sheets and importantly, photo guides. Helpfully, the information can be downloaded and kept for offline and future use.
For facts sheets and photo guides, visit: Addressing scale insect threats in Kenya
Related News & Blogs
Flattened spotted lanternflies fill the streets of New York City as civilians join the race to stop the pests. Credit: Ali Cherkis for The New York Times Across New York City, large marks and smears of red-like paint are lining the streets. They're app…
26 September 2023