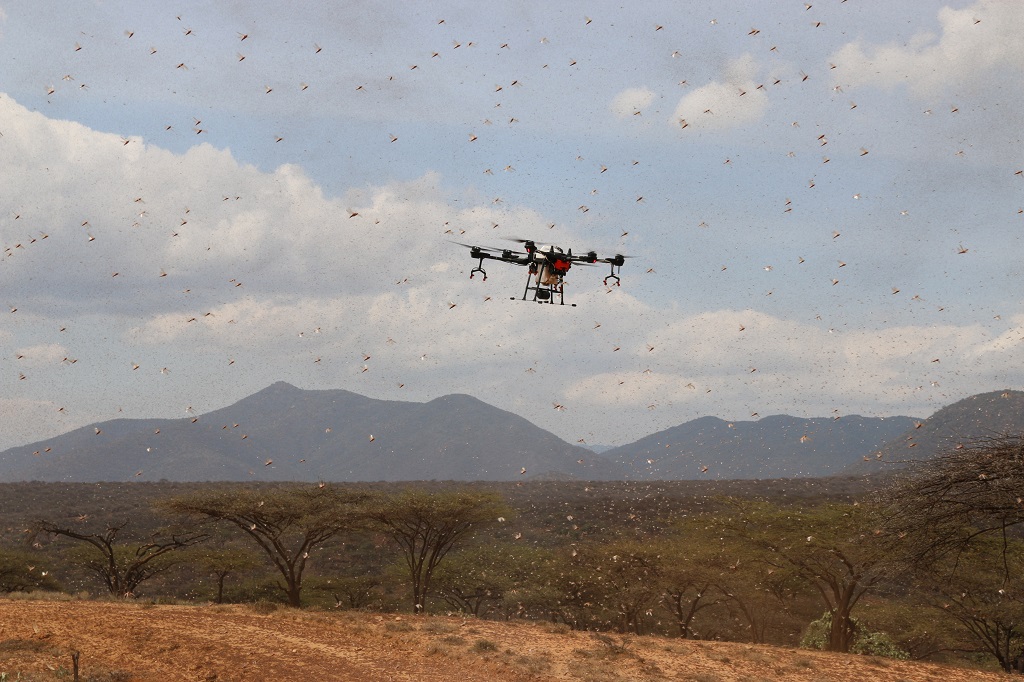 A partnership between CABI and Astral-Aerial is piloting the use of drones for the control of desert locust (Schistocerca gregaria). Funded by UK Foreign, Commonwealth and Development Office (FCDO) through the Frontier Technologies Hub, the approach targets roosting populations of small swarms that are not feasible to spray by other means such as aircraft, or vehicle mounted sprayers.
Swarms of millions of locusts have decimated crops in many parts of Africa, Asia and the Middle East leaving behind ravaged fields and putting livelihoods and food security at severe risk. In East Africa alone, around 20 million people face acute food insecurity due to desert locust outbreaks.
In this pilot project being implemented at Samburu in Western Kenya, drones will combine technology and local expertise to spray and kill the swarms. Each drone has the capacity to cover 22 acres per hour, operate for up to 10 hours a day, and carry up to 16 litres of spray solution for every spray run. The drones can target otherwise inaccessible areas like roosting locusts atop trees; inaccessible areas or agricultural and inhabited areas unsuitable for aircraft.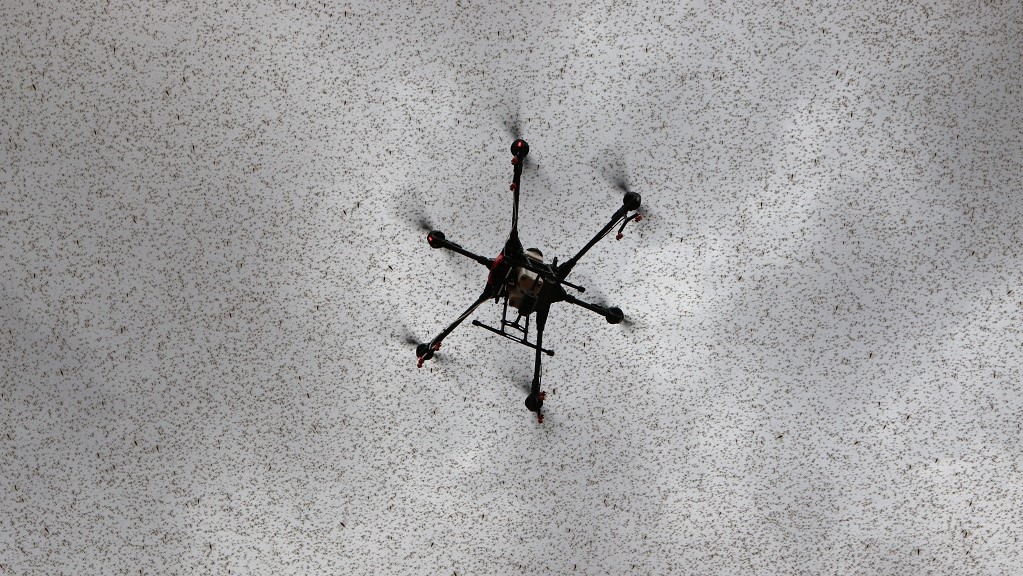 The pilot project will test the effectiveness of this approach, which uses environmentally-friendly insecticides, to complement the ongoing aerial and ground efforts to efforts to combat the desert locust. In addition, it will develop Standard Operating Procedures (SOPs) for the safe and effective use of drones, as well as optimizing the operating parameters for more effective control of the desert locust. The same SOPs may be adaptable to deploying a wider range of safer biopesticide options.
Once completed, the pilot looks to scale up with more drones for spraying in a swarm formation and will look to spray swarms in other locations in East Africa where locusts have invaded.
According to the CABI project manager, Dr Ivan Rwomushana, drones not only have the potential for surveillance but for control operations targeting small swarms.
"Through this pilot project, we aim to develop guidelines that could be adopted for the safe, effective and efficient use of drones in spray operations. We also aim to determine the cost-benefit for drone-use compared to other widely-used control measures," he said.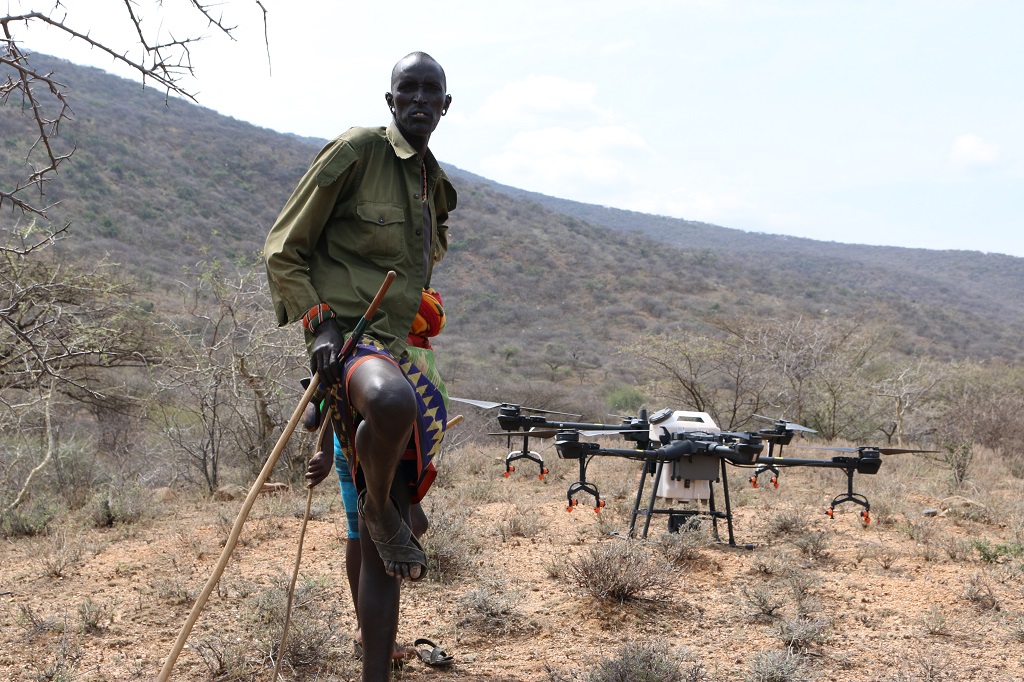 Although the exact causes of the recently seen sporadic locusts swarms are not fully understood, it is widely agreed to be linked to favourable climatic conditions such as high rainfall and warm temperatures. Given the global backdrop of climate change, swarms like these could become more regular and if left unchecked locust numbers could grow exponentially to hundreds of millions.
CABI is committed to building capacity and resilience in smallholder farming communities against climate shocks and the consequences such as the current desert locust crisis.
Find out more on the CABI Project Page: Drones for desert locust control in East Africa
Read more:
A plague during a pandemic: How to increase resilience against the desert locust outbreak
Deploying drones to tackle desert locust swarms in East Africa
All photos © Ivan Rwomushana, CABI
Related News & Blogs
The tiny water lettuce weevil (Neohydronomus affinis) is having a mighty impact curbing invasive water lettuce (Pistia stratiotes L.), which has been threatening the rich biodiversity of Kenya's Maasai-Mara ecosystem. Water lettuce was originally intro…
1 February 2023