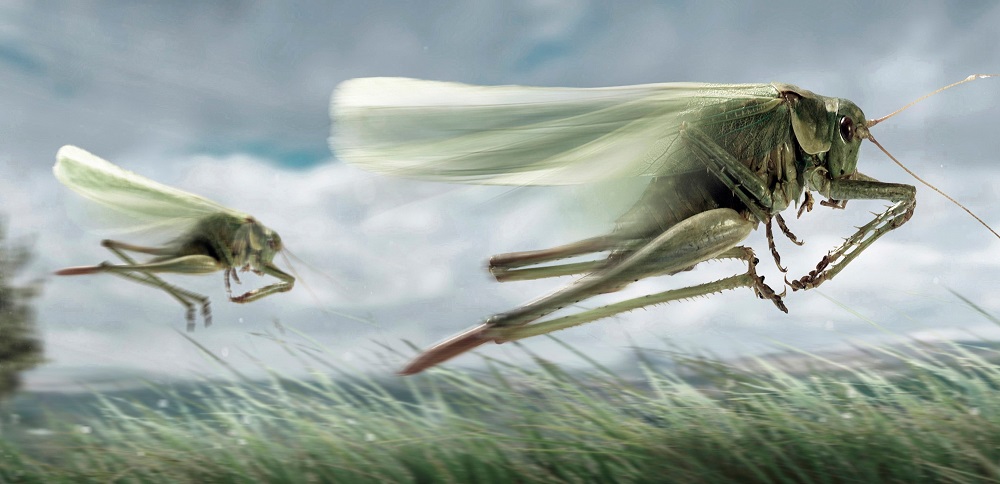 Today is Earth Day – a day when people around the world show their support for environmental protection. CABI's vision is for a world in which the agricultural sector is embedded in a healthy and climate resilient landscape with clean water and air, healthy soils and functional ecosystem services, and where biodiversity is safeguarded through the control of invasive species.
In rural communities around the world, millions of smallholder farmers face the threat of invasive non-native species – animals, diseases and plants introduced to new habitats that spread with no natural enemies to control them. Degrading agricultural land, depleting water resources and destroying crops, invasive species negatively affect rural livelihoods and, after habitat loss, have been identified as the second greatest threat to biodiversity.
As climate change continues and the planet warms, we can expect the threat of invasive species to worsen, driving changes in the distribution of invasive pests and weeds and potentially weakening ecosystems' resilience to attacks. Climate change adversely affects ecosystems, changing pests' life cycles and creating new niches for plant diseases and pests to thrive.
In 2021, the International Plant Protection Convention (IPPC) reported on these changes, producing a guidance note on plant health and climate change where it summarised links between climate change hazards and disease and pest risks. The report states that climate change increases the risk of diseases and pests finding 'favourable' climate conditions in places that were not habitable to them before and, consequently, spread to these areas.
In the fight against invasive species, farmers have been turning to chemical pesticides. However, these inputs can be harmful to both them and the environment.
Natural alternatives to pesticides and sustainable approaches to pest control can become an important part of the farming practices that smallholders will need to adapt to the realities of climate change. From biological pesticides, or 'biopesticides', to integrated pest management (broad-based and long-term approaches to reducing pests using fewer chemical inputs) and integrated crop management, these practices are safer for farmers and better for the environment.
Through our work with donors and partners, we are helping to manage the spread of invasive species, a problem that costs the world almost 5% of global gross domestic product or an estimated US$1.4 trillion per year. CABI supports farmers and other stakeholders to identify and prioritise nature-based solutions which help them to address the variety of hazards they face, including adapting to climate change and tackling invasive pests and weeds.
Below are some of CABI's many programmes, projects and tools that help farmers tackle invasive species using sustainable agricultural approaches.
Action on Invasives
CABI's global Action on Invasives programme aims to protect and improve the livelihoods of rural communities through an environmentally sustainable, regional and cross-sectoral approach to managing invasive species. The programme has helped to share best practice on the invasive fall armyworm as well as the desert locust, and advise countries like Pakistan on their invasive species strategy.
Plantwise
In 2011, CABI pioneered the global food security programme, Plantwise, which has supported agricultural extension agents in over 30 countries to diagnose plant health issues and provide tailored agronomic advice, supported by smartphone and tablet apps. In a warming climate, which brings the threat of pest migrations, advice on how to address invasive species has become vital. Since its launch, Plantwise has supported over 54 million smallholder farmers across the world with the knowledge they need to lose less of what they grow to pests and diseases, increasing food security and improving rural livelihoods.
PRISE
CABI also pioneered advisory service approaches supported by digital tools, such as PRISE (Pest Risk Information Service), which uses historic climate data combined with live earth observation data to provide early warning advice to farmers and government agencies of likely pest outbreaks. The project aims to solve this problem by using data to help farmers manage pests in up to five countries in sub-Saharan Africa.
CABI BioProtection Portal
The CABI BioProtection Portal is an independent, go-to information resource aimed at increasing awareness and uptake of biocontrol and biopesticide products around the world. Available online and in local languages, the portal helps growers and agricultural advisors to identify, source and correctly apply registered biocontrol and biopesticide products for the management of specific pests in their crops. The resource is free to use and can be accessed on multiple devices, putting this valuable information at the fingertips of anyone who needs it.
To see more of CABI's apps and tools including the Horizon Scanning Tool, the Invasive Species Compendium and the Pest Risk Analysis Tool, click here
To see CABI's projects, click here
For more information on CABI's work on climate change and biodiversity, click here
Related News & Blogs
Azolla filiculoides is also known as floating water fern or fairy fern. It is a small, aquatic, free-floating fern native to the warm temperate, and tropical regions of the Americas. The species has been introduced around the globe: to Australia, New Z…
19 May 2023