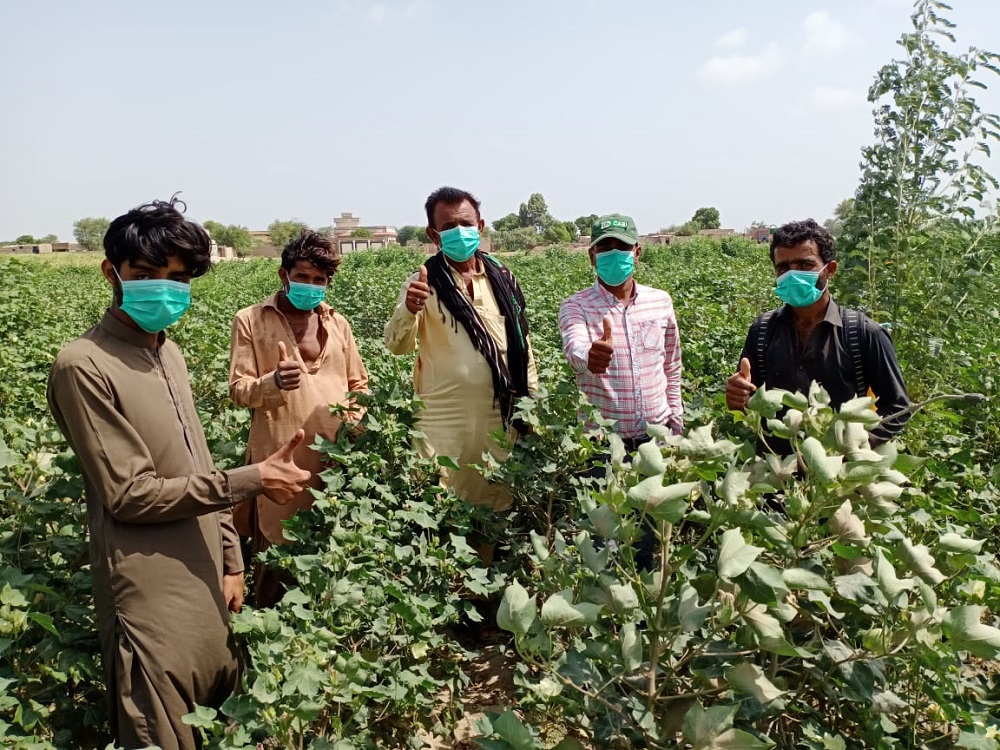 This is the story of farmer Mr Naveed Ayoub from district Tando Allahyar, Pakistan. He has 10 acres of fertile land where he has cultivated all kinds of vegetables along with cotton crops for many years. He previously felt he had no choice but to use chemical pesticides to control pests on his farm but he is now prepared to use safer alternatives that are cost effective and environmentally friendly.
Cotton is Pakistan's largest industrial sector and has played an important role in the economic development of the country and remains a key livelihood source for more than one million farmers.
However, the misuse of pesticides and water, the inappropriate use of chemical fertilizers, transportation and storage problems as well as gaps in knowledge and skills have resulted in the industry annually losing around 10-15 percent of its value.
Better Cotton Initiative
CABI is helping Pakistan's cotton industry to reduce losses of around $350m a year through poor production, transport and storage practices by training thousands of farmers and workers as part of the Better Cotton Initiative (BCI).
Mr Ayoub said, "I was a traditional cotton grower in my town and used pesticides against farm pests. In fact, I was used to applying huge amounts of pesticides on my cotton crop because I was always afraid of pest attacks affecting my yields and profits.
"But the application of pesticides and fertilizers were draining all my savings. Also, the quality of my soil and yield was also remaining poor. It was looking like my crop and soil was negatively impacted by these synthetic chemicals.
"Furthermore, without thinking of the environmental impacts of synthetic chemicals (pesticides and fertilizers), every year I had to increase the dose of chemicals to try and gain more yield.
"Having to work in an environment which you know is making you sick is not good. And imagine that you are so poorly paid that when you got sick, you were unable to afford to pay for the medicine and healthcare which you needed."
Little or no choice about pesticides
Mr Ayoub added that despite knowing the harmful effects of pesticides, he felt he had little or no choice about using them. He said, "As I registered as a Better Cotton Initiative farmer in 2019, a CABI field facilitator gave me many trainings on good agriculture practices. This included a demonstration of non-chemical pest management practices, which were most definitely beneficial for me. I came to a solution that all health and wealth issues can be resolved by using organic and zero pesticide cotton."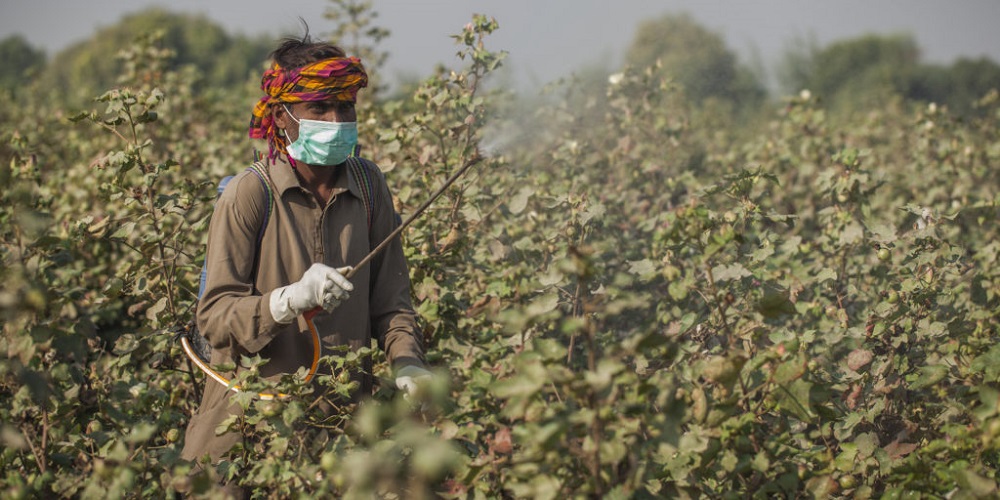 Mr Ayoub started working towards zero pesticide use on his farm. In the initial days, he used yellow sticky traps to manage the sucking pest of the cotton crop. This was instead of four applications of pesticides that would otherwise have been used for managing pests in cotton crops.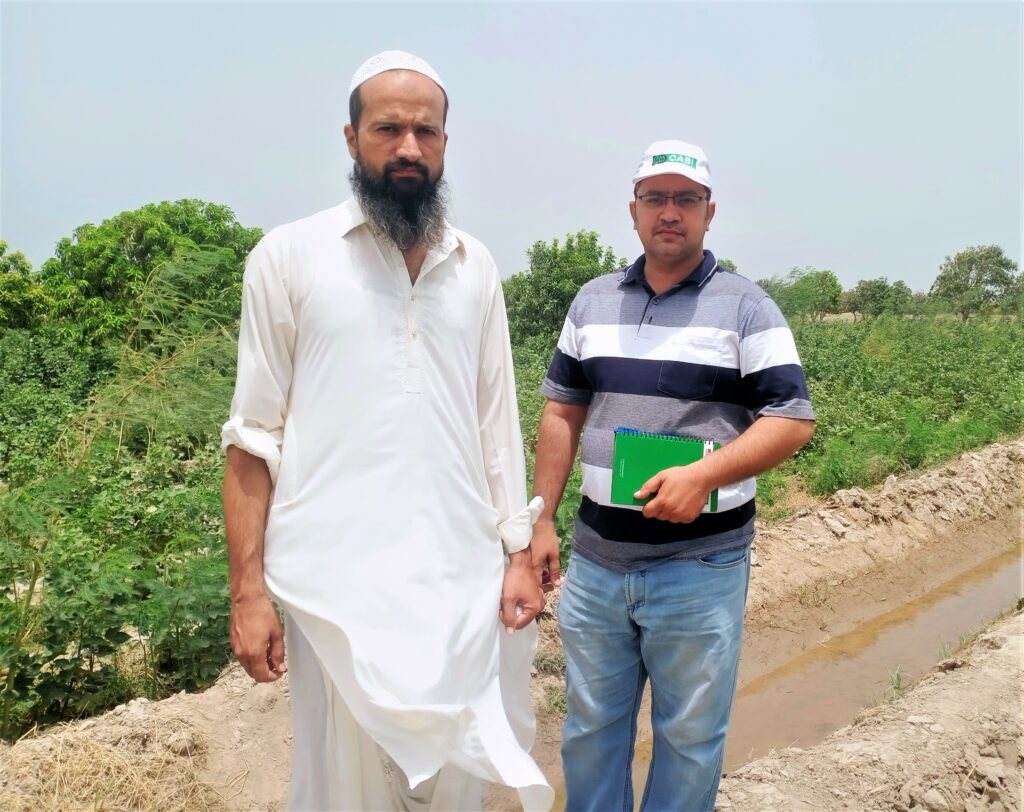 Safer alternatives
Mr Ayoub added, "We used yellow sticky trap to trap sucking pests and whitefly, this practice led to a reduction in the cost of synthetic pesticides, applications in cotton crops and it was all possible with the support of CABI team.
"By using these traps, most of the attacks of sucking pests were caught up in these traps. These yellow sticky traps are easy and cost-friendly and being a non-chemical method, they are better for the environment too.
"After experiencing good results from using the yellow sticky traps, I applied homemade botanical spray on my cotton crop. I prepared 30 litres of liquid mixture by adding 5kgs of Neem leaves, 5kgs of Akk and 5kgs of bitter gourd.
"My homemade botanical pesticide was enough to apply on 3 acres of my cotton crops which gave me immediate results of repelling the sucking pests. I now believe that chemical pesticides can be completely done away with through the effective use of biopesticides and natural methods.
"I am thankful to CABI for initiating this BCI programme in our area which is helping to educate less wealthy farming communities to save money and apply the best methods to manage crops in a more sustainable and environmentally friendly way. I am confident that after attending these training programmes, I am now better informed to apply good agricultural practices on my land.
Additional information
Main photo: Mr Naveed Ayoub's farm in district Tando Allahyar, Pakistan (Credit: CABI).
Authors:
Noor Nabi Bhutto
Umair Asghar Solangi
Hameem Mustafa
Project page
Read more how CABI has been helping Pakistan produce better cotton from the project page here.
Related News & Blogs
A potentially game-changing approach used by CABI scientists in Switzerland could help populations detect Asian hornet nests and destroy them
25 August 2023