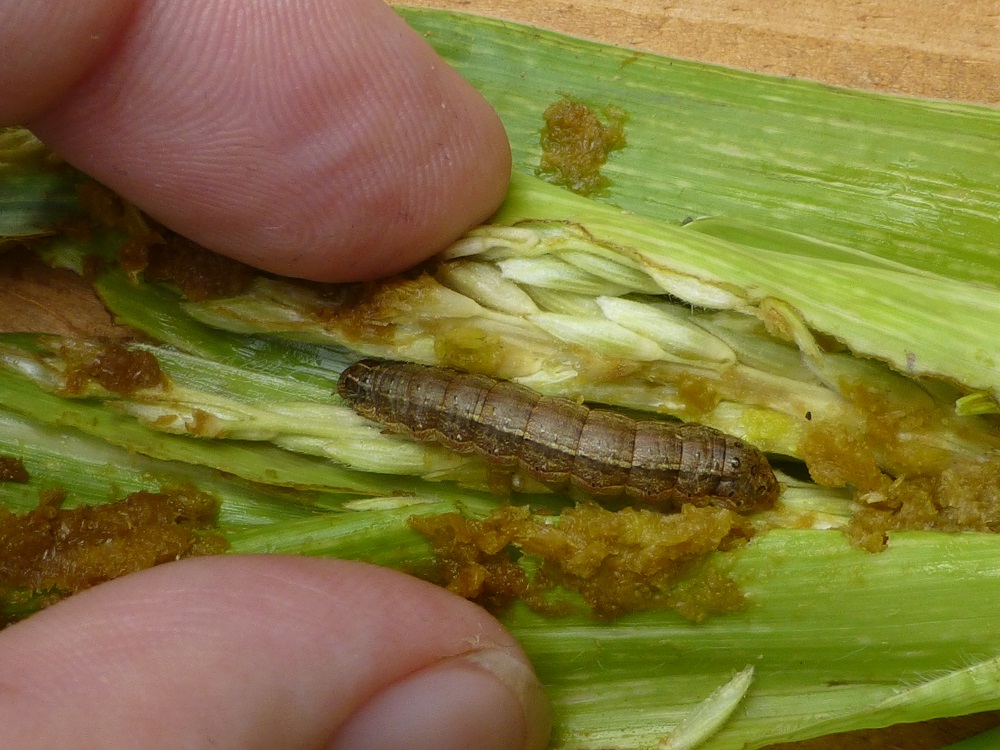 CABI scientists from its regional centre in Malaysia have collaborated on new research which suggests Asia is a 'biosecurity hotspot' and a 'genetic melting pot' for the devastating crop pest fall armyworm (Spodoptera frugiperda).
Dr Muhammad Faheem, Dr Annamalai Sivapragasam and Dr Sathis Sri Thanarajoo, have all contributed to a new paper – the abstract of which has been published on the preprint service bioRxiv – led by Dr Wee Tek Tay of CSIRO, Australia's National Science Agency.
The findings provide insights to the origin of the FAW establishment in Asia and Australia based on the genomic and genetic evidences, and the potential means of natural and/or human assisted transmissions in the countries of study.
The abstract highlights how the fall armyworm is believed to have undergone a rapid ′west-to-east′ spread since 2016 when it was first identified in western Africa. The scientists say that between 2018 and 2020, it was also recorded from South Asia (SA), Southeast Asia (SEA), East Asia (EA), and Pacific/Australia (PA).
Tay et al, in the abstract say, "Population genomic analyses enables the understanding of pathways, population sources, and gene flow in this notorious agricultural pest species".
Based on the analysis conducted using the neutral single nucleotide polymorphic (SNP) DNA markers, majority of the populations were C- and R-strain hybrids.
The analyses also observed that the SEA populations were clustered away from other Asian populations; verifying individual establishment of the pest in the region potentially through anthropogenic-assisted spread, i.e., associated with international agricultural trades. This does not concur with the earlier hypotheses; ′African origin spread′ nor the ′Myanmar source population to China′.
The findings from this study underscore the need to strengthen the existing biosecurity approaches and the phytosanitary practices in place in order to curb further spread of the destructive transboundary pest.  
Additional information
Main image: New research featuring CABI scientists suggests that Asia is a 'biosecurity hotspot' and a fall armyworm 'genetic melting pot.' (Credit: CABI).
Preprint reference*
Rahun Rane, Tom Walsh, Pauline Lenancker, Andrew Gock, Dao Thi Hang, Nguyen Van Liem, Thien Nyunt Khin, Divina Amalin, Khonesavanh Chittarath, Muhammad Faheem, Annamalai Sivapragasam, Sathis Sri Thanarajoo, Y. Andi Trisyono, Sathya Khay, Juil Kim, Lastus Kuniata, Kevin Powell, Andrew Kalyebi, Michael Otim, Karl Gordon, Wee Tek Tay, 'Complex multiple introductions drive fall armyworm invasions into Asia and Australia,' bioRxiv 2022.06.11.495773; DOI: https://doi.org/10.1101/2022.06.11.495773
*Note – CABI authors highlighted.
Related News & Blogs
The global battle against invasive pests has found a new champion with pioneering efforts to combat the fall armyworm (Spodoptera frugiperda) in India. This is thanks to a sensor-based pheromone trap – that can be operated remotely anywhere in the worl…
18 August 2023