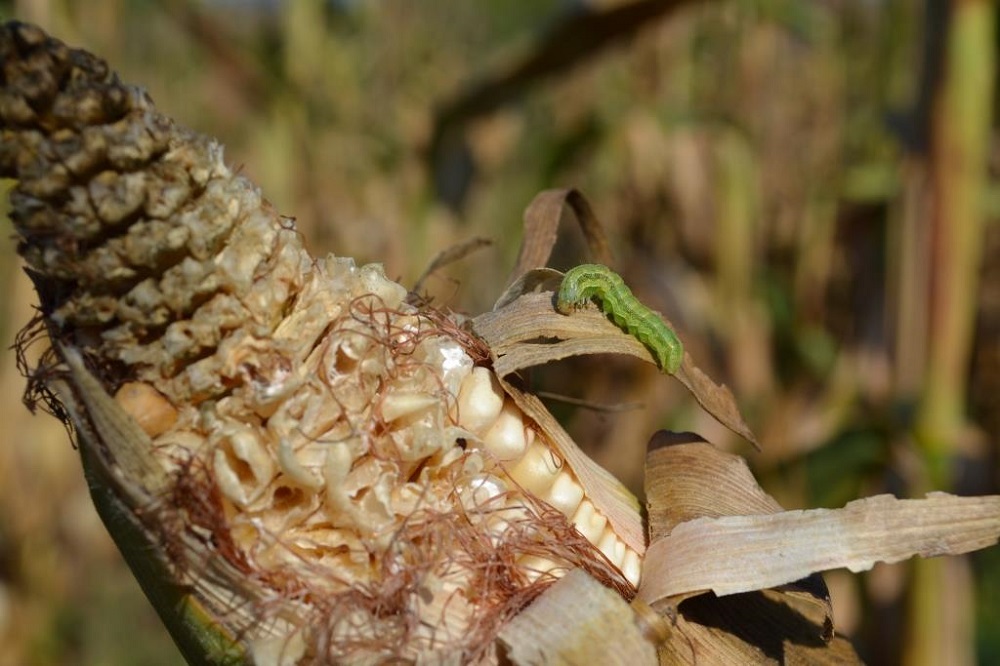 New CABI-led research, working in conjunction with the Bangladesh Agricultural Research Institute (BARI), proposes the establishment of local Biological Control Agent (BCA) hubs to fight the devastating fall armyworm pest in Bangladesh.
The scientists, who published their findings in the CABI Agriculture and Bioscience journal, say a non-linear business model could reverse the current low uptake of safer-to-use and more environmentally friendly BCAs to fight fall armyworm (Spodoptera frugiperda) by maize farmers in the country.
Pest of great concern
Fall armyworm is of great concern, as globally evidence of yield loss and economic injury from the pest in various crops – including maize, cotton, sorghum and others, has been well documented. In Bangladesh, maize cultivation has grown in importance since the 1980s and is now amongst the country's top three important crops.
Dr Mariam Kadzamira, lead author of the study, highlights how farmer uptake of BCAs in hindered by several factors. This includes the lack of BCA availability in local markets, negative farmer and agro-dealer perceptions, poor input industry linkages for the supply of BCAs products to agro-dealers and inadequate institutional finances for capacity building of and technical support by research scientists and extension agents.
Dr Kadzamira said, "Given these challenges to BCAs uptake, an innovation systems-based business model that links researchers, extensionists, agro-dealers and farmer producer organizations in a non-linear pathway is proposed for Bangladesh.
"This translates into the establishment of local BCA production hubs owner-managed by farm entrepreneurs, with scientists providing them with nucleus culture, while extension services provide technical support for quality assurance.
"The interaction between all stakeholders is non-linear with all actors intellectually consulted and engaged, with technical capacity on BCAs available for any actor requiring it."
Multi-disciplinary research
Co-author Dr Malvika Chaudhary adds that multi-disciplinary research, that takes account feedback from stakeholders, complements the process – therefore, generating robust and relevant knowledge for feedbacking to improve the business model, capacity building initiatives and farmer engagement.
The scientists argue that biological control is seen as a potential management strategy for fall armyworm as it can provide long-term control without harming the environment and human health. With the appropriate resources and effort, BCAs can be effective for the management of fall armyworm in maize as well as other at-risk crops.
Dr Chaudhary said, "Cases of local BCAs production are few but emerging globally. In Bangladesh there is no clear guidelines on the profitability and costs of establishing local BCAs production hubs by farm entrepreneurs for FAW infested areas.
"This study contributes to this as it provides insights for practitioners, governments and funders on a type of business model that can be used for establishing local BCAs production hubs.
"To fully operationalise this business model, there is need for long term financial and technical support for the Bangladesh Agricultural Research Institute (BARI), extension services as well as farmer producer organisations."
Further research needed
The researchers conclude by suggesting that further research is needed to understand and quantify the timelines when the proposed business model would become self-sustaining and the type of support that would be needed for relevant stakeholders during this time.
Other research, they say, could also focus on Gender Equality and Social Inclusion analysis, to capture gendered differences in terms of farmer perceptions, usage and knowledge of BCAs as well as farmer-willingness-to-pay.
"This will contribute towards understanding how best women's groups within Farmer Production Organisation can be supported to effectively operate local BCA production hubs," Dr Chaudhary said.
Additional information
Main image: Damaged caused to maize crop from fall armyworm (Credit: CABI).
Full paper reference
Kadzamira, M.A.T.J., Chaudhary, M., Williams, F. et al. 'A non-linear approach to the establishment of local biological control agent production units: a case study of fall armyworm in Bangladesh.' CABI Agric Biosci 3, 48 (2022). https://doi.org/10.1186/s43170-022-00115-5
The paper can be read open access here: https://rdcu.be/cSbpT
Funding acknowledgement
This study was funded as part of CABIs global Action on Invasives programme and by the CABI Development Fund (CDF). Action on Invasives is supported by the UK Foreign, Commonwealth and Development Office (FCDO) and the Netherlands Directorate General for International Cooperation (DGIS). CABI is an international intergovernmental organization, with core financial support from member countries (and lead agencies) including the United Kingdom (FCDO), China (Chinese Ministry of Agriculture and Rural Affairs), Australia (Australian Centre for International Agricultural Research), Canada (Agriculture and Agri-Food Canada), the Netherlands (DGIS) and Switzerland (Swiss Agency for Development and Cooperation).
About CABI Agriculture and Bioscience
CABI Agriculture and Bioscience (CABI A&B) publishes high quality, rigorously peer-reviewed multi-, inter- and transdisciplinary research focused on agriculture, food security, and the environment.
Global agriculture faces many challenges today. How can we produce more safe, nutritious food in the face of climate change? Can we balance greater efficiencies with the need to reduce greenhouse gas emissions and protect biodiversity? Can we meet changing market demands and yet develop more equitable economies? Can agriculture provide a livelihood and opportunities for women and young people?
These problems require increasingly complex and urgent solutions from researchers and policymakers. That is why CABI A&B is committed to encouraging an inclusive culture of scientific discussion and rapid information sharing among researchers worldwide. We publish both large and incremental advances in science in both primary and multidisciplinary fields across the biosciences, agriculture, agronomy, microbiology, social sciences, and the environment.
CABI A&B is an open access journal, with rapid peer review, making findings immediately available to all readers worldwide. We believe it will help engender a clearer understanding of facts and findings, and help challenge assumptions.
CABI A&B is the official journal of CABI – an international, inter-governmental, not-for-profit organization that improves people's lives worldwide by providing information and applying scientific expertise to solve problems in agriculture and the environment. The organization is governed by 49 Member Countries, many of which are low-income and highly dependent on agriculture to feed their population and generate income. CABI A&B's supports the organization's aim to help achieve 8 of the Sustainable Development Goals: (1) No Poverty; (2) Zero Hunger; (3) Quality Education; (5) Gender Equality; (12) Responsible Consumption and Production; (13) Climate Action; (15) Life on Land; and (17) Partnerships for the Goals. CABI A&B is integral to delivering on the organization's mission, and any surplus derived from the journal is reinvested in its international development activities.
Related News & Blogs
The global battle against invasive pests has found a new champion with pioneering efforts to combat the fall armyworm (Spodoptera frugiperda) in India. This is thanks to a sensor-based pheromone trap – that can be operated remotely anywhere in the worl…
18 August 2023