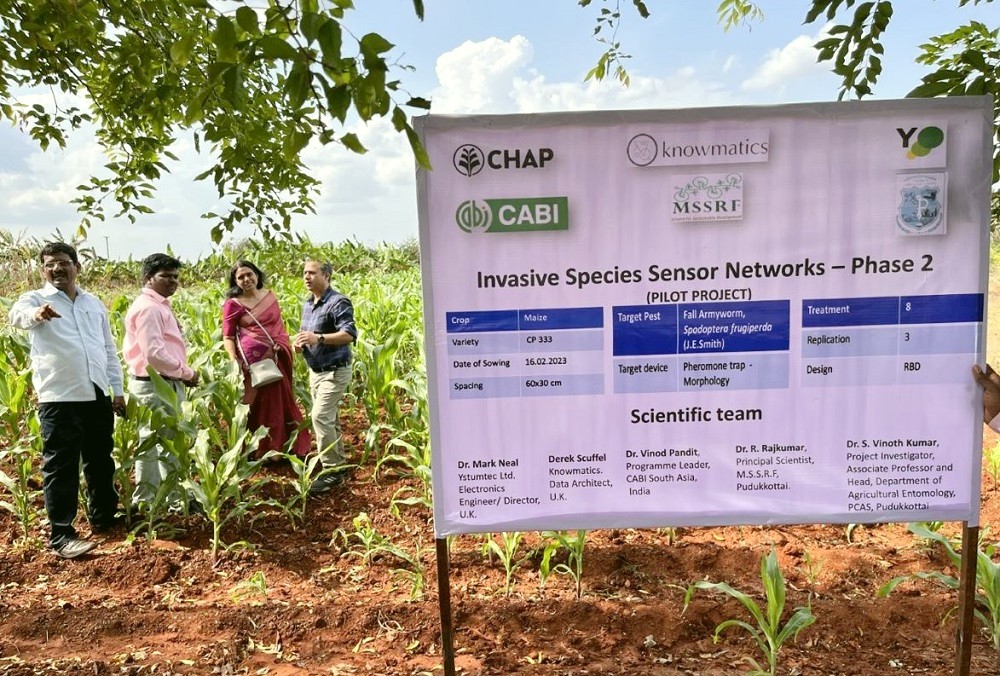 CABI is continuing its efforts working in partnership with CHAP to research remote sensor-based pheromone trap technology to help curb the threat to livelihoods and food security in India posed by the fall armyworm pest.
Invasive pests often enter into new environments or geographies unintentionally and harm local populations before they understand the approach to act against them.
One of recent invasive pest that entered into the Indian borders is the fall armyworm (Spodoptera frugiperda). This pest has led to sudden crop damage and lower maize yields and distress application of pesticides in some parts of the country.
Quick response
National governments, in collaboration with the state institutes, quickly acted and created mass awareness among the maize farming communities and followed up with standardization of protocols to manage the new pest.
Generally, public organizations run routine pest surveillance programs by visual inspections, sticky traps or pheromone traps.
However, the new pests like fall armyworm, due to different biology and behaviour, gets unnoticed during the period of entry to establishment.
It is obvious, due to limitations of pre-existing infrastructure and resources, that there is a need to monitor the entry of such pests.
CABI, together with CHAP – as part of a project funded by the UK Government through the Foreign, Commonwealth & Development Office (FCDO)'s, Science and Innovation Network in India – is continuing to explore, through a second pilot phase, the use of a sensor-based pheromone trap that can be operated remotely anywhere in the world.
Work in partnership
The work to develop a new sensor-based pheromone trap for the fall armyworm is being led by CHAP together with consortium partners CABI, food chain data specialists Knowmatics and sensor experts Ystumtec.
The project is also being delivered in conjunction with the M S Swaminathan Research Foundation (MSSRF).
Monitoring of the fall armyworm, which are caught in the automatically operated sensor-based pheromone trap, can be carried out anywhere as data is transferred from satellite to remote devices such as a mobile phone, tablet or laptop computer.
The sensor-based pheromone trap, if proven to be successful, could be used to monitor and prevent the fall armyworm from spreading as well a range of other Invasive Alien Species as part of a sentinel network or strategy in India.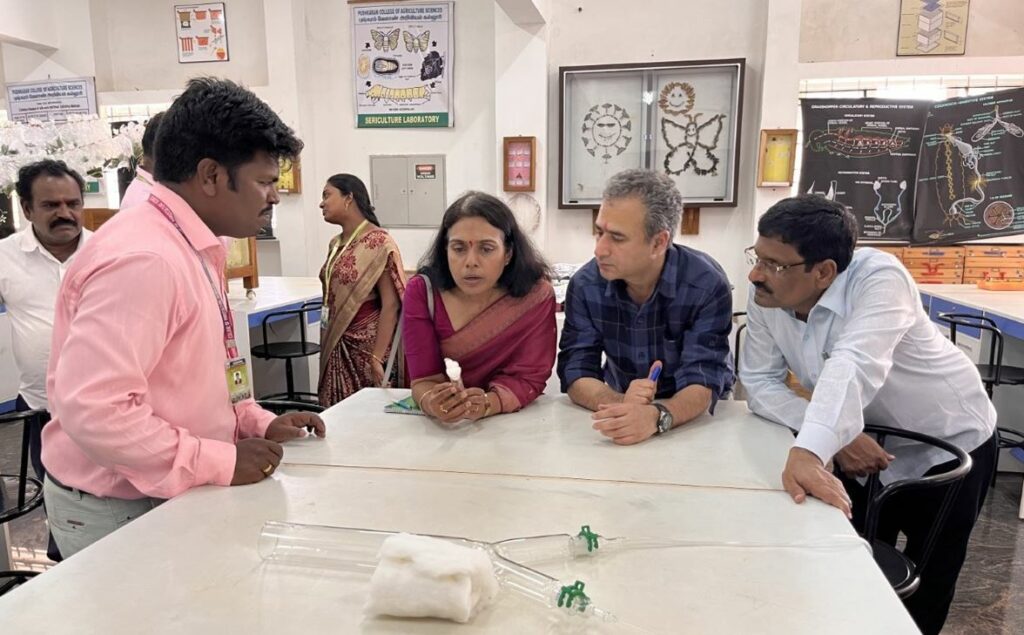 Field experiments are currently underway within the campus of Pushkaram College of Agriculture Sciences (PCAS) – which is affiliated with Tamil Nadu Agricultural University) where Dr Vinod Pandit, Programme Leader from CABI, Dr Malvika Chaudhary, CABI's Asia Coordinator, and Dr R. Rajkumar, Senior Scientist at MSSRF recently checked on the progress of the research.
Research conducted
Dr S. Vinoth Kumar, Scientist at PCAS, mentioned that Fall armyworm infestation has been recorded at between 30% to 35% in the maize research plot. Furthermore, the rearing status of the fall armyworm in laboratory conditions is being studied.
This includes understanding the lifecycle of the pest further to start the 'Y-tube experiment' and how the insect behaves in a wind tunnel.
The study will continue over the coming months to observe the flight behaviour of the fall armyworm in the wind tunnel – which may provide valuable insight into how the pest might spread to over parts of India under certain weather conditions.
The project is aiming to use generative user research methods to establish an understanding of the motivations, pain points and behaviours of farmer groups to then build a user experience pathway that is not barred by low literacy levels.
This will then help to inform the design of a progressive web app – usable by all farmers that are at risk from invasive alien species to help them manage pests such as the fall armyworm.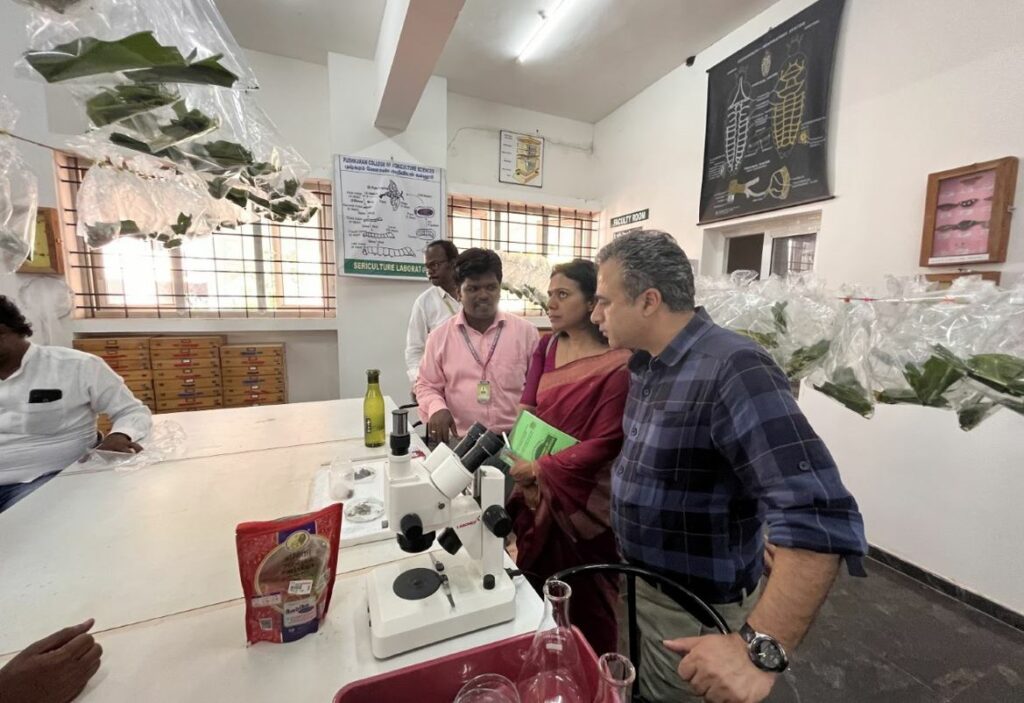 Dr Pandit said, "The project works on a novel pest sensor that has proven the transmission of data from a field in Tamil Nadu where there is risk of fall armyworm attack, to a farmer's mobile phone.
"This novel remote sensing device has the ability to save the farmer time, improve yields, and provide valuable intelligence of the presence of pests for farms.
"The aim of this project is to build on this work by transforming the hardware design and quantify efficacy of the device.
"This will be achieved through collaboration with Tamil Nadu-based entomology research, so we can establish datasets that correlate sensor signals and pheromone trap morphology with known pest species presence."
This project has established a small-scale sensor network, a precursor to mature services that cover larger geographies.
Numerous benefits
A fall armyworm detection sensor network – covering a wide geographical area – a can bring numerous benefits and opportunities for farmers, researchers, and distributors.
The sensor network can provide real-time data on the presence and intensity of fall armyworm infestations, allowing farmers to take timely and effective actions to protect their crops. This can result in higher yields and reduced use of pesticides, leading to both economic and environmental benefits.
By combining the large amounts of data generated by the sensor network with other public data streams, such as weather patterns, crop phenology, and landscape features, a comprehensive fall armyworm risk model can be created by researchers and universities.
These models can help farmers make informed decisions about their crop management practices, such as the timing of planting and application of pesticides.
By using such models, farmers can minimise their risks of crop losses and optimise their yield potential.
Distributors of crop protection products can also benefit from the data generated by the sensor network. They can use the information to better understand the local demand for specific products, as well as to develop targeted marketing and distribution strategies.
This can result in more efficient use of resources and increased sales for distributors.
Overall, a wide-scale fall armyworm detection sensor network can provide actionable insights for farmers, researchers, and distributors, leading to improved crop management practices, higher yields, reduced pesticide use, and increased economic benefits.
Progress checked
Back in January, The British High Commission in India checked the progress of the state-of-the-art sensor-based pheromone trap method.
Currently, farmers are using excessive amounts of chemical pesticides to control the fall armyworm. However, this can result in environmental damage, a reduction in beneficial insects and the depletion of soil fertility.
The sensor-based pheromone trap is seen as being part of a more environmentally-friendly and safer-to-use approach to monitor and manage the fall armyworm and other pests as part of an Integrated Pest Management approach to the problem.
Additional information
Main image: The work to develop a new sensor-based pheromone trap for the fall armyworm is being led by CHAP together with consortium partners CABI, food chain data specialists Knowmatics and sensor experts Ystumtec.
Other relevant stories
'UK-India project to trial agri-tech solution for global crop pest.'
'British High Commission checks progress of sensor-based pheromone trap to tackle fall armyworm pest in India.'
Related News & Blogs
The global battle against invasive pests has found a new champion with pioneering efforts to combat the fall armyworm (Spodoptera frugiperda) in India. This is thanks to a sensor-based pheromone trap – that can be operated remotely anywhere in the worl…
18 August 2023