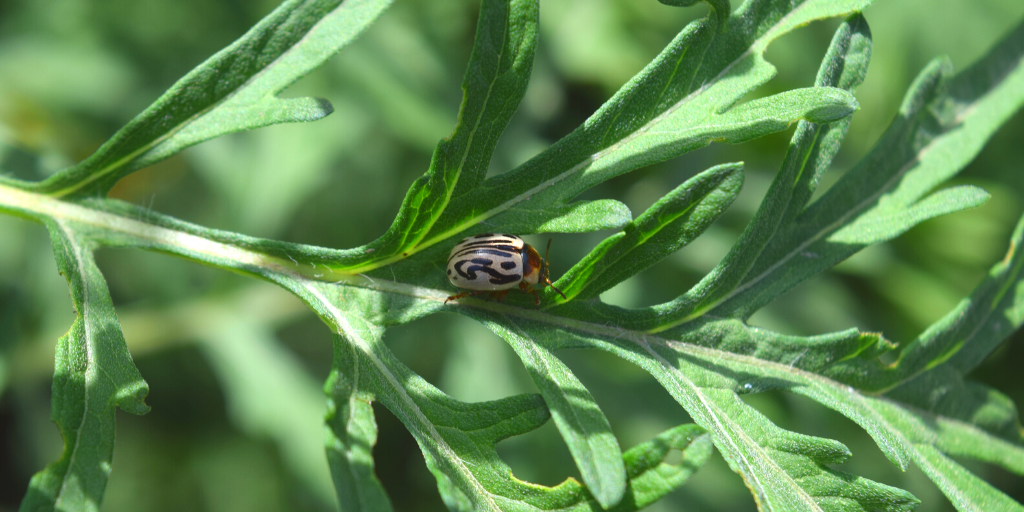 Parthenium weed (Parthenium hysterophorus) is a serious problem in wastelands throughout Pakistan and so far, no single method alone has proven effective in its management. Among the various causes of its rapid spread in Pakistan, lack of natural enemies or presence of a natural enemy in a specific part of the country is perhaps the most important one. CABI's Action on Invasives (AoI) programme aims to develop a sustainable management method for parthenium weed in Pakistan.
Zygogramma bicolorata, a parthenium-leaf-eating beetle is the only reported biocontrol agent of parthenium in Pakistan and is found feeding on leaves of the weed in various parts of Lahore, Changa Manga, Rawalpindi, Islamabad, and some parts of Khyber Pakhtunkhwa Province. However, at present the population of this beetle is not large enough to control the parthenium weed effectively.
Districts in central Punjab are densely infested with parthenium, and not a single biocontrol agent has been reported as yet on this weed. A team from CABI's office in Pakistan visited the Faisalabad district along with Dr. Ijaz Ashraf, Associate Professor Agri. Extension and Rural Development (and key part of parthenium awareness and management in Pakistan) from the University of Agriculture in Faisalabad (UAF) and surveyed various locations including agricultural lands, wastelands, and canal roads etc. infested with parthenium. They noted that Zygogramma had yet not arrived in this part of the province. The AoI team then collected 2,500 beetles from Islamabad and Chakwal and shifted them to Faisalabad.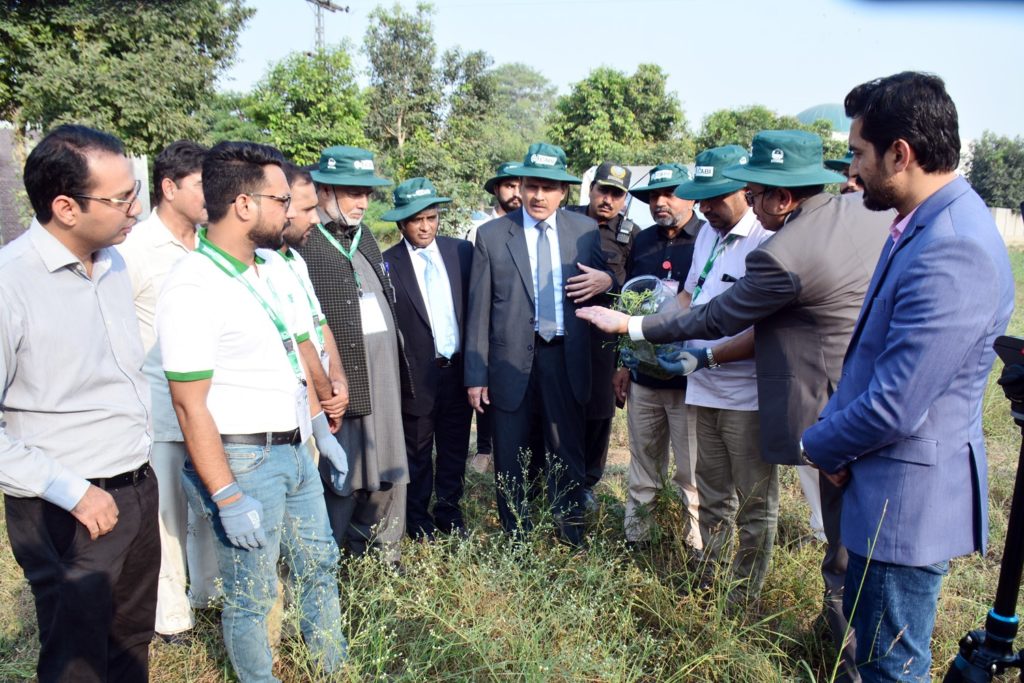 Teams from CABI and UAF moved the insects to research fields at the university for the redistribution of Z. bicolorata. Prof. Dr. Muhammad Ashraf (H.I., S.I.) Vice Chancellor, UAF also graced the occasion to redistribute Z. bicolorata at selected sites on the university's research farms. The CABI team briefed all involved about the biological control of parthenium using Z. bicolorata and highlighted that considerable host range testing has already been done by Australia and South Africa to check the safety of this beetle and declared that it is host-specific to the parthenium. Afterwards, the Vice Chancellor released 2,000 Z. bicolorata beetles on parthenium plants along with the CABI team at UAF's research farms. The additional 500 beetles were released at a nearby village in Faisalabad in presence of the Vice Chancellor during a farmer day on awareness and management of parthenium.
After the redistribution of beetles, a seminar on parthenium awareness and management was organized at the CAS auditorium at UAF, where CABI's Deputy Director of Programmes in Pakistan, Abdul Rehman, spoke about the AoI programme. The Vice Chancellor appreciated the efforts CABI has made in the development of Pakistan's agriculture, adding that "this is the time to focus on the management of invasive species as they are destroying the native flora," and he also called for further collaboration with CABI in future for solving agricultural problems in Pakistan.
The next phase will take place in two months when teams will visit the sites where the Z. bicolorata beetles were distributed to check the survival, dispersal and diapause behavior of insects.
Read more:
Zygogramma bicolorata released at selected sites in Pakistan as biological control of parthenium
Colony of weevils safely in CABI Pakistan quarantine
Action on Invasives short course on classical weed biological control
Related News & Blogs
A potentially game-changing approach used by CABI scientists in Switzerland could help populations detect Asian hornet nests and destroy them
25 August 2023