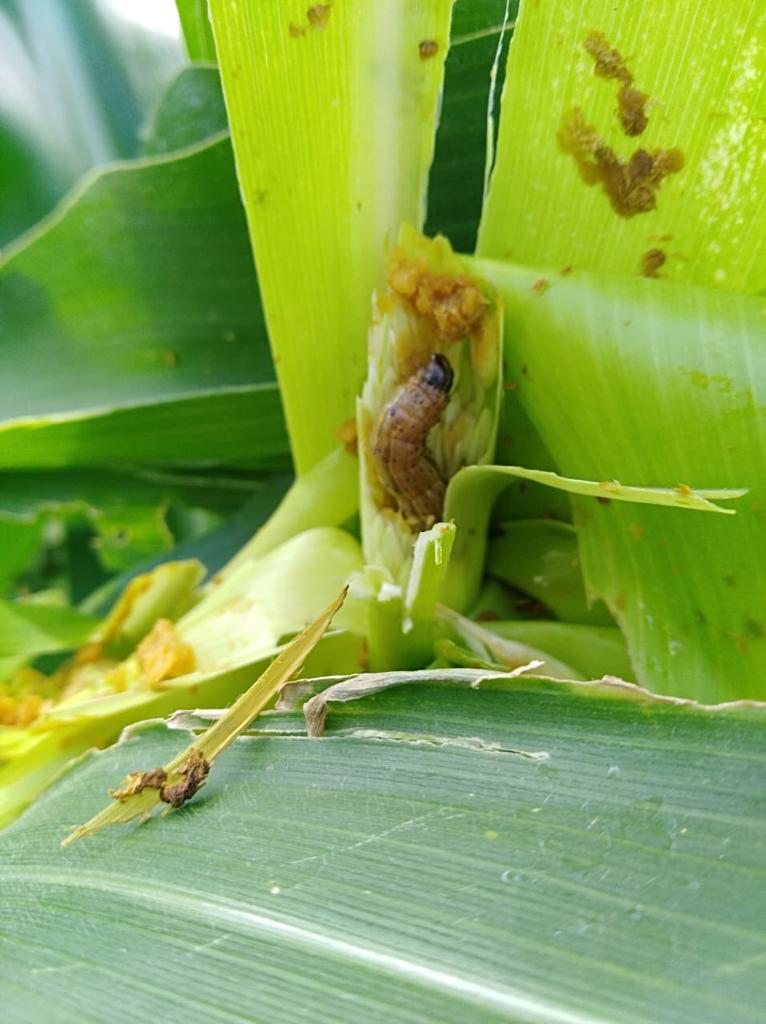 El gusano cogollero (Spodoptera fugiperda) y otros gusanos masticadores son llamados "Langostas" por los productores en Somotillo y municipios aledaños, quizás devido a que la defoliación severa que causan les recuerda el daño causado por la langosta del desierto (Schistocerca gregaria). El cogollero es la plaga de mayor importancia para la producción de maíz en Nicaragua, sobre todo en el ciclo de primera, especialmente en localidades dentro del 'corredor seco' como Somotillo.
Somotillo, es municipio del Departamento de Chinandega ubicado al noroeste de Nicaragua. Tiene un clima tropical de sabana que se caracteriza por una marcada estación seca de 4 a 6 meses. La precipitación varía entre 500 mm y 2000 mm y normalmente está marcada entre los meses de mayo a noviembre. La agricultura, centrada en los rubros de maíz, frijol y sandía, es la principal actividad económica del municipio. No es una agricultura extensiva pero sí de alta dependencia de agroquímicos.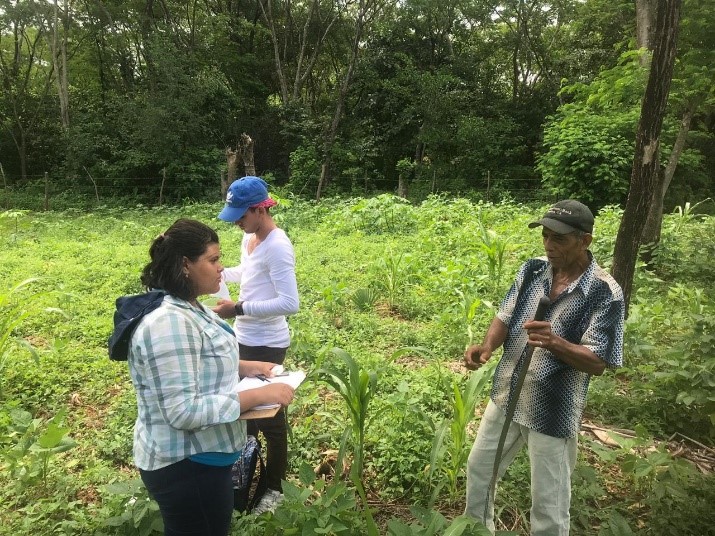 En los últimos años el municipio ha sido afectado por el fenómeno 'El Niño' y los rendimientos en maíz se han reducido. Según Centro Humboldt que tiene un Puesto para Planta (PpP) en la zona esta reducción se debe a los efectos de la sequía y el agresivo ataque del cogollero, que arrasan con las pocas áreas que logran establecer los productores en el ciclo de primera. Los doctores para plantas han logrado observar que el daño por cogollero en el ciclo de primera (mayo a agosto) es más severo que el ciclo de postrera.
Según Zabas Osorio, productor de maíz de la comunidad de Palo de Rueda en Somotillo, el cogollero arrasa con todo lo que se siembre en primera. "Es una nube de gusanos los que atacan el maíz, pipián, pasto, frijol y hasta los árboles se llevan," dice. Según Sr. Osorio muchos productores han dejado de sembrar maíz en los últimos 3-4 años por los gusanos que se lo comen todo. "Esto es un riesgo, si se siembra temprano con las primeras lluvias la plaga nos daña el cultivo, y si sembramos tarde esperando que las langostas pasen, el maíz se nos queda pequeño por falta de agua. Preferimos pelear con la plaga aplicando todos los venenos y no que el maíz se pierda por falta de agua," explica el productor. "Años atrás la zona producía maíz en primera y postrera, con rendimientos aceptables por encima de los 30 quintales. Hoy si obtenemos 15 quintales por manzana solo nos da para las tortillas que son el sustento diario."
En el PpP de Somotillo, Centro Humboldt trabaja en preparar a los productores para adaptarse a los efectos del cambio climático incluyendo cambio de comportamiento de las plagas. En algunos casos como en el del cogollero y el pulgón amarillo del sorgo (Melanaphis sacchari), los ataques se están volviendo más severos provocando pérdidas hasta del 80 y 100% en las cosechas.
A través del el Ing. Manuel Campo (doctor para plantas del Centro Humboldt) en coordinación con el equipo técnico de Plantwise Nicaragua, se han realizado campañas masivas de salud de plantas para informar a los productores de las comunidades de Somotillo sobre cómo manejar las plagas de sus cultivos ante el cambio climático. Una de estas campañas ha sido la del manejo del cogollero en maíz. El 40% de las consultas recibidas en el PpP se trata de esta plaga, agravándose con la sequía prolongada del 2019. Por estas razones en mayo del 2019 se lanzó una campaña en las comunidades de Somotillo utilizando diferentes medios informativos. La Campaña se implementó en varias etapas:
Jornadas de salud de plantas: Un grupo técnico conformado por el doctor para plantas de Centro Humboldt, promotores agrícolas y el coordinador local de Plantwise visitó diez comunidades de productores para dar charlas y demostraciones para el reconocimiento y manejo del cogollero. Para esto se utilizaron fotopáginas, hojas volantes y prácticas de muestreo para aclarar dudas que normalmente confunden al productor. Los productores aprendieron a distinguir al cogollero de entre otras especies de gusanos. Esto es importante para que puedan monitorear correctamente su cultivo y controlar y actuar a tiempo. La identificación temprana es clave para el manejo agroecológico de la plaga, y así reducir el uso indiscriminado de plaguicidas. Más de 100 productores y promotores atendieron las jornadas en las comunidades de Palo de Rueda, Las Mariítas, La Danta, Rodeo Grande, El Caimito, Los Balcones, La Pavana, El Rodeito, Los Encuentros y Santa Teresa.
Difusión de la información por los medios locales de comunicación masiva: El Centro Humboldt canalizó la difusión de información sobre la importancia de identificar y controlar tempranamente el cogollero a través del canal local de Somotilo, Canal 5, el canal de Vos TV, el canal de Youtube de Centro Humboldt y la radio local de Somotillo Radio Juventud. Estos medios cubren todo el territorio de Somotillo que tiene una población de aproximadamente 26,000 habitantes.
Uso de las redes sociales para difundir la información: Las redes sociales, principalmente WhatsApp y Facebook, fueron una herramienta importante en la difusión de la información, entre ella un video. A través de estas se llegó a más 500 personas en Nicaragua. Adicionalmente Centro Humboldt compartió el alcance de la campaña de salud de planta sobre el manejo de cogollero a través de una noticia en su página web alcanzando 1,412 visitas para un total de 1,912.
El PpP de Centro Humboldt seguirá la divulgación de la información por los diferentes medios a los que tiene acceso para reforzar la información de que la identificación temprana del cogollero es la clave para el manejo agroecológico, y así incentivar el uso racional de plaguicidas. El Centro Humboldt también se dispone a continuar con las jornadas de salud de plantas pues las considera una herramienta clave para difundir el manejo preventivo de los problemas fitosanitarios y un complemento al servicio de asesoría técnica a los productores que brinda la clínica de plantas. La atención directa en el puesto para plantas ayuda a darle seguimiento y verificar el nivel de adopción de las prácticas trasmitida en las campañas. Estas prácticas contribuyen a aumentar el nivel de sustentabilidad de los procesos agrícolas en Nicaragua.
---
Editado por: Dr. Solveig Danielsen, Dr. Yelitza Colmenarez, y Dr. Eduardo Hidalgo (CABI)
Related News & Blogs
As part of efforts to sustainably manage the Fall Armyworm (FAW) in Ghana, the Centre for Agriculture and Bioscience International (CABI) and the Ministry of Food and Agriculture's (MoFA) Plant Protection Regulatory Services Directorate (PPRSD) in collaboration with the University of Ghana Soil and Irrigation Research Centre (SIREC) at Kpong have begun exploring biological control options for safe and sustainable management of Fall Armyworm (FAW) in the country.
30 July 2020