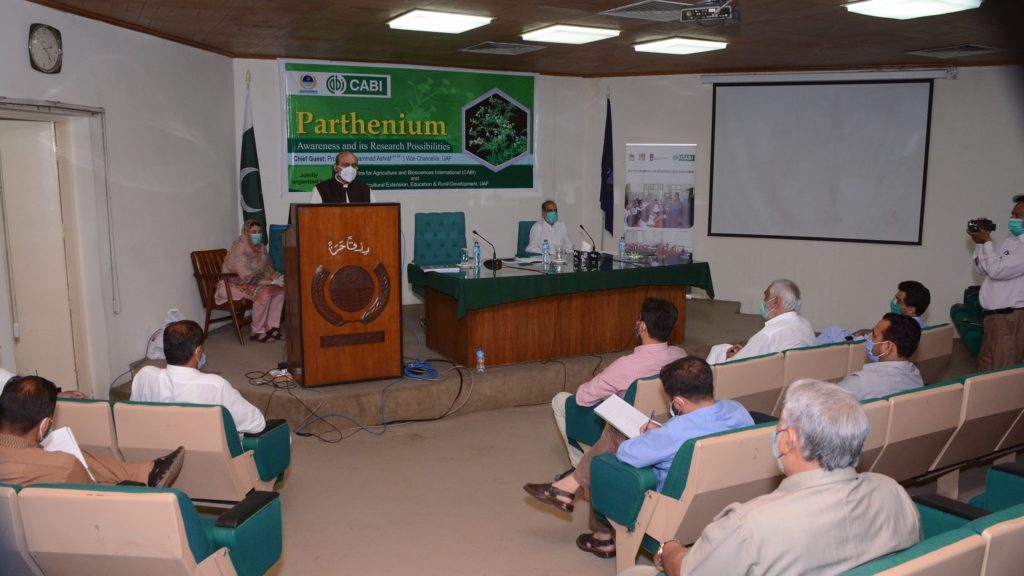 CABI in Pakistan, in collaboration with the University of Agriculture Faisalabad (UAF), arranged a seminar on 'Research–academia linkages on parthenium' held at New Senate Hall, on 9th June. Addressing the participants, UAF Vice Chancellor Prof. Muhammad Ashraf explained that parthenium is spreading at an alarming rate across the country and there is a clear need for proper research in this area. Unfortunately, no systemic research has been conducted so far on the weed.
Parthenium can produce up to 10,000 seeds, leading to massive outbreaks. Humans who are in contact with the weed can develop allergies, asthmatic reactions, and diseases affecting the eyes and nose. Prof. Ashraf said that parthenium can be managed using a combination of methods, including preventive, cultural biological, manual, mechanical and herbicidal. He stressed the need to develop a national-level consortium on parthenium research. In order to protect plants, animals, and human beings, more research is needed to analyse its hazardous effects, as well as exploring claims of the weed's medicinal value, to ensure that the most accurate information is shared with communities.
Dr Khalid Mehmood Ch, Director of the Institute of Agricultural Extension, Education and Rural Development, said that last year UAF, in collaboration with CABI, had conducted many awareness-raising sessions on parthenium across the country, especially in villages. He explained the need to look at each and every aspect of the weed in research work, which can be done by engaging master's degree and PhD-level students.
Dr Ijaz Ashraf from UAF also added that almost every part of parthenium is toxic to humans and animals. He called for collaborative efforts and awareness-raising sessions to help eradicate it. Dr Ashraf and his team had already contacted different universities in the country to begin proper research on the weed, which is known locally as Gaajar booti. Dr Ashraf pointed out that the weed is common along roadsides and canals, in residential areas, and, of course, in agricultural fields etc.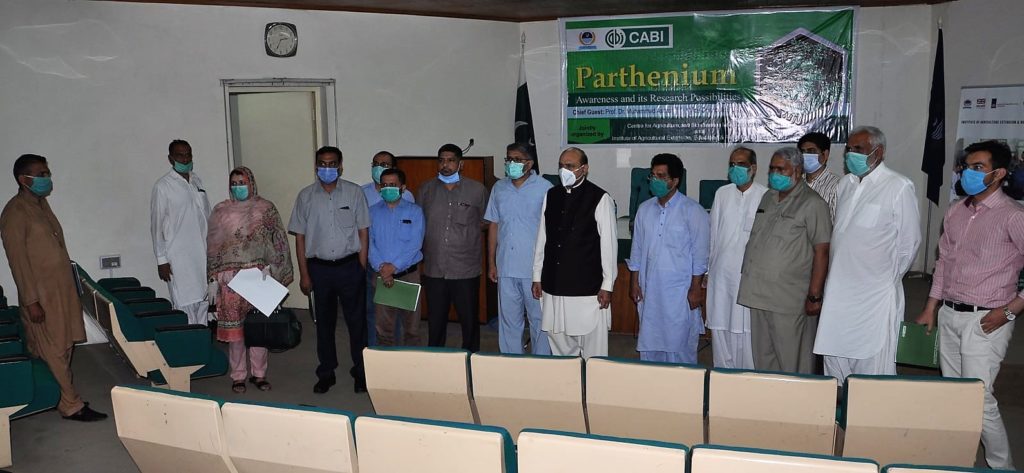 CABI's Deputy Director Programmes, Abdul Rehman, explained that local research must be carried out on the weed and the ways to eradicate it, including quarantine measures, biological control, etc. He said if an animal eats the weed, it reduces the quality of the milk it can produce, as well as reducing the animal's weight. Dr Rehman pointed out that parthenium weed is used by people in floral decorations and has frequently been used in bouquets, provoking different diseases.
Parthenium weed is reported to be present everywhere in the country but farmers and the public have a limited awareness of its impact on agricultural productivity, and on human and animal health. Mr Rehman added that parthenium can be managed using a combination of methods, including preventive, herbicidal, biological, manual, and mechanical.
---
For more information, visit the Parthenium weed portal on CABI's Invasive Species Compendium.
Related News & Blogs
Flattened spotted lanternflies fill the streets of New York City as civilians join the race to stop the pests. Credit: Ali Cherkis for The New York Times Across New York City, large marks and smears of red-like paint are lining the streets. They're app…
26 September 2023