On 1 July 2020, CABI, with support from the Action on Invasives programme, launched the Fall Armyworm Research Collaboration Portal. Developed with expert input from a number of organisations and universities, including CIMMYT, FAO, and the USDA, the portal has been created to enable sharing and collaboration between researchers working on fall armyworm (FAW). Registered users can post their research highlights and ask questions to the rest of the FAW research community. Now, six months after its launch, it's time to review its impact so far, and to set out its roadmap for the future.
In only half a year, the portal has had over 17,000 visits and more than 600 people have signed up to contribute to the portal. The charts below show the diversity of these users, in terms of geographic spread (top 14 countries – there are now registered users from more than 80 different countries), research area of interest and job role.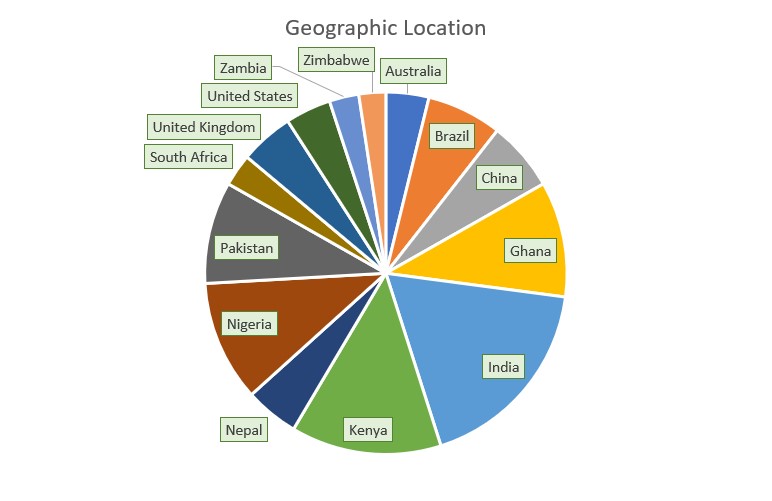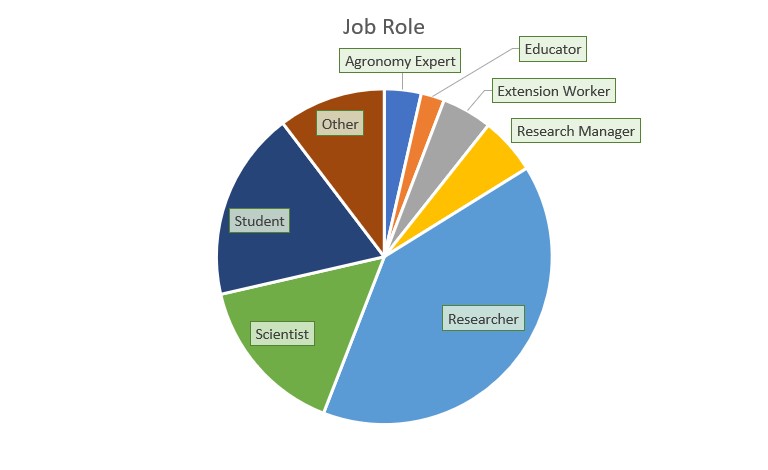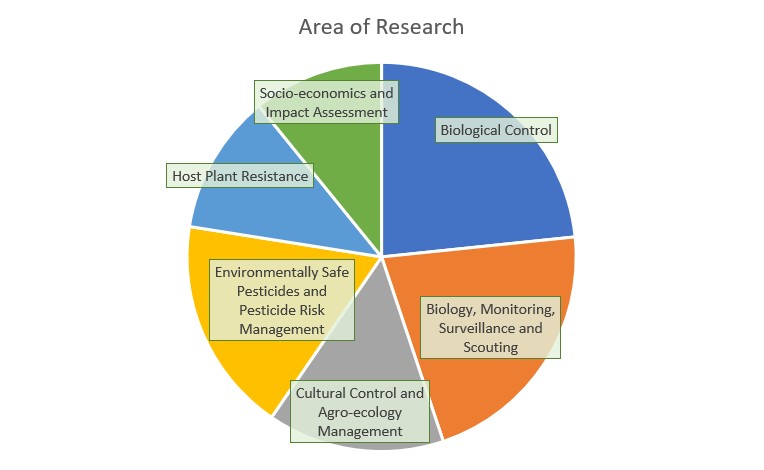 As you can see, the portal community already has a strong global spread, with particularly strong representation from Kenya, Ghana, China, Brazil, Pakistan, India and Nepal. The majority of portal users are established researchers, but it also attracts students, research managers, educators and other scientists. There are many users working across the six main research areas, resulting in a diverse knowledge base to be shared on the portal. These research areas, as detailed in the chart above, were identified as priority areas by the FAW Research for Development Consortium, which has been involved in the creation of the portal.
Part of the portal launch has been a drive to communicate the benefits of open science and communication with other researchers. Aside from improving the accessibility of scientific knowledge to current and future generations of scientists, it increases the exposure of your own research work, prompting discussion and new collaboration opportunities with researchers across the world. Since launch, communication on the portal has been gathering momentum, and at the time of writing there have been 146 posts added by users of the portal, each with their own discussion space. These posts include research notes, which highlight research projects and findings, and community questions, which encourage the sharing of solutions and ideas, generate discussion and initiate collaborations within the FAW research community.
Other organisations have also started to use the portal to generate discussion about upcoming events. GrowAsia is currently running a series of workshops and seminars focused around fall armyworm and biocontrol, and recently used the portal's community questions section to solicit questions from portal users to be discussed and addressed during one of the upcoming workshops. We hope to see more activity like this going forward.
At the end of 2020, a number of Research Champions were instructed with the aim of improving user engagement and activity on the website. These individuals were selected as ambassadors for each of the six main research areas on the portal, and have begun to extend the reach of the portal to a wider network of researchers.
Next Steps
At this time, we are reviewing the portal's content and features to identify the most appropriate next steps in keeping the website useful for fall armyworm researchers.
We have created a short survey for portal users to provide their feedback – this can be found by visiting the portal homepage. All responses to this survey will be valuable in steering the portal into the future so please take a minute to have your say.
Related News & Blogs
Tree of heaven (Ailanthus altissima) is an invasive, fast-growing deciduous tree that causes damage to infrastructure and hosts some invasive species. Scientists as CABI and BBCA have identified a mite that could significantly reduce its impact.
23 June 2022