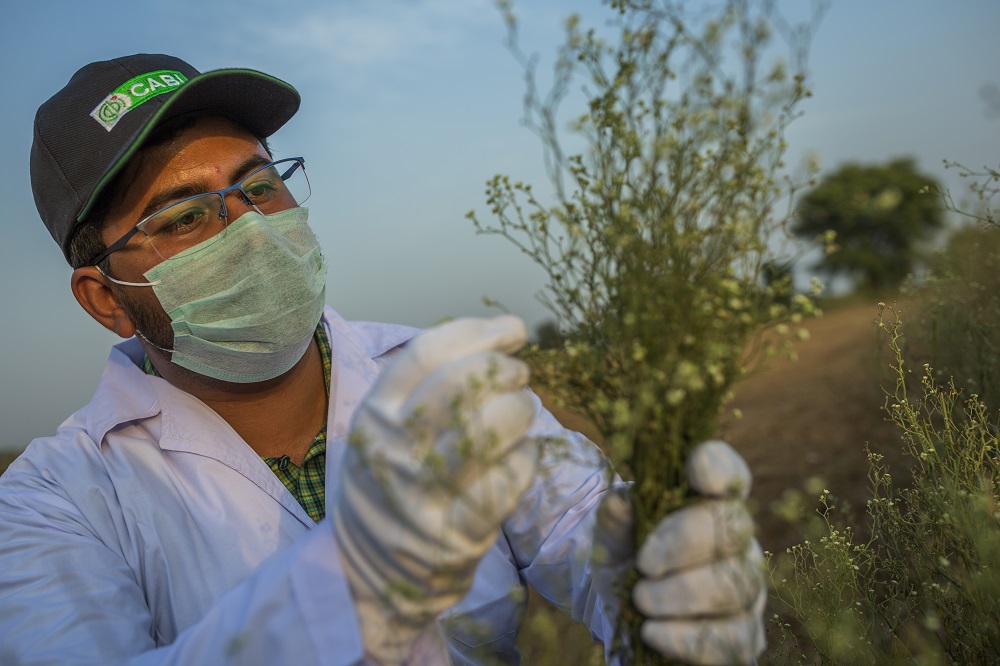 CABI scientist Dr Kazam Ali is to share his expertise on a panel of researchers who are taking part in a Biocontrol of Parthenium webinar hosted by the Feed the Future Innovation Lab for Integrated Pest Management.
Other members of the panel for the webinar, which will take place on Tuesday, March 30, from 7am to 9am EST, include Dr Lorraine Strathie, Agricultural Research Council-Plant Health and Protection, South Africa, Dr Wondi Mersie, Virginia State University, USA, Dr Pramod K Jha, Tribhuvan University, Nepal, and Dr Dhileepan Kunjithapatham, Queensland Department of Agriculture & Fisheries, Australia.
Parthenium hysterophorus is a destructive weed native to Central and South America that has accidentally been introduced to many regions of the world including Australia, Asia, Africa, and the Pacific Islands. The weed dramatically reduces crop yields, impacts biodiversity, causes human health issues such as respiratory difficulty and rashes, and taints valuable livestock milk.
Beginning in 2005, Virginia Tech's Feed the Future Innovation Lab for Integrated Pest Management and Virginia State University initiated a classical biocontrol program to manage the weed in East Africa. Biocontrol programs have also been set up in Australia, South Africa, Pakistan, and India, with fortuitous introductions of natural enemies to Nepal.
Zygogramma bicolorata – a leaf-feeding beetle – and Listronotus setosipennis – a stem-boring weevil – are the primarily natural enemies implemented in the biocontrol program, but a number of supplementary natural enemies have been introduced to Australia. The use of biocontrol to mitigate the spread of parthenium has demonstrated major success reducing the vegetative and reproductive aspects of the weed and restoring valuable land.
This webinar will cover biocontrol of parthenium weed in both Asia and Africa, as well as how to develop a biocontrol program from start to finish, how to rear and release natural enemies, evaluation of suitable biocontrol sites, among other topics.
You can join the webinar on Zoom using the Meeting ID: 842 9150 5293 and Passcode: 114975
Additional information
Find out more about Parthenium hysterophorus from the Parthenium Portal within the CABI Invasive Species Compendium.
See also the story of impact 'Rooting out parthenium weed in Pakistan.'

Related News & Blogs
Flattened spotted lanternflies fill the streets of New York City as civilians join the race to stop the pests. Credit: Ali Cherkis for The New York Times Across New York City, large marks and smears of red-like paint are lining the streets. They're app…
26 September 2023