Tasmin Alexander joined CABI as an Invasive Species Management intern in January 2021. Here Tasmin talks about her time working with CABI and the different invasive species projects she has been involved with.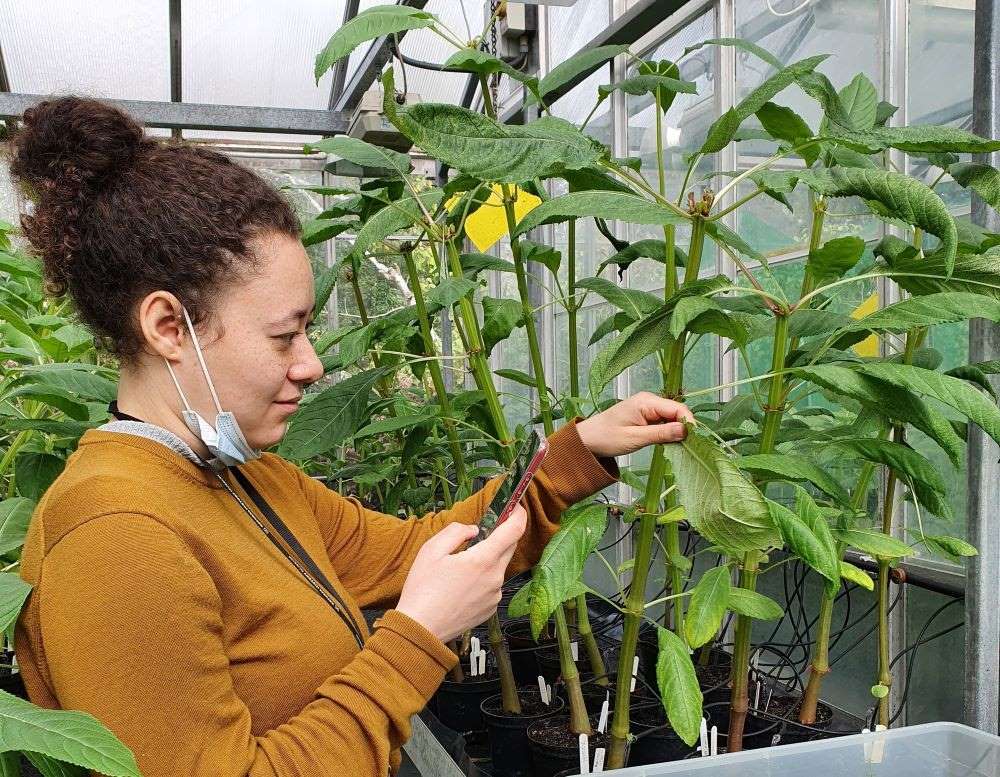 Following the completion of my masters degree in Conservation, Biodiversity and Evolution from University College London, I had ambitions to further pursue research but also the desire to work within a charitable organisation and increase my real-world experience. Luckily, in January 2021 when I began looking for a role, the Centre for Agriculture and Biosciences International (CABI) was hiring an intern to work within the Invasive Species Management (ISM) team.
Invasive Species Management
When I discovered the job advert I was amazed to find a globally impactful and important organisation, with research at its core, within 5 miles of my home. The ISM team use classical biological control (CBC) (i.e. arthropods and/or pathogens), to control non-native invasive weed species. This process involves, but is not limited to, finding a damaging and host specific biocontrol agent, testing the safety of the agent on the weed under quarantine conditions and if suitable, releasing the agent into the wild. Armed with relevant experience and a genuine enthusiasm and passion for the work of the ISM team and CABI, I interviewed and was offered the position.
Invasive species projects
Over the past 6 months my experience at CABI has been more varied and interesting than I could have imagined. The projects I have focused on primarily are Himalayan Balsam, Australian swamp Stonecrop and Japanese Knotweed. Three projects for which biological control agents have been released in Great Britain. Furthermore, I have also worked on four additional projects; Navua Sedge, Parrot's Feather, Old Man's Beard and Water Fern.
Himalayan Balsam
Himalayan Balsam, Impatiens glandulifera, recognisable by its large, pink bonnet shaped flowers is an annual plant native to the foothills of the Himalayas. Regarded as one of the most prolific invasive species in Europe the ISM team is working with a rust fungus, Puccinia komarovii var. glanduliferae to control the spread and proliferation of Himalayan balsam throughout Great Britain.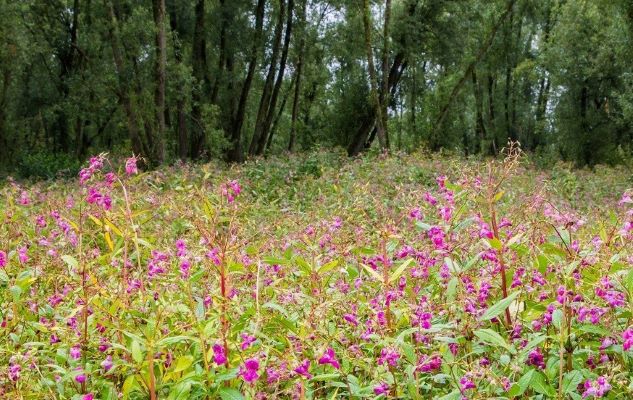 Under the supervision of Himalayan Balsam project leads Kate Pollard and Dr Sonal Varia, I spent a large portion of January to April on site inoculating Himalayan Balsam for mass production of the rust spores. This activity involves painting a mixture of rust and talcum powder onto the underside of Himalayan Balsam leaves. The talc helps the rust stick to the leaf and allows for dilution of the quantity of rust. Inoculating with too much rust may result in too heavily infected leaves falling of prematurely or not producing spores. Once collected, the rust can be stored long-term under liquid nitrogen for future use.
Throughout the summer we used the rust produced to inoculate Himalayan Balsam in the field. This year the team have released rust at a whopping 22 sites! I joined Kate on a trip to a site in the West Midlands, where we met Warwickshire Wildlife Trust, and on this trip, I had the opportunity to inoculate Himalayan Balsam in the field. Over the next few months we will be trialling a new method of data collection, using the Open Data Kit (ODK) app which was developed with the Data Management team to monitor the rusts performance in the field. We expect the ODK app to provide improved speed and quality of data collection.
Australian Swamp Stonecrop
Australian swamp Stonecrop (Crassula helmsii) is an aquatic perennial herb native to Australia and New Zealand. Crassula helmsii is widely naturalised across Great Britain and many countries in western Europe, where it is regarded as a problem invasive. The project team, led by Dr Sonal Varia, are working with the gall-forming mite, Aculus crassulae (family; Eriophyidae) to control the spread and proliferation of C. helmsii throughout Great Britain.
I spent the first few weeks on this project refining my laboratory skills. Aculus crassulae is very small. This type of mite ranges in size from 80-500µm, and it was important I learnt to handle individuals under the microscope without causing mortality. With this newly developed skill I was able to assist with data collection, such as recording mite development under different environmental conditions.
Leading up to summer I began assisting with mass-rearing of A. crassulae, this method involves transferring mite-infested C. helmsii plants onto a non-infected population, onto which the A. crassulae will migrate. These mite-infested plants were released early this summer at sites across southern England. We will continue to monitor the mite's performance at the release sites. Each year the C. helmsii project team have taken on more sites to release the biocontrol agent. This year a new 9m x 25m polytunnel was constructed on-site, the new available space will allow for increased mass-rearing, which could allow for the inclusion of more sites and a greater chance of A. crassulae establishment in the field.
Japanese Knotweed
My third focal project, Japanese Knotweed, Fallopia japonica, is a perennial weed native to East Asia. Japanese Knotweed has been described as one of the most damaging invasive weeds in the United Kingdom, Europe and North America, and is commonly known for its destructive impact on infrastructure.
Under the supervision of Dr Daisuke Kurose and Dr Marion Seier, I have assisted on projects focused on two different biocontrol agents; the psyllid, Aphalara itadori, and the leaf-spot fungus, Mycosphaerella polygoni-cuspidati. A few weeks ago, I had the exciting opportunity to assist with the second (ever) release of a new strain of A. itadori in the UK, from Murakami, Japan. In 2019, the team conducted surveys in Northern Japan with the aim of finding a psyllid strain more climatically matched to the United Kingdom and western Europe, one that would consistently overwinter and establish long-term.
The team discovered the Murakami line which produces severe curling damage. In the Netherlands, the Dutch collaborators released the Murakami line in autumn 2020 and have since found evidence of survival following release and curling damage. I am excited to see what the future holds for this project and whether the Murakami line will succeed in establishing long-term in the United Kingdom.
The Invasive Species Management Team
Though based in Egham, UK, I feel connected to the global CABI community through lecture series and Yammer articles. Every day I discover a new reason to be amazed by the work conducted by CABI. Finally, a description of my internship would be incomplete without mentioning the amazing Invasive Species Management team. From day one I was welcomed with friendly chit-chat, warm smiles and most importantly cake. I feel comfortable to ask (millions of) questions and have learnt a great deal already, not only about research but also about how to build a supportive and friendly workplace. I am excited to see what the future holds for me at CABI, in my new role as Junior Scientist.
Further reading
To find out more about our UK biocontrol projects, visit https://www.invasive-species.org/united-kingdom/
Related News & Blogs
Flattened spotted lanternflies fill the streets of New York City as civilians join the race to stop the pests. Credit: Ali Cherkis for The New York Times Across New York City, large marks and smears of red-like paint are lining the streets. They're app…
26 September 2023