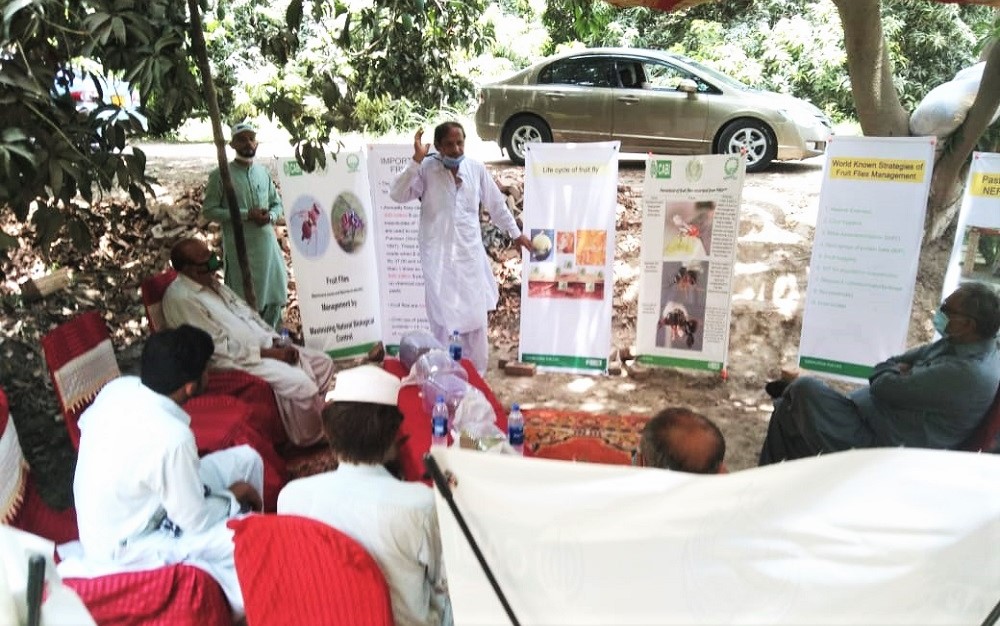 High-value horticultural crops such as mango are key drivers of Pakistan's economic development. Infestations of flies in mangoes and other fruits reduce the quality and quantity of yields. One estimate state that flies cause losses of about US$800 million each year. Synthetic insecticides can be used to manage the fruit flies and mango hoppers, but these not only fail to control them, but also bring increased risks to human and livestock health, depletion of renewable natural resources and loss of biodiversity, among other things.
To increase awareness about controlling fruit flies, CABI held a training session with farmers at Dr Syed Aftab Shah's Mango Farm where natural enemy (parasitoids and predators) field reservoirs (or NEFRs) had been established at Digh Mori. Overall, the objective of the training was to provide participants with information and hands-on experience to prepare them to help farming communities develop strategies for sustainable fruit fly management.
CABI Biological Control Specialist, Mr Riaz Mahmood, exchanged practical experiences and knowledge on existing fruit fly management strategies among farmers and other stakeholders during his talk. He explained the complex life cycle of fruit flies and the reasons why insecticides fail to control fruit flies and how the natural enemies (parasitoids and predators) can be effectively used in controlling the fruit flies. He emphasized the integration of ecological control measures for controlling fruit flies at Tando Allah Yar, for which NEFRs are being established for conservation and mass production of parasitoids on the farm, maximizing natural biological control of fruit flies.
Mr Mahmood also talked about the safe use of insecticides for controlling hoppers, which, after completing their one generation on mango inflorescences (clusters of flowers) in spring, rest in large groups on mango tree trunks throughout the summer to winter months. After this brief talk, invitees were shown around the NEFR shelter where Project Head Mr Ashfaq Ali Dhaunroo and Entomologists Mr Babar Zaman and Mr Abdul Aziz Bukero briefed about the activities on site. Mr Zaman explained that, with this technique, more than 2,700,000 make and female fruit flies (Bactrocera dorsalis and Bactrocera zonata) had been destroyed in their development 'puparial' stage at this farm.
He further explained that, over time, with the application of the NEFR technique, millions of fruit flies are expected to be removed from the Tando Allah Yar environment where, in total, ten such NEFR shelters have been built by SIAPEP, Government of Sindh.
On this occasion, a big jar full of parasitoids (5,000) was handed to farm owner Dr Syed Aftab Shah for release in his orchard. He was told that these parasitoids had been obtained from the fruit flies' puparia recovered from his farm where fallen fruit flies, that had infested mango trees, had been kept in open jisti trays under the NEFR shelter. Mr Babar Zaman explained the methodology of how parasitoids are produced and how large numbers of unwanted fruit flies are regularly killed.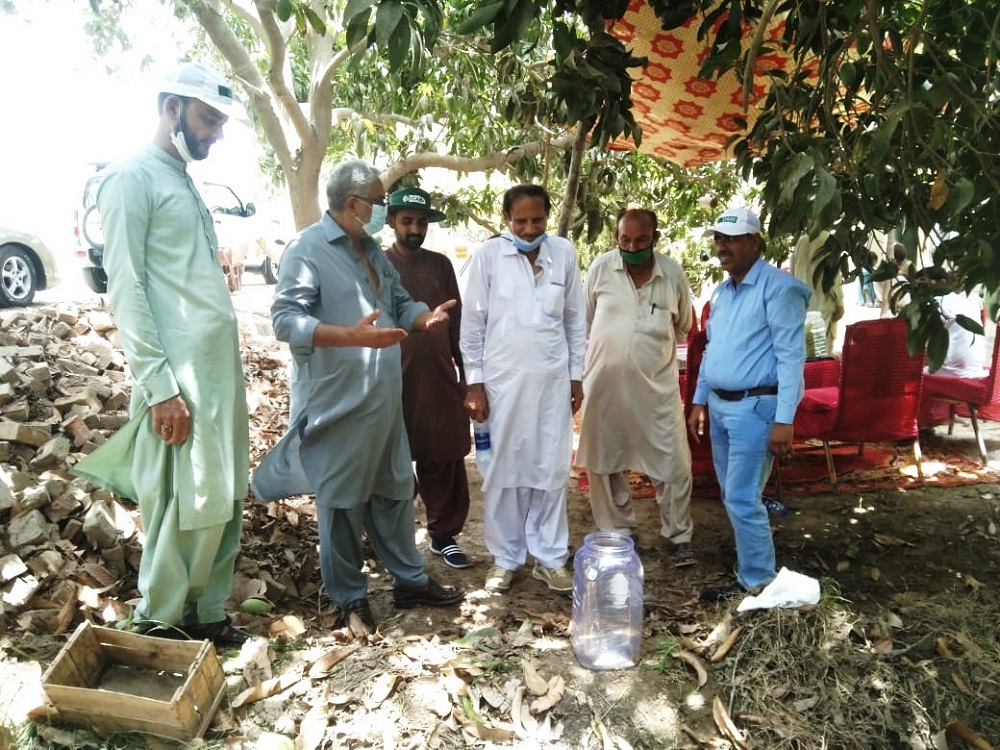 Dr Syed Aftab Shah was asked to inaugurate the release of parasitoids by opening the jar. The farm owner and other stakeholders said that they highly appreciated the Government of Sindh starting such programmes, especially when the integration of 'resource conserving' technologies is much needed in order to protect biodiversity; under present conditions, pesticides used in the environment are a cause of biodiversity extinction. He said he fully supports these project activities and is ready to extend all facilities to the project team in continuation of such programmes of service to humanity.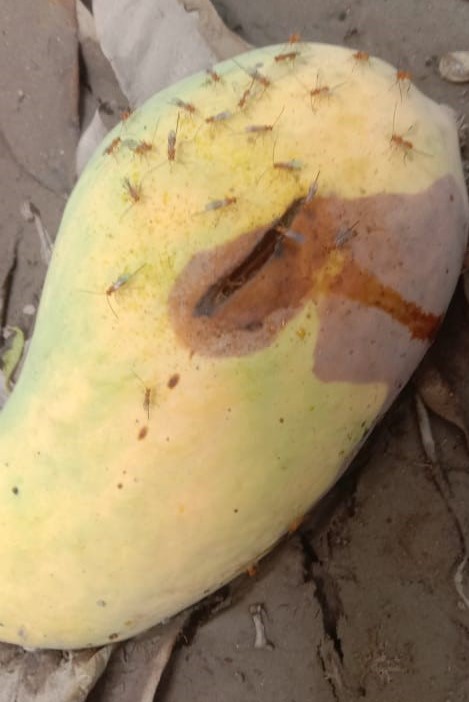 Additional information
Blog authors: Ashfaque Ali Dhaunroo, Riaz Mahmood, Babar Zaman, and Abdul Aziz.
Relevant project page
See also the project page 'Rearing natural enemies to control crop pests in Pakistan.'
Related News & Blogs
Can biological control of parthenium in Pakistan safeguard crops? Last month, leaders worldwide focused on climate change at COP27. One critical subject has been the impact of global warming on food production. Rising temperatures have had terrible eff…
6 December 2022