Can biological control of parthenium in Pakistan safeguard crops?
Last month, leaders worldwide focused on climate change at COP27. One critical subject has been the impact of global warming on food production. Rising temperatures have had terrible effects on crops. This is because they can help spread invasive alien species (IAS), including weeds, which can harm crops.
Invasive non-native species are organisms that have been moved from one part of the world to another, either accidentally or in some cases deliberately. Without their natural enemies, they then spread and thrive. They damage habitats, outcompeting native species and even destroying valuable crops.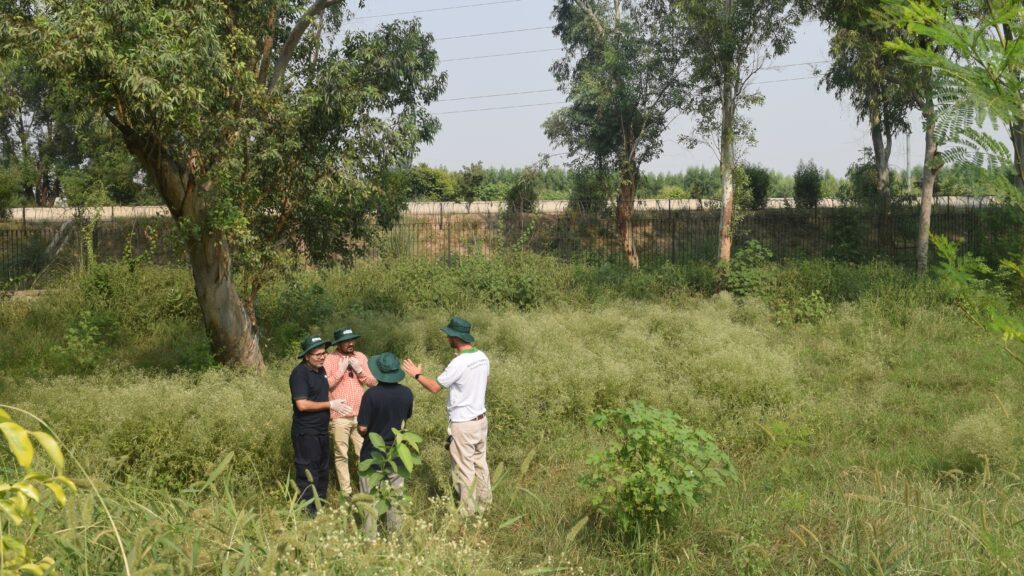 Parthenium threatens Pakistan's food security
Pakistan is reliant on staple crops for its food security. The country's ability to produce rice and wheat is essential for its economy. But one invasive plant species is threatening that security – Parthenium hysterophorus. Scientists have identified parthenium as a threat to agriculture. It affects farmers' livelihoods across Pakistan. (It's also fittingly known as "famine weed"). Its ability to spread rapidly makes it a severe threat.
Parthenium affects crop yields by as much as 90%. It's also poisonous, and it has severe impacts on human and livestock health. Farmers can partly control parthenium with chemical pesticides. But these are bad for the environment and human health too. Since 2018, CABI has worked with partners in Pakistan to control parthenium naturally.
CABI's work on parthenium weed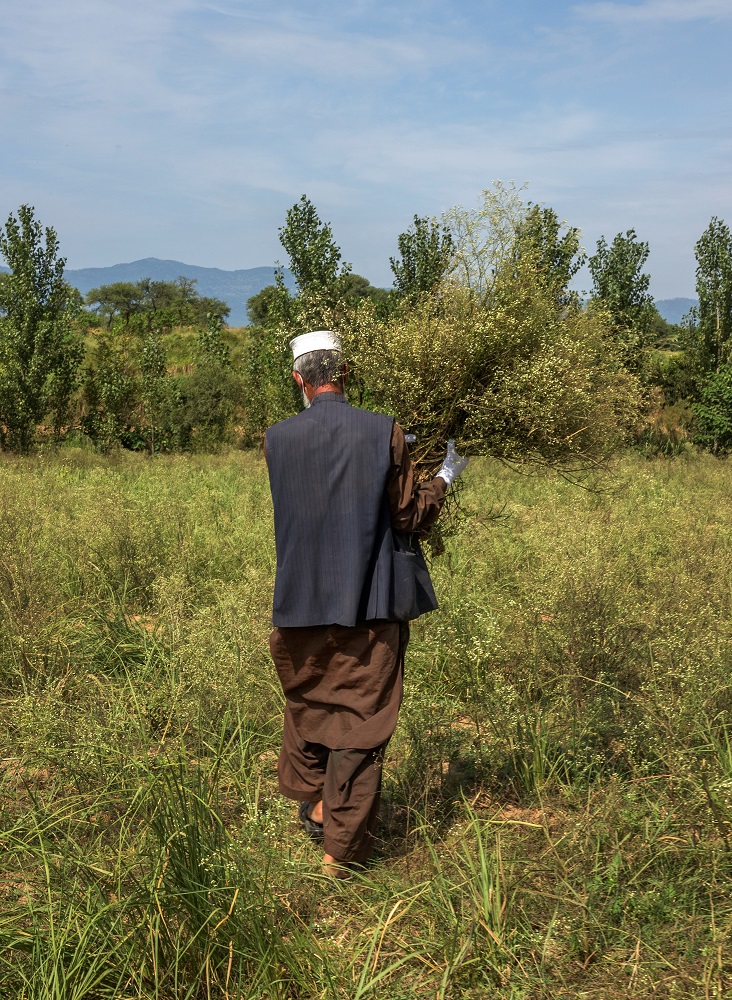 CABI has expertise in biological control – also called biocontrol. This is the control of invasive species using their natural enemies. CABI scientists survey the native habitat of the pest. And then they find diseases and insects that naturally control it.
They test them rigorously in quarantined laboratories. They then select 'biocontrol agents' that only control the target pest or weed. After testing, local authorities allow the agent's release into the wild. Biocontrol is an effective way of controlling invasive non-native species. It helps farmers to avoid the use of harmful chemical pesticides, for example.
CABI's working with universities in Faisalabad, Swabi and Mardan on this piece of work. Together, we're studying agents to control parthenium. We're working with these universities (and, in future, the provincial agricultural research departments) to rear, release and monitor the biological control agent – a weevil called Listronotus setosipennis. This insect is native to the Americas, just like parthenium. And, so far, it looks promising in terms of controlling parthenium.
Biological control: Using beneficial insects to control parthenium weed
CABI's Dr Phil Weyl is leading the work under the PlantwisePlus programme. In September, he visited Pakistan to review its progress. CABI has undertaken extensive research into the weevil. Our laboratories in Rawalpindi, Pakistan, have led the work. We can confirm the weevil has a narrow host range. And it only feeds and develops on parthenium and no other plants.
So far CABI scientists, in collaboration with agriculture universities in Faisalabad, Swabi and Mardan, have released hundreds of weevils at eight sites. The insect rearing and releases are going well. But the project must expand to control more weed infestations.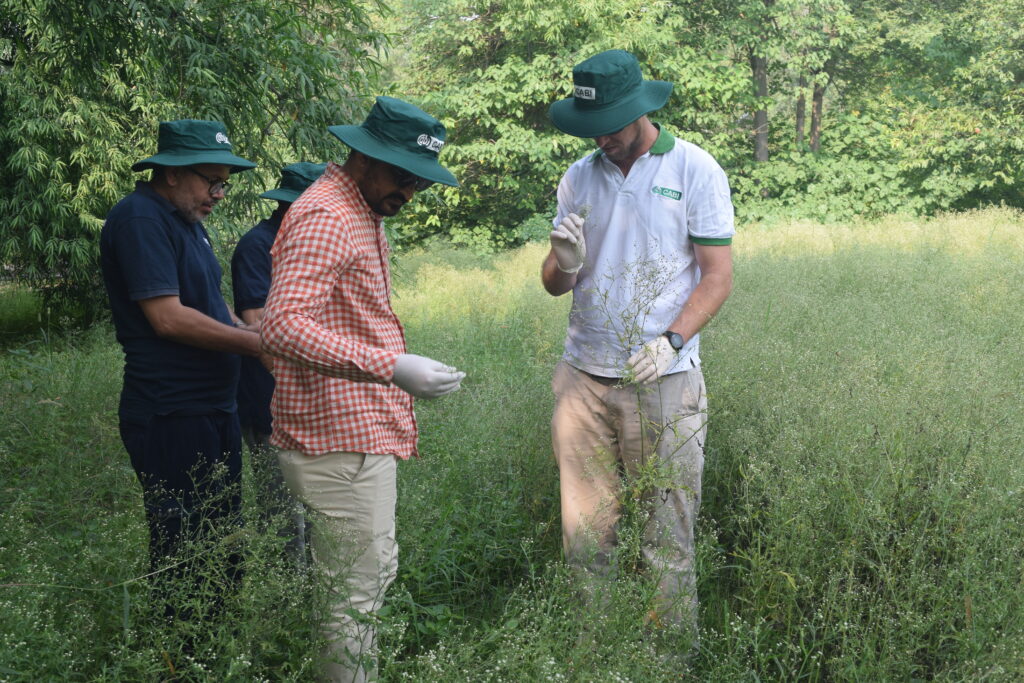 During a recent visit, CABI confirmed that the weevil had established itself at the release sites. But the insects still need careful monitoring. Scientists released them in the spring and summer this year. So, we'll need to check whether they're still alive in the spring of 2023. The question is whether they can survive the winter.
Next steps for parthenium weed control in Pakistan
Dr Weyl is planning a trip in spring 2023 to review the weevils' overwintering. At this time, he'll survey the release sites. His goal will be to see whether the weevils have been able to survive the winter. CABI hopes to publish the project results in 2023 after collecting more data. The project continues.
---
Further information
First parthenium biocontrol agent approved for release in Pakistan
Rooting out parthenium weed in Pakistan
Remote sensing of highly invasive Parthenium weed in Pakistan
---
This research was funded by the CABI-led PlantwisePlus programme, which is financially supported by the Directorate-General for International Cooperation (DGIS), Netherlands; European Commission Directorate General for International Partnerships (INTPA, EU); the Foreign, Commonwealth & Development Office (FCDO), United Kingdom; the Swiss Agency for Development and Cooperation (SDC); the Australian Centre for International Agricultural Research (ACIAR); the Ministry of Agriculture of the People's Republic of China (MARA)
Related News & Blogs
CABI has worked on invasive species for over 100 years, developing practical ways of tackling the biggest threats. Our scientists are world leaders in biocontrol research – an approach that uses invasive species' natural enemies, like insects and fungi…
6 December 2023