Native to Europe, Yellow toadflax and Dalmatian toadflax can typically be found on roadsides, grasslands and in crop fields. Like many other weeds, toadflaxes have been introduced to North America as decorative plants but they are now having adverse effects. Whilst these weeds may look pretty and provide decorative appeal, they soon escape cultivation and can cause some serious problems.
As part of a new CABI Podcast series, we interviewed CABI experts Dr Hariet Hinz and Dr Ivan Toševski from CABI in Switzerland, who explained to us what measures they are taking to control the spread of toadflax.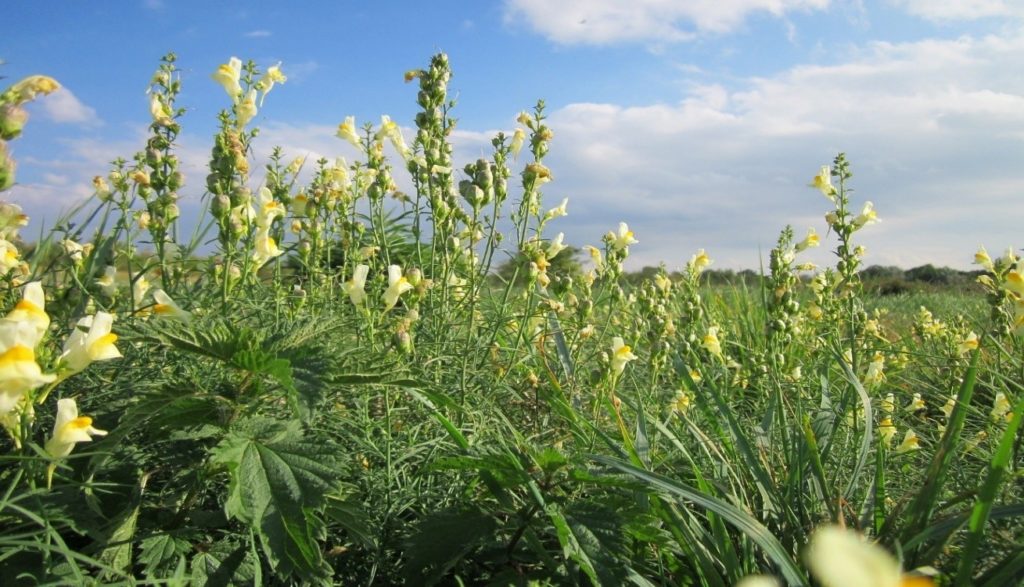 Welcome Dr Hariet and Dr Ivo. Please, introduce yourselves… 
Dr Hariet Hinz: My name is Hariet Hinz. I've worked at CABI for 27 years. I started as a summer student and completed my Ph.D. here in the section of weed biological control. I have been leading the weed section at CABI Switzerland since 2006, and I am still responsible for the section after I became centre director four years ago. We currently have 16 different projects, mostly for North America, and toadflax is one of them. 
Dr Ivo Toševski: My name is Ivo Toševski. I have more than 30 years of experience in biological weed control, insect taxonomy and applied research. Through my career, I have built up a broad background of rural development and integrated pest management of insects, with my main research interests being is weed control, molecular taxonomy and applied molecular biology study. 
What toadflax and where are they native to?
Dr Hariet Hinz: So, toadflax are perennial short-lived forbs with, actually, quite pretty yellow flowers. There is yellow toadflax and dalmatian toadflax, and they differ in their leaf shape. So, yellow toadflax has slightly thinner leaves and dalmatian toadflax broader leaves. They're both native to central temperate Europe but yellow toadflax can occur also in Asia, up to China.
Dr Ivo Toševski: Both of these highly competitive and invasive plants were introduced to North America during the 18th century as ornamentals or, like yellow toadflax, as a traditional folk remedy for the treatment of liver disease. 
Why is toadflax so damaging to the environment?
Dr Ivo Toševski: Yellow and Dalmatian toadflax are perennial plants capable of reproducing the seeds and rhizomes and because they start growing early in spring, both species are highly competitive for space and light, thus gradually suppressing the growth of native plant species.   
How quickly can toadflaxes spread?
Dr Ivo Toševski: A single plant produces over 100 shoots during vegetation, from rhizomes forming a dense carpet of yellow toadflax.  Each stem can produce up to 30 seed capsules, with each capsule yielding up to 250 seeds. Thus, one stem can produce over 7,500 seeds per stem or over 20,000 seeds per single plant. The seeds are spread by wind, which facilitates dispersal and causes the invasion of yellow toadflax.   
Similar to yellow toadflax, the Dalmatian toadflax also possesses great spreading capacity. One plant is able to produce up to 25 stiff erected leaf stems. Each seed capsule contains up to 300 triangular slightly wrinkled small seeds, thus mature plants can produce more than half-million seeds. 
How effective are traditional control methods?
Dr Hariet Hinz: There are cultural methods, and there are also sprayable chemicals but the plant has developed resistance against many of the more common and inexpensive herbicides. These methods need to be repeated every year, so it is very labour intensive and requires high input levels. Therefore, it is uneconomical in many areas, such as extensive pastures that exist in North America. 
How does biocontrol tackle the weed?
Dr Hariet Hinz: Classical weed biocontrol tries to introduce host-specific herbivores, so that could be insects, mites or fungal pathogens from the native range of the invasive species. So, the idea is not to eradicate these invasive plants but to reduce the vigour, reduce their spread, to give the native plants a chance to compete against them.
What is done to ensure that the bio-control agents are safe for their new environment?
Dr Hariet Hinz: Most of our work consists of host-specificity tests, so meaning to establish the host range of these insects, make sure they only develop and thrive on the target weeds, not on any native species that are closely related or any crops or other economically important species. Ensuring that these insects that are released are environmentally safe is key.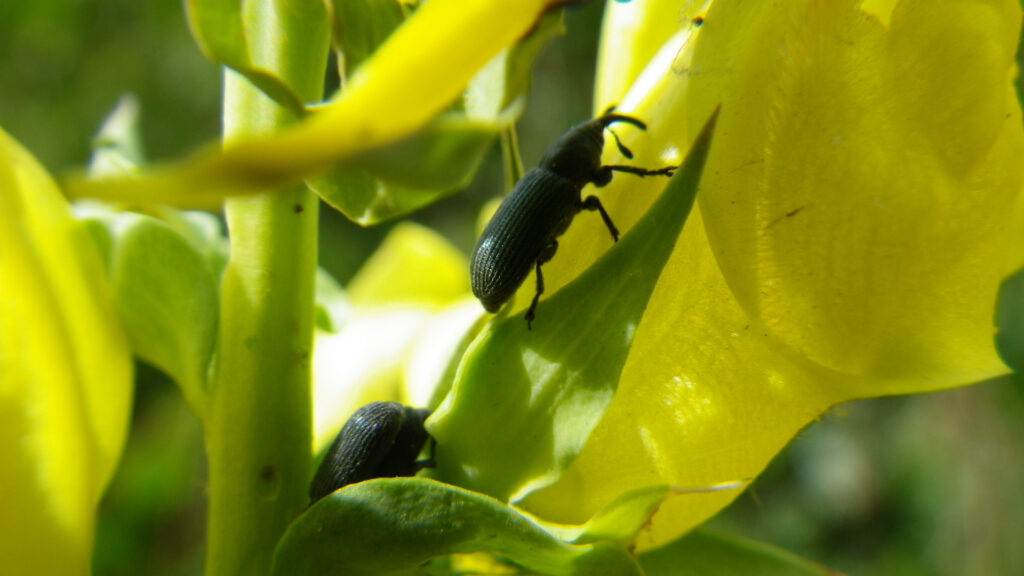 Which species are used to control toadflax?
Dr Ivo Toševski: During the permit study associated with the control of herbivores in Europe, it was evident that weevils belonging to the family Curculionidae or snout beetles from the two genera Mecinus and Rhinusa are highly specific for feeding and complete development of toadflaxes.
How do we know if these agents are going to work?
Dr Hariet Hinz: It will need to be reared, mass-reared and re-released and monitoring will need to continue to really see whether it does establish.
In Canada, the insect was established at all release sites, but it hasn't taken off yet. It hasn't yet reached the densities that you need in order to successfully control these target weeds that are spread over thousands of hectares. So, you need a lot of these insects in order to successfully control them.  
What do the weevils look like and what are the effects of these agents on the toadflax?
Dr Hariet Hinz: The Rhinusa Pilosa is a weevil is a form of beetle with a snout, with a rostrum, so it looks a little bit like a small elephant. They're really cute if you can look at them under the microscope!
The females lay eggs in early spring into the shoot tips of the plant, and the shoot then develops into a gall. And this gall attracts a lot of the resources from the plant, with the effect that it stunts the plants considerably, and considerably reduces the seed production. So, if the insects occur at high densities, it will considerably reduce the vigour of these plants.
Thank you to Dr Hariet Hinz and Dr Ivo Toševski: for outlining the threat of desert locusts, and CABI's work to combat the problem. This interview was taken from the CABI Podcast Series, which you can listen via the link below.
Listen to this podcast episode
Download the podcast transcript
CABI podcast mini-series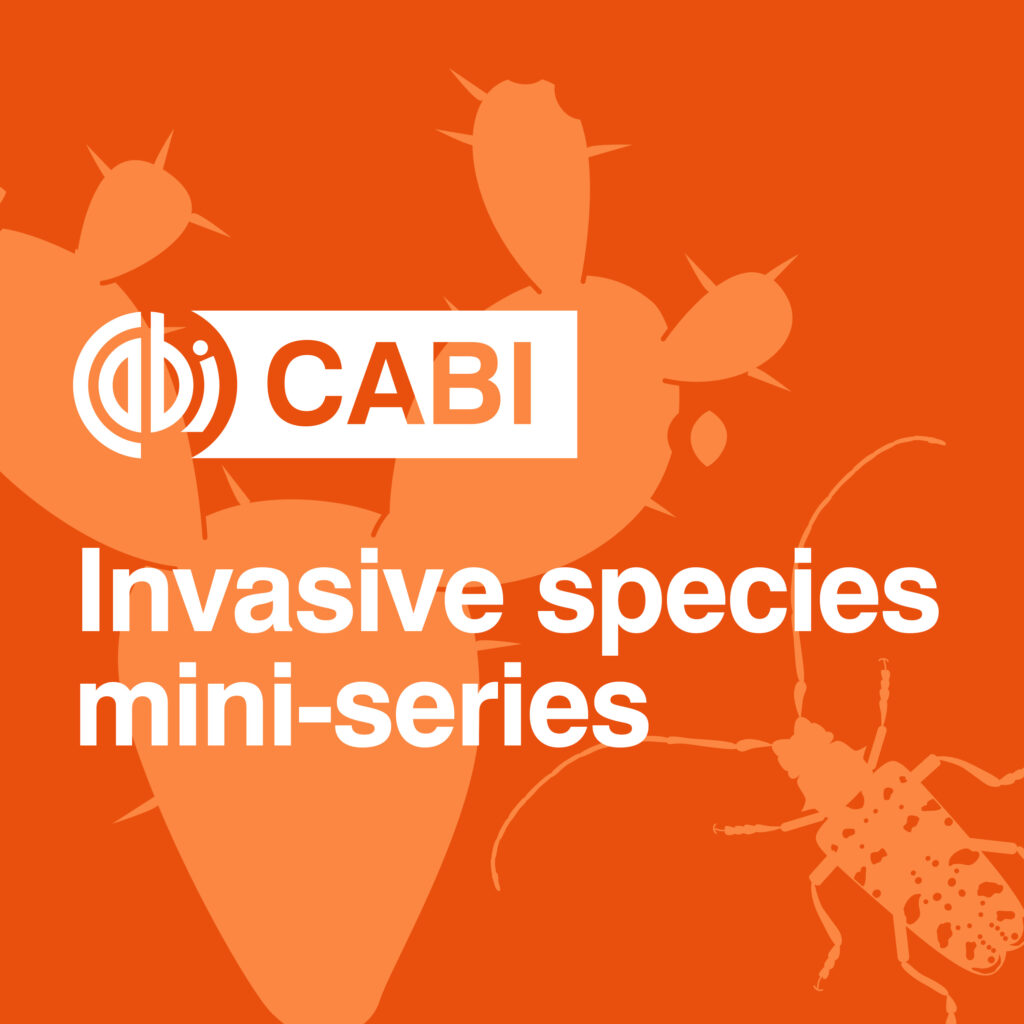 The CABI podcast is a series of four podcasts dedicated to discovering more about the devastating economic, environmental and social impacts invasive species have and what we can do to manage them.
You can listen via the link below or find them on all the major streaming services – just search CABI podcast invasive species.
Further reading
Find out more about the yellow toadflax here, and the dalmatian toadflax here.
Rea re about CABI's work on invasive species https://www.invasive-species.org/
Project: Biological control of toadflaxes
https://www.cabi.org/projects/an-old-problem-revisited-biological-control-of-toadflaxes/
Related News & Blogs
A new podcast mini-series on invasive species has been launched by CABI. Each podcast episode features CABI experts sharing their in-depth knowledge of an invasive species, including the negative economic, environmental and social impact…
15 September 2021