Welcome to the CABI podcast. A brand-new series of four episodes dedicated to discovering more about the devastating economic, environmental and social impacts invasive species have and what we can do to manage them.
Each of the four episodes focus on a different invasive species and feature CABI guest experts, who provide their scientific knowledge on the species, the harm caused by them and what CABI is doing to help try to control the species and their impacts in a safe and sustainable way.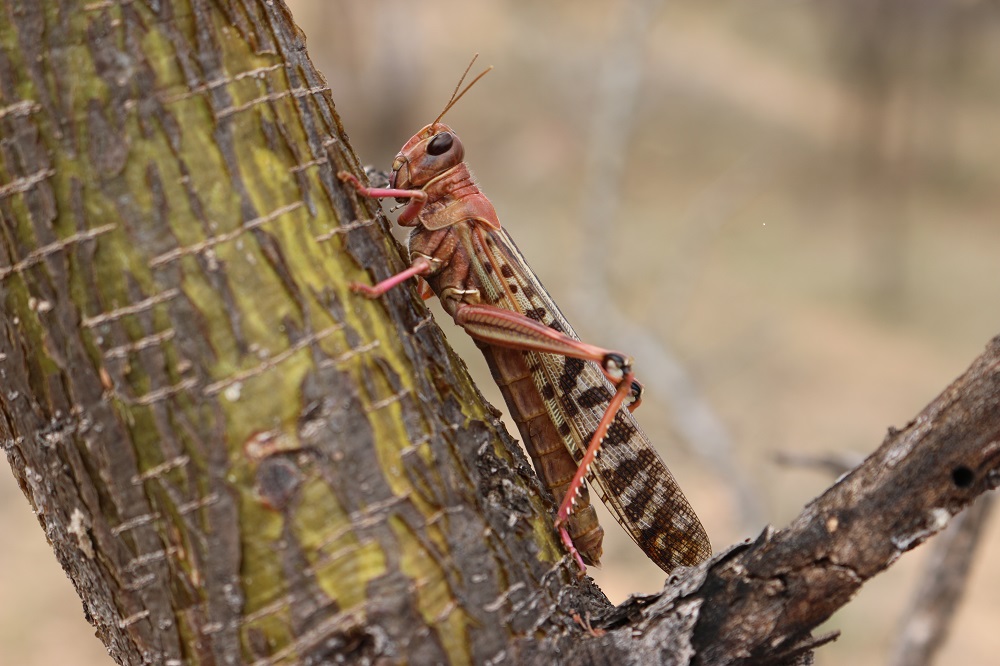 The CABI podcast is available on most major streaming channels – just search CABI podcast invasive species, or listen via the links below.
Don't forget to subscribe to the CABI podcast to receive the latest episode directly your listening device.
Podcast episode 1: desert locusts
Locusts and grasshoppers can decimate crops. In many parts of Africa and Asia locusts invade in swarms of millions – leaving behind ravaged fields and putting livelihoods and food security at severe risk. 
In this episode, CABI scientists Dr Belinda Luke and Dr Ivan Rwomushana share their expert knowledge of one of the world's most destructive migratory pests. We also explore the work CABI is doing in biological control and technology to help mitigate its effects.
Download the podcast transcript
Podcast episode 2: fall armyworm
In 2016, fall armyworm arrived on the shores of West Africa. This voracious pest has since spread across Africa into Asia, the Pacific and, Australia with devastating impact. 
In this episode, CABI scientists Dr Roger Day and Dr Ivan Rwomushana share their expert knowledge on this invasive pest, including why it so successful, the significance of its arrival for smallholder farmers and some of the fall armyworm biocontrol methods currently being researched at CABI centres.
Download the podcast transcript
Podcast episode 3: Himalayan balsam
If you live in the UK, France, Germany, Belgium or even North America, you may have noticed a striking waist-high plant with red stems and beautiful bright pink flowers, growing along waterways and in damp areas.
However, this plant, Himalayan Balsam, is highly invasive with a number of negative effects for native plants and wildlife.
In this episode CABI experts Dr Sonal Varia and Kate Pollard share their scientific knowledge of Himalayan balsam, the problems it causes and the biocontrol methods CABI is currently researching to control one of the UK's most invasive weed species. 
Download the podcast transcript
Podcast episode 4: toadflaxes
Native to Europe, yellow toadflax and Dalmatian toadflax can typically be found on roadsides, grasslands and in crop fields. Like many other weeds, toadflaxes were introduced to North America as decorative plants but they are now having adverse effects.
In this episode, CABI scientists Dr Ivo Tosevski and Dr Hariet Hinz talk about some of the serious problems caused by this invasive weed, particularly to agriculture, biodiversity and wildlife. They also discuss some of the biocontrol options CABI has been working on to make yellow toadflax and Dalmation toadflax more manageable in the USA and Canada.
Download the podcast transcript
Invasive species compendium
Find data sheets on the featured species
Further reading
CABI podcasts: streaming services
Related News & Blogs
CABI has worked on invasive species for over 100 years, developing practical ways of tackling the biggest threats. Our scientists are world leaders in biocontrol research – an approach that uses invasive species' natural enemies, like insects and fungi…
6 December 2023