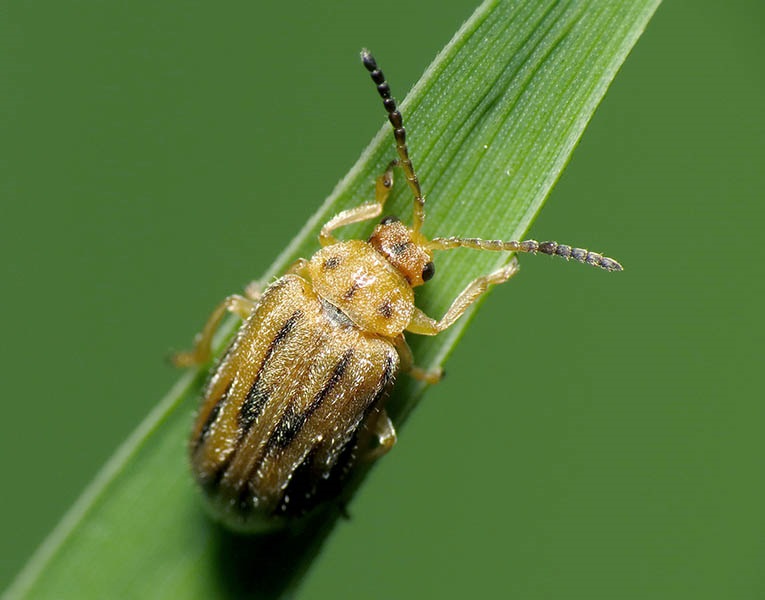 New research – published in the journal Ecological Modelling – reveals an alternative method of predicting population trends through temperature of the leaf beetle Ophraella communa, a potential biological control agent of the hay-fever causing ragweed Ambrosia artemisiifolia in Europe.
Dr Benno Augustinus, who at the time of the research was a student co-supervised by the paper's co-authors Dr Urs Schaffner of CABI and Professor Heinz Müller-Schärer, of the University of Fribourg, led the study which shows that satellite-derived Land Surface Temperature (LST) data works as well as locally measured temperatures to predict insect herbivore phenology.
Herbivorous insects – such as O. communa – play important roles in agriculture as pests or as weed biological control agents. Predicting the timing of herbivore insect population development can be of paramount importance for agricultural planning and sustainable land management.
A previous paper by Dr Augustinus, 'Predicting impact of a biocontrol agent: integrating distribution modelling with climate-dependent vital rates,' in the journal Ecological Applications, looked at how the climate variables temperature and relative humidity might impact the leaf beetle's ability to thrive and fight the flowering of ragweed in Europe. He showed the leaf beetle can be a successful foe to reduce harmful ragweed pollen by eating the devastating plant.
The researchers revealed, for example, that in the Milan area of Italy field observations of the leaf beetle's impact upon common ragweed was an 80 percent aerial pollen reduction – which is in line with their predictions.
In the latest research, Dr Augustinus and the researchers argued that numerical simulation models driven by temperature are often used to predict insect pest population build-up in agriculture. However, such simulation models generally use station-derived temperatures to drive the development of the target insect, although this temperature may differ substantially from that experienced by the insect on the plant.
To try and improve the estimations, they suggested replacing air temperature in the model by LST data. Here, the scientists used a numerical simulation model of insect population dynamics driven by either air temperature (combined with atmospheric temperature soundings) or LST derived from satellites to predict the population trends of the leaf beetle.
Dr Augustinus said, "We compared our model predictions using air or land surface temperature with observed beetle population build-up. Model predictions with both air and land surface temperatures predicted a similar phenology to observed populations but overestimated the abundance of the observed populations.
"When taking into consideration the error of the two measurement methods, the predictions of the model were in overlapping timeframes. Therefore, the current model driven by LST can be used as a proxy for herbivore impact, which is a novel tool for weed biocontrol."
"Satellite-derived LST can be obtained free of charge globally. Especially in areas with low densities of weather stations, LST can thus provide more accurate measurements – which could result in more accurate predictions."
The scientists suggest that the numerical simulation model can be used as a novel method to predict the impact of O. communa on A. artemisiifolia in Europe, both driven with LST and air temperature, and could also be used for different weed biocontrol agents.
Additional information
Main image: the leaf beetle (Ophraella communa) which formed the focus of the scientists' study (Credit: Katja Schulz/via flickr).
Full paper reference
Benno A. Augustinus, Moshe Blum, Sandra Citterio, Rodolfo Gentili, David Helman, David Nestel, Urs Schaffner, Heinz Müller-Schärer, Itamar M. Lensky, 'Ground-truthing predictions of a demographic model driven by land surface temperatures with a weed biocontrol cage experiment,' Ecological Modelling, Volume 466, 2022, DOI: 10.1016/j.ecolmodel.2022.109897
You can read the paper in full open access here: https://www.sciencedirect.com/science/article/pii/S0304380022000242
Other relevant stories
See also the stories 'Turning up the heat on a humble bug to help relieve allergy sufferers from dreaded ragweed' and 'Study shows low risk of non-target attack of European plant species by hay fever-causing ragweed 'bug.'
Related News & Blogs
Tree of heaven is an invasive tree that damages infrastructure and hosts invasive species. But can a mite stop it?
23 June 2022