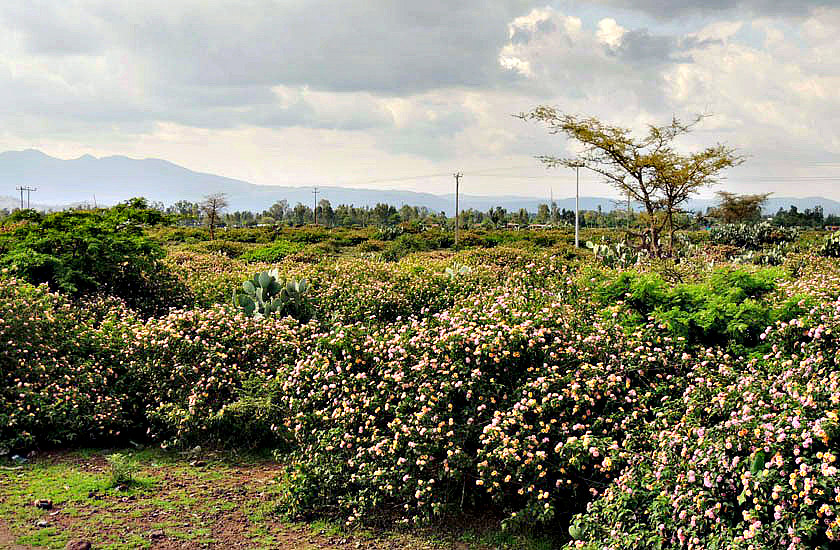 CABI scientists have contributed to new research published in the journal Plant-Environment Interactions which shows how the invasive weed Lantana camara reduced the growth of maize in East Usambara, Tanzania, by 29%.
In what is believed to be the first study to demonstrate and quantify the impact of L. camara on crop growth in semi-natural conditions, the researchers conversely found that no impact was experienced on another crop – that of cassava.
The scientists, which included Dr René Eschen and Dr Urs Schaffner from CABI's centre in Switzerland, sought to gain a better understanding of immediate as well as legacy effects and of direct and indirect impacts of L. camara for improved management of invaded cropland.
L. camara is native to tropical America and was introduced in different parts of the tropics including India and Eastern Africa. It became a popular hedge and garden plant in early 20th century due to its introduction in botanical gardens in different European colonies.
But the species is a nuisance – invading a wide range of habitats and growing best in open, disturbed ecosystems, along forest edges, and roadsides.
In the East Usambara Mountains of Tanzania, for example, it has become widely established amongst the tropical montane forests which are interspersed with villages and agricultural areas.
The study that Dr Amina Hamad, of Sokoine University of Agriculture in Tanzania, conducted for her PhD that she obtained as part of the Woody Weeds project investigated how L. camara impacts the growth of two subsistence crops (maize and cassava) through competition for resources, allelopathy and the indirect plant–plant interactions.
Two pot experiments were carried out using soils from invaded abandoned, invaded cultivated and non-invaded cultivated crop fields.
In the first experiment maize and cassava were grown alone or together with L. camara and half of the pots were treated with activated carbon to suppress allelochemicals.
The effect of the soil microbial community on L. camara—crop interactions was then assessed in a second experiment using autoclaved soil with 5% of soil from the three soil types.
The researchers found that L. camara reduced the growth of maize by 29%, but cassava was not affected. They also did not find evidence of allelopathic effects of L. camara. Inoculation of autoclaved soil with microorganisms from all soil types increased biomass of cassava and reduced the growth of maize.
Because L. camara only caused impacts when growing simultaneously with maize, the results suggest that removal of L. camara will immediately mitigate its negative impacts on maize.
The scientists concluded that: "Farmers state that increases soil nutrient content, resulting in a fertilizer effect once the plants are removed, but also that L. camara reduces crop growth. To our knowledge there is no study that has shown the beneficial effect of L. camara alleged by the farmers in East Africa.
"As there were no legacy effects, the results suggest that removal of L. camara in croplands is sufficient to remediate their negative effects. Future studies where L. camara is experimentally removed from crop fields are needed to confirm this."
Additional information
Main photo: Lantana camara in Ethiopia (Credit: Arne Witt/CABI).
Full paper reference
Hamad, A. A., Kashaigili, J. J., Eckert, S., Eschen, R., Schaffner, U., & Mbwambo, J. R. (2022). Impact of invasive Lantana camara on maize and cassava growth in East Usambara, Tanzania. Plant-Environment Interactions, 00, 1– 10. https://doi.org/10.1002/pei3.10090
Related News & Blogs
A former PhD student co-supervised by CABI's Dr Urs Schaffner is forging a career as a qualified scientist working at the Swiss Federal Institute for Forest, Snow and Landscape Research (WSL) after investigating a natural enemy for common ragweed. Dr B…
16 December 2020