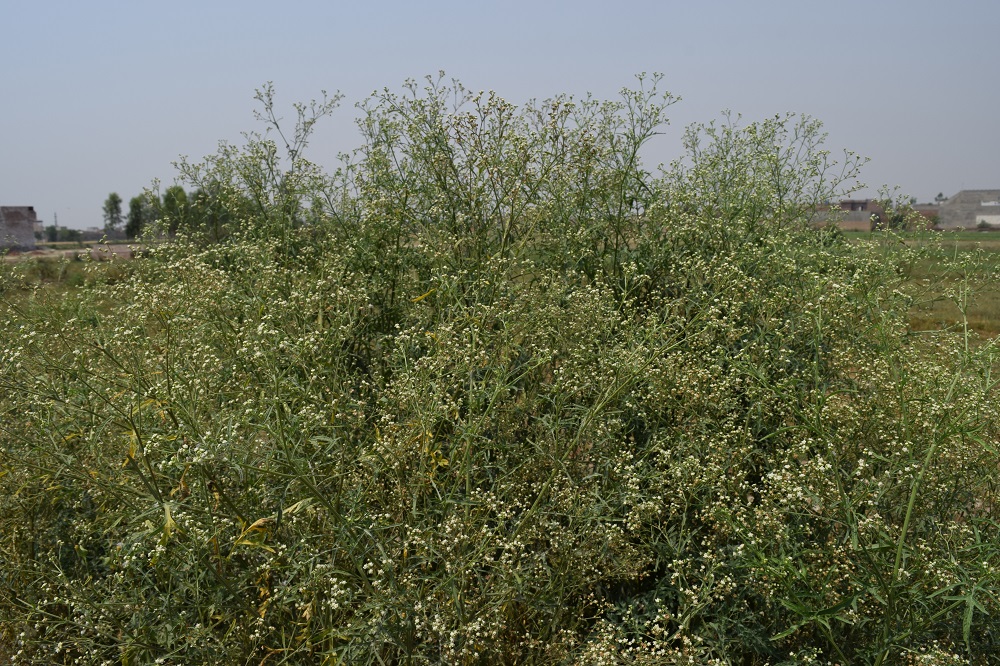 Scientists are busy investigating effective safer-to-use, and friendlier to the environment, biological control agents to fight one of the world's most noxious invasive weeds – parthenium (Parthenium hysterophorus).
Former CABI PhD student Dr Benno Augustinus, who was co-supervised by CABI's Dr Urs Schaffner and Professor Heinz Müller-Schärer, of the University of Fribourg, Switzerland, has realised that all is not quite what is seems when trying to find an effective weapon against parthenium.
According to the CABI Evidence Note 'Parthenium: Impacts and coping strategies in Central West Asia', parthenium is an aggressively-spreading weed, now classed as a 'superior weed,' which is extremely prolific and capable of producing up to 30,000 seeds per plant.
CABI scientists say parthenium can cause severe allergic reactions in humans and livestock, may harbour malaria-carrying mosquitoes, displace native plant species and reduce pasture carrying capacities by as much as 80% to 90% where in India, for example, the cost of restoring grazing land is around USD 6.7 billion per annum.
Not the species first thought
Early investigations – highlighted in a 2020 co-authored paper led by Dr Todd Gilligan, of the USDA Animal and Plant Health Inspection Service (APHIS), showed that the North-American moth found in Israel was not the biological control agent Epiblema strenuana, but another species, Epiblema minutana.
Dr Augustinus's work in Israel, funded by the Jean and Bluette Nordmann Foundation and highlighted in a latest paper published by the journal Management of Biological Invasions, showed that the host range of E. minutana is quite different from that of E. strenuana.
On the up side, E. minutana doesn't attack Niger seed, an oil crop in East-Africa and is the reason why E. strenuana is not considered as a biocontrol agent for parthenium on the African continent (E. strenuana attacks this plant). However, on the down side, E. minutana does not attack parthenium, which is spreading in Israel at the moment.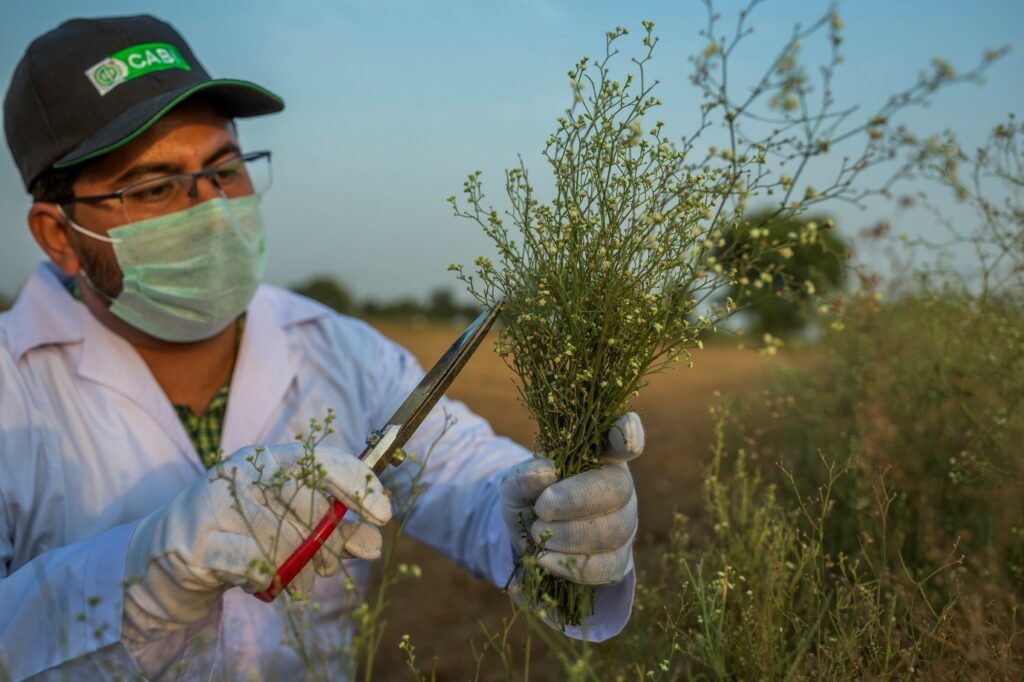 Dr Augustinus, who now works at the Swiss Federal Research Institute for Forest, Snow and Landscape Research WSL, said, "Our research, highlighted in both papers, shows the necessity of working together with good taxonomists when working with biocontrol, especially accidental biocontrol.
"In other regions affected by this invader, parthenium weed has been managed through classical biological control releases of Epiblema strenuana, a stem-galling tortricid moth native to North America. More recently, a congeneric moth, Epiblema minutana has been identified from Israel."
Spread and host range investigated
To better understand the implications of E. minutana for controlling parthenium weed, the scientists investigated the spread of E. minutana within Israel and the Palestinian Authority from 2012 to 2019 and explored its host range.
The researchers used a series of no-choice experiments in field cages to evaluate damage on naturalized Ambrosia spp., Xanthium italicum and parthenium weed as well as potential non-target, commercial cultivars of sunflower (Helianthus annuus L.) and niger (Guizotia abysinnica (L. f.) Cassini).
They also evaluated damage in the field, where substantial gall formation on Ambrosia spp. was found, but none on P. hysterophorus or other genera. The geographical distribution increased from an estimated 424 km sq. in 2017 to 1671 km sq. in 2019.
While E. minutana shows promise as a biological control agent of Ambrosia spp. and does not attack the oil crops sunflower and niger, it is not a suitable biological control agent of parthenium weed, the scientists found.
Distinction between the species
This study provides evidence that E. minutana's fundamental and ecological host range is clearly distinct from the host range of the closely related E. strenuana (Gilligan et al. 2020).
The scientists found a consistent attack of plants in the genus Ambrosia, no attack on G. abysinnica, and only negligible risk to H. annuus grown in Israel, therefore, the biosecurity concern of this moth is not justified.
Dr Augustinus added, "For managers of invasive weeds in Israel, it means that there is no promise for biological control of the weed P. hysterophorus by E. minutana. However, knowledge of the moth's impact on Ambrosia spp. could improve the control of these noxious and highly allergenic weeds."
Both papers quoted in this blog also featured contributions from Dr Schaffner and Professor Müller-Schärer.
Additional information
Main image: Scientists areseeking effective biological control agents for Parthenium (Parthenium hysterophorus) which is a noxious weed spreading in Israel (Credit: CABI).
Full paper references
Augustinus BA, Nussbaum N, Yair Y, Harari A, Yaacoby T, Müller-Schärer H, Schaffner U, Rubin B (2023) Epiblema minutana (Lepidoptera, Tortricidae) in Israel: Promise or Peril? Management of Biological Invasions 14(1)): 98-106.DOI: 10.3391/mbi.2023.14.1.05
You can read this paper open access here: https://www.reabic.net/journals/mbi/2023/1/MBI_2023_Augustinus_etal.pdf
Other related paper
Gilligan TM, Wright DJ, Brown RL, Augustinus BA, Schaffner U. Taxonomic issues related to biological control prospects for the ragweed borer, Epiblema strenuana (Lepidoptera: Tortricidae). Zootaxa. 2020 Jan 30;4729(3):zootaxa.4729.3.3. doi: 10.11646/zootaxa.4729.3.3. PMID: 32229849.
Related News & Blogs
Scientific progress is being made in the fight against crop pests including Oriental migratory locusts, spotted-wing drosophila, Phthorimaea absoluta, pepper Phytophthora blight, and maize leaf spot disease. This is being achieved via the application o…
2 August 2023