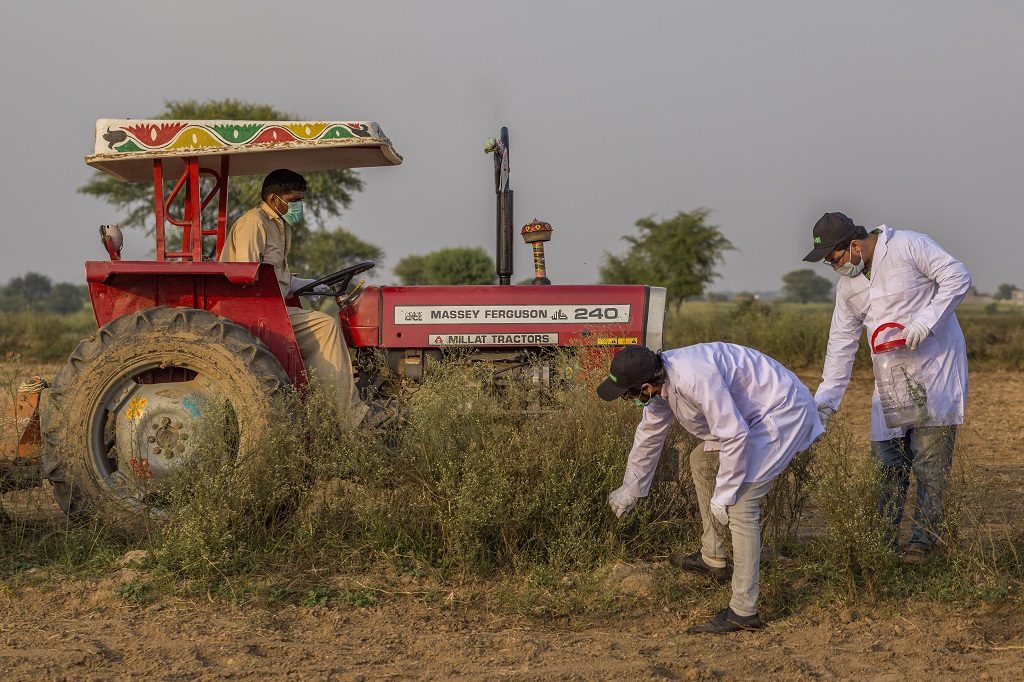 "Usually I'm looking up at the stars but with this project, I'm back down to earth" quips Dr Rene Breton, Director of Research at the School of Physics and Astronomy at the University of Manchester. By combining the skills of a geographer, ecologist, social scientist, entomologist, astrophysicist, biologist, and electrical engineer, the joint CABI and University of Manchester team aim to capitalise on the unique skills from each subject to tackle the highly invasive weed Parthenium in Pakistan using remote sensing.
At a recent workshop held in Islamabad; the first of many under this project funded by the Global Challenge Research Fund (GCRF) under the Science & Technology Facilities Council; the team outlined their aims but crucially, were keen to engage with stakeholders from a range of sectors in Pakistan in order to create an ongoing dialogue. Attendees included representatives from: National University of Sciences and Technology, COMSATS University, Pakistan Agricultural Research Council, PMAS Arid Agriculture University, Institute of Space Technology, and agriculture extension and regional crop reporting departments from Punjab and Khyber Pakhtunkhwa provinces. By engaging with these institutes, the team wanted to understand more about how they could incorporate a more inter-sectoral approach to the project on the ground in Pakistan. "Invasive species like Parthenium affect all corners of society, so for this reason it has historically been difficult to control. By bringing together key decision makers from various sectors, we can create a more universal approach and increase the likelihood of controlling invasive species in future," explained Julien Godwin, CABI manager for the project.
But, what is remote sensing? Remote sensing is the acquisition of information about an object or phenomenon without making physical contact with the object and thus in contrast to on-site observation. "For us at the University of Manchester, it's a way of applying the expertise learned in Physics and Astronomy to the real-world," noted Dr Joe Fennell, Research Associate at Jodrell Bank Centre for Astrophysics, "in particular, this project lets us use the techniques developed in Big Data image analysis for Astronomy to satellite images of the major agricultural regions of Pakistan." The project will be making use of open access data such as that provided by European Space Agency (ESA) satellite, Sentinel 2.
By monitoring Parthenium in crops using satellite imaging, the project aims to quantify the spread on a large scale, particularly in remote areas, in order to create evidence-based control strategies. Collecting data that shows how Parthenium has spread over time will give a deeper insight into its behaviour. In order to know what it might do next, we must first know what it has done before. Fundamentally, the data helps to create a much more compelling report on the extent of Parthenium which can be presented to key decision and policy makers.
Known locally as 'Gajar Booti', Parthenium is a highly invasive weed which threatens biodiversity and crop yields as well as human and animal health. The weed aggressively colonises disturbed sites and is considered as one of the 100 most invasive species in the world by the IUCN. Parthenium causes losses to productivity with reports of up to 40% yield loss in Pakistan and even up to 90% has been reported in Africa. Parthenium also causes a loss of biodiversity by causing total habitat change; the weed is allelopathic meaning it is toxic to surrounding plants, inhibiting their growth. Not only that, Parthenium also poses health risks. It is highly allergenic, causing contact dermatitis and respiratory conditions in both humans and animals. For people in continuous contact with the weed such as farmers or park gardeners it can be very dangerous without proper safety wear, and for livestock, ingesting the plant can taint milk or meat.
"The situation with Parthenium in Pakistan is very serious. It's challenging for many walks of life. This is beyond the remit of the agriculture department or extension service, this is now a community pest," asserts Dr. Muhammad Anjum Ali from the Pakistan Agricultural Research Council, a long-time collaborator with CABI and a partner on this project. He goes on to say that "the use of remote sensing will prove the infestation of the pest and will help to map it in different regions. The use of ICT and new technologies can only serve to strengthen the views of stakeholders, increase the efficiency of our extension agents, and of course work to benefit farmers."
By running this workshop, the team have engaged with the local researchers at CABI and the agriculture officers from Punjab and Khyber Pakhtunkhwa who will be able to carry out data collection known as ground truthing, which validates the remote sensing data. The collection of ground-truth data aids in the interpretation and analysis of the remote sensing data. "Our capacity to monitor Parthenium from remote sensing will be largely based in building a solid and relevant ground truth dataset than can be linked to imagery at different levels," explained Dr Pablo Gonzalez-Moreno, a senior researcher on CABI's invasives team "this can be done using traditional vegetation surveys, quadcopters or even hand-held cameras." Strong connections between CABI and the University of Manchester have established a robust and motivated boost to the project's progress.
The workshop concluded with the participants forming new groups, combining their skills to put forward research ideas around remote sensing to deal with the challenge of Parthenium which could contribute to the project as a whole. Hearing from this local expertise has created new collaborations, enabling the project to work alongside Pakistani institutes; a core facet of this project.
"Having the chance to be on the ground, seeing for ourselves that Parthenium is everywhere – in the city parks and farmers' fields – and creating these durable working relationships between UK and Pakistani universities has been invaluable to the project's progress," commented Joe Fennell.
Ultimately the remote sensing project will foster development through research, creating pathways to impact through its work, and addressing the Sustainable Development Goals. As Dr Breton concluded in his own presentation, "small ideas can make the world better."
Find out more:
Related News & Blogs
Scientists are busy investigating effective safer-to-use, and friendlier to the environment, biological control agents to fight one of the world's most noxious invasive weeds – parthenium (Parthenium hysterophorus). Former CABI PhD student Dr Benno Aug…
6 March 2023