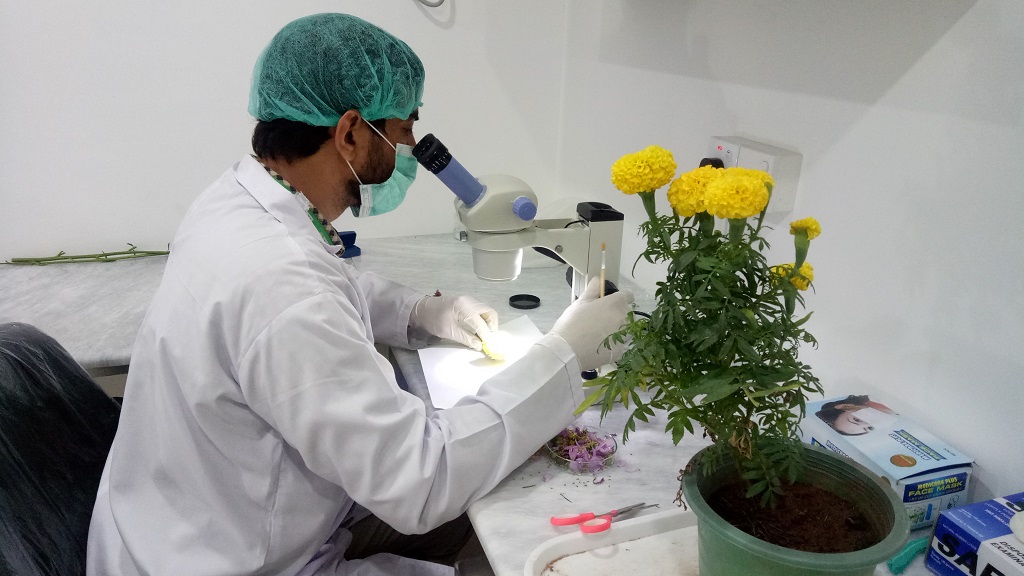 Native to tropical America, Parthenium hysterophorus, commonly known as parthenium, has invaded and become a major weed in over 50 countries. Parthenium has covered thousands of hectares of productive and range land in Pakistan. It is an annual herb which effects agriculture, damages biodiversity, affects human and animal health and adversely impacts economic development.
Parthenium has several natural enemies that help to manage this problematic weed in its native range. Among these, the stem-boring weevil, Listronotus setosipennis, (Coleoptera: Curculionidae) has already been tested for its safety to economic plants and released to manage parthenium infestations in Australia, Ethiopia, Uganda and South Africa.
In 2019, CABI's Action on Invasives programme established a quarantine laboratory at its Rawalpindi centre in Pakistan to enhance its capabilities to manage parthenium weed. In April 2019, a colony of 200 adults of L. setosipennis were imported from ARC-PPRI, South Africa. The import of this biological control agent has since strengthened the biological control programme against this noxious weed in Pakistan.
Listronotus setosipennis is a nocturnal weevil which lays its eggs in the flowers of parthenium. Newly hatched larvae tunnel into the stem where they continue to feed, eventually exiting at the base of the stem to pupate in the soil. Feeding inside the stem by several larvae kills the seedlings and mature parthenium plants.
The host range testing was initiated at the CABI Pakistan centre in October 2019 to determine the safety of L. setosipennis for native and economic plants in the Asteraceae family. No-choice tests for egg laying (reproduction) have been completed for five ornamental plant species so far including: Cosmos bipinnatus, Tagetes erecta, Dendranthema indica, Calendula officinalis and Callistephus chinensis No eggs were found on any of these species while on average 238 eggs per parthenium plant were found. The results thus far confirm the narrow host range of this weevil experienced by other researchers in Australia, Ethiopia and South Africa.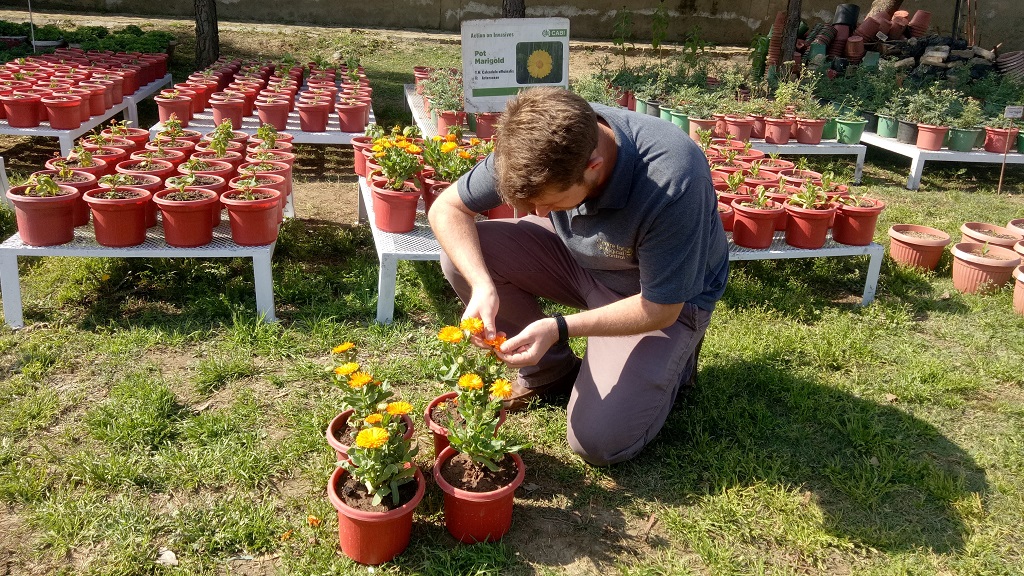 During a recent visit to Pakistan for Action on Invasives research activities, CABI's Dr Philip Weyl, setup the no-choice test for Calendula officinalis, an ornamental plant species that has significant cultural importance in Pakistan.
Dr Weyl commented, "Although more testing is needed, the results so far are very encouraging and I expect that we will submit an application for release of this weevil into Pakistan to the Pakistan Agricultural Research Council in the near future."
Related News & Blogs
A potentially game-changing approach used by CABI scientists in Switzerland could help populations detect Asian hornet nests and destroy them
25 August 2023