This article was originally published on SciDev.Net. Read the original article.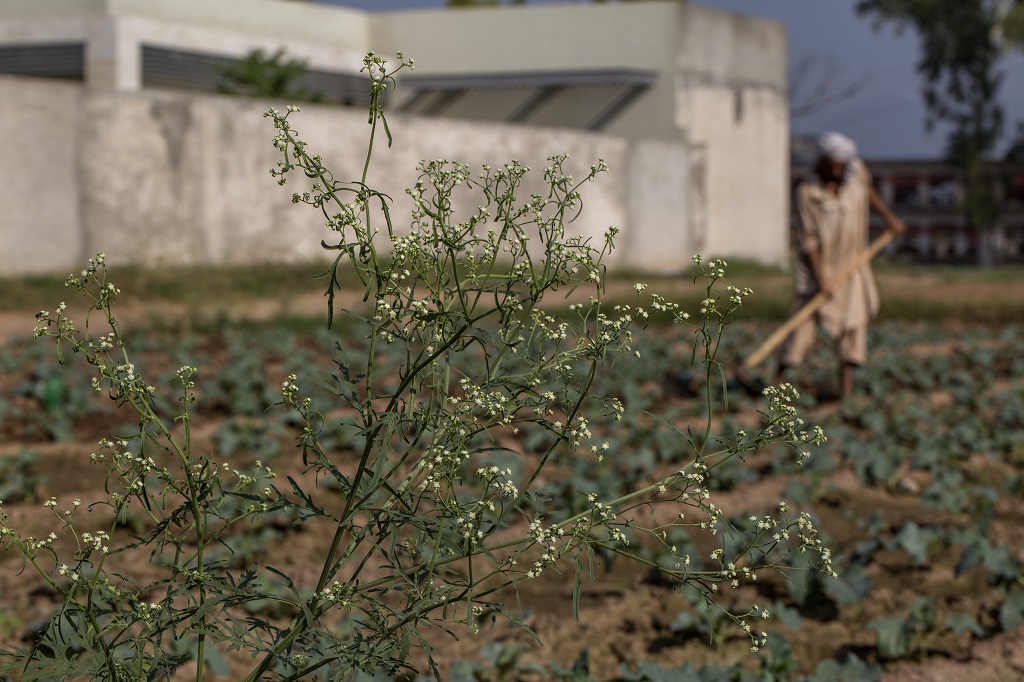 Parthenium is a highly invasive weed that has spread to about 50 countries worldwide, threating agricultural productivity, biodiversity, ecosystems, and human and animal health.

A major struggle to eliminate, parthenium can have heart-­breaking impacts – it has been estimated to cause crop yield losses of up to 95 per cent.

But a solution to this ground invasion could come from space.

Among the countries hit is Pakistan, where one recent study estimated that farmers' individual losses from the weed can run into the thousands of dollars annually — with livestock fodder sites alone affected to the tune of about US$935 each.
"The weed is spreading and adapting rapidly, so we need to come up with some extraordinary solutions."

Ali Bajwa, research officer in weed science, New South Wales Department of Primary Industries, Australia
That means it is essential to get to grips with the issue.

"Parthenium's rapid growth rate and prolific seed production make it highly troublesome," says Muhammad Ishaque Mastoi, national coordinator for plant protection in the Plant Sciences Division at the Pakistan Agricultural Research Council. "In severe cases, entire harvests become unusable. Controlling this weed is essential for agriculture, food security and human health."

With a view to this, the Centre for Agriculture and Bioscience International (CABI, the parent organisation of SciDev.Net) has been running a project with the University of Manchester that harnesses Earth observation data, including satellite data from the European Space Agency's Sentinel-2 mission.

Although the use of satellites has surged in agriculture in recent years, Julien Godwin, project manager for the initiative at CABI, says satellites have not yet been widely explored for tracking invasive weeds in developing countries.
"This could be a very good first step to showcase how big a problem it is at the landscape level," he says.

Over the past couple of years, field assistants in the initiative have been carrying out land surveys on different habitat types in Pakistan, collecting data from more than 4000 points on the ground. This is combined with imagery from the Sentinel-2 satellites, which operate across multiple spectrum bands, including in the infrared bands that the human eye cannot see.

Doing this shows the 'colour' of each survey point, which is used to train algorithms to detect patterns of parthenium. The idea is that the satellites can later use the data to map the weed on a wider scale by inferring where other patches are.

To help predict parthenium's potential spread and target key areas for action, the team has also been developing modelling that includes climatic variables.
Eyes in the sky
In addition, the University of Manchester has been making a low-cost four-rotor 'drone' camera that measures some of the same colours as the satellites, but at a higher spatial resolution to help further understand how well the satellites are capturing data.

A quadcopter gathered the first usable images in early February, with the aim of collecting more to record the growth of parthenium at a test site in the Punjab.

The project's methods constitute a powerful way of gathering information, says Godwin. "Using remote sensing is a much quicker way of getting it… it's giving us a very detailed map of where parthenium is."

Eventually, he says, the technology could even be used to observe the impact of potential measures such as introducing insects to help control parthenium. "We could get a very good understanding at a landscape level of the impact of a biocontrol agent."

With the results under analysis, CABI hopes the project will act as a proof of concept for this type of remote-sensing approach, with the potential to expand the technology to other regions and weeds.

Separate CABI-led project PRISE has been using Earth observation to look at the issue of pest modelling for crops in Ghana, Kenya, Malawi and Zambia. Weather data harnessed from satellites and historic climate patterns is used to help drive the models in real time, indicating how fast outbreaks are developing to aid alerts on what action to take against the pests, and when.

In a case study in Kenya, bean farmers who received information from plant doctors who were sent PRISE alerts lost less of their crop to pests – at 26 per cent of the expected pest-free yield, compared with 49 per cent otherwise. With the aid of the technology, adds PRISE project manager Charlotte Day, there is the opportunity to "scale up to other African countries with very little effort on the data side".

CABI's Plantwise programme already aids farmers through pest and plant health advice, but models backed by remote sensing could help knock problems on the head before they take hold, says Day.

"What we want to be able to do is be more preventative," she explains.
Getting data to the farmers
One perennial challenge in remote-sensing projects is getting relevant information to farmers in a usable form.

To help address this, says Day, PRISE is taking an "agnostic" approach to the model by working with partners such as non-profit organisation Precision Agriculture for Development (PAD), which can get information to more people on the ground through its focus on mobile-based personalised agricultural advice.

There are also hurdles to overcome in what is still a nascent area for satellite technology.
"It is difficult — and expensive — to obtain accurate location data for farmers," says Sam van Herwaarden, a data scientist at PAD, which has started integrating satellite data into its work. "This is generally a bigger challenge than obtaining and processing remote-sensing data," for which, he points out, many useful products are now available online.

Van Herwaarden adds that it can be hard to find reference data to check the accuracy of the satellite products. "For example, there tend to be fewer weather stations in developing countries compared to developed countries, and even fewer for which observations are made publicly available," he says.

He believes there is a lot of valuable remotely-sensed information for farmers that is just waiting to be harnessed. "The data could be used to give farmers actionable advice with significant potential to increase their yields," says van Herwaarden.
Nature of weeds
There are, meanwhile, detection challenges created by the nature of weeds such as parthenium. Ali Bajwa, a research officer in weed science at the Department of Primary Industries in New South Wales, Australia, notes the potential difficulty of remote monitoring for parthenium at large scale in diverse ecosystems, because it grows differently in different places, and can be at varying stages of growth in a single location.

That, he says, emphasises the importance of tying in an in-depth understanding of the plant's biology and ecology, and thus a strong and continued involvement from weed scientists, ecologists, and social scientists on the ground, as well as more input from governments and funding bodies to fight the problem.

"That's important because we're dealing with a dynamic situation," says Bajwa. "The weed is spreading and adapting rapidly, so we need to come up with some extraordinary solutions."

He adds that with tight collaboration, such technologies ultimately have the potential to make significant inroads into the "monster" problem of parthenium in the coming years: "I think we have the right tools, it's just a matter of bringing them together."

Muhammad Usman, assistant professor at the Centre for Geographic Information Systems at the University of the Punjab, who previously worked at CABI, adds that there is a need to increase awareness of parthenium among farmers and how to manage it, with some losing 20 to 30 per cent of their crop after not dealing with it effectively. Sometimes, he says, farmers get rid of parthenium in the centre of fields but not at the edges, even though it can still quickly spread from there. As for the satellite technology itself, says Usman, a challenge is that parthenium often grows in small patches where there are crops, making it tricky to detect.

But he thinks satellites have "huge potential" to help the situation, providing the chance to gather detailed data over huge tracts of land every few days in a way that is not possible with traditional approaches.

The key, again, is ensuring that relevant, digestible information is delivered to farmers, says Usman: "If those of us working on this can involve different stakeholders working with farmers, like extension departments and crop-reporting services, and build some kind of app or map, maybe we can engage farmers better."
This article was originally published on SciDev.Net. Read the original article.
Related News & Blogs
Flattened spotted lanternflies fill the streets of New York City as civilians join the race to stop the pests. Credit: Ali Cherkis for The New York Times Across New York City, large marks and smears of red-like paint are lining the streets. They're app…
26 September 2023