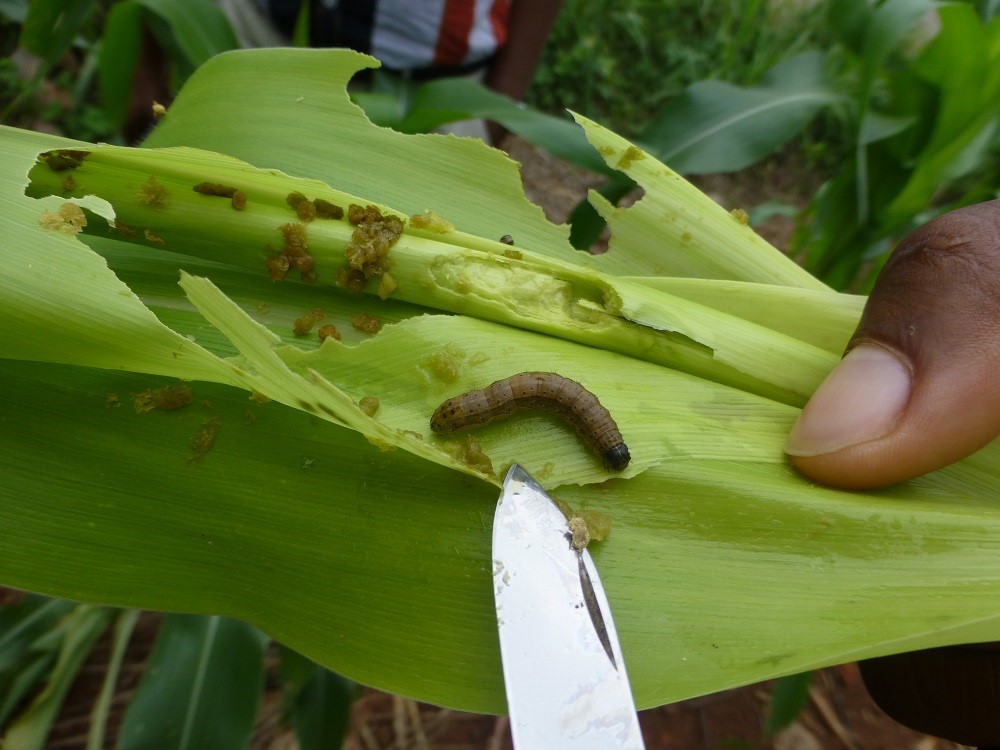 A Technical Working Group (TWG) on Invasive Species in Kenya has been proposed to help the country tackle a range of crop pests – including the devastating Fall armyworm (Spodoptera frugiperda) – which threaten livelihoods and local and national food security.
The move comes after recommendations from a previous evaluation workshop on an Invasive Species System to form a collective unit aimed at spearheading efforts to manage invasive species in an integrated way in Kenya.
CABl's global programme, Action on lnvasives (Aol), in partnership with The County Government of Kajiado, Umma University and the Agricultural Sector Development Support Programme (ASDSP), invited stakeholders to a workshop that discussed the proposed structure and functions of the TWG.
When invasive species arrive in new areas they cause serious damage to crops, livestock production, humans and affect other economic activities. Recent examples of the damaging impact invasive species have had in Kenya include the Fall armyworm, tomato leaf miner (Tuta absoluta) as well as Cuscuta sp and Ipomoea spp, among others.
Patricia, a maize farmer in Baringo county, Kenya, said, "From 2015, we were surprised at the devastation of this pest (Fall Armyworm), as we had never seen anything like it. No pesticide we tried could kill it. It ate everything and brought our livelihood down."
The invasion and spread of these species have shown that sometimes the "invasive species system" is not well prepared to deal with the threat.
The objective of the TWG is to therefore transform the current species specific Multi -Institutional Technical Teams into one body in the country to deal with invasive species threats.
The Working Group will play a role of discussing invasive species that invade, and can potentially invade the country, as well as developing policy decisions for implementation by respective national and international agencies.
Dr Ivan Rwomushana, CABI's Senior Scientist – Invasive Species Management, said, "The current species-specific teams could benefit from harnessing the rich experience in one TWG and deal with multiple invasive species when they meet and are developing policy options."
The first task of the Working Group will be to prioritize the key invasive species that have either invaded or have the potential to invade Kenya, and agree on policy decisions to mitigate the spread.
Additional information
Photo: Fall armyworm continues to pose a significant threat to smallholder farmers in Kenya and elsewhere (Credit: CABI).
Related News & Blogs
A new study led CABI scientists has examined the potential for collective action to fight the fall armyworm (FAW) pest with biological controls in rural Zambia. The research, which was conducted in partnership with colleagues from the Zambia Agricultur…
30 May 2023