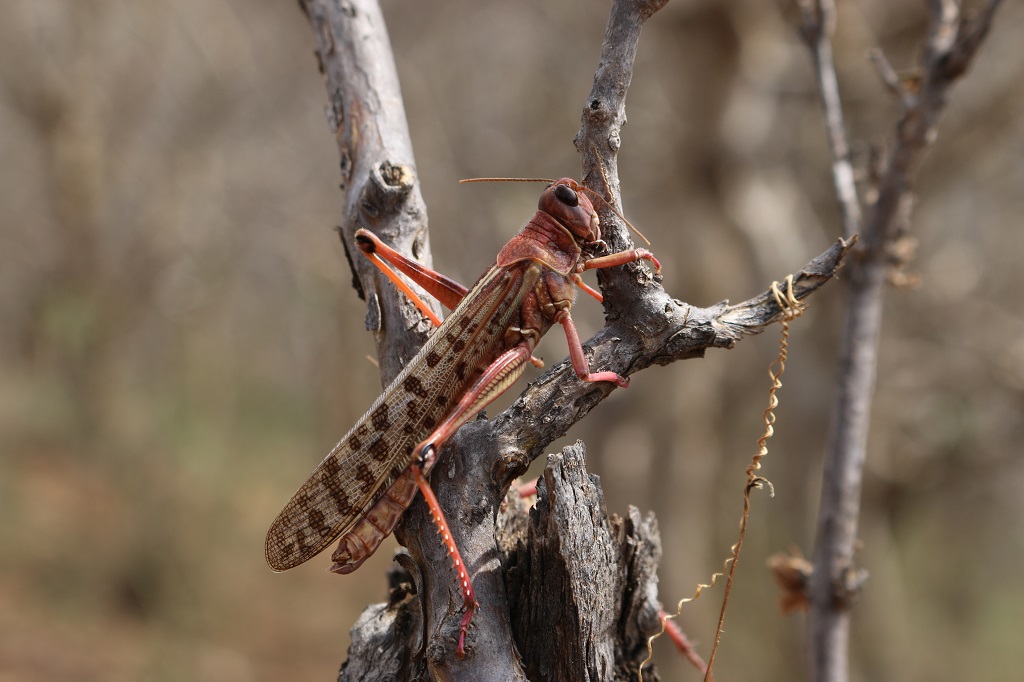 In 2019-2020, according to the Food and Agriculture Organization (FAO), around 20 million people in Ethiopia, Kenya, Somalia, South Sudan, Tanzania and Uganda faced acute food insecurity due to swarms of desert locust (Schistocerca gregaria). In Kenya, the outbreak represented the worst locust crisis in 70 years; by its peak, the country was tackling over 500 swarms in 28 of Kenya's 47 counties. Some swarms were the size of Luxembourg.
The desert locust has a voracious appetite and is arguably the most destructive agricultural pest, globally. A 1 km2-sized swarm of 40 million desert locust could eat the same amount of food in one day as about 35,000 people. Locusts and grasshoppers regularly decimate crops in many parts of Africa and Asia with locusts, in particular, responsible for invading in swarms of millions, leaving behind ravaged fields and putting livelihoods and food security at severe risk.
Tackling locusts with biopesticides
Since the late 1980s, CABI has been working to control the spread of locusts. In 1989, the organization started to lead an international team that went on to develop a safe and effective biological control product for use against locusts and grasshoppers as part of the LUBILOSA programme. The programme aimed to develop a biological (or natural) alternative to the chemical control of locusts. The name, or acronym, comes from the French title of the programme: Lutte Biologique contre les Locustes et les Sauteriaux (biological control of locusts and grasshoppers).
The programme developed a product that attacked desert locusts (nymphs or adults) – a spore-based biopesticide derived from a type of fungus that attaches to external body surfaces of insects. In 2009, the FAO reported that the product developed out of the programme had effectively treated 10,000 hectares of Red Locust-infested land in Tanzania, where a full blown invasion would have threatened the food crops of 15 million people.
CABI licensed the product to Éléphant Vert and provided the starter cultures from its liquid nitrogen stores. Éléphant Vert used its extensive facilities to mass produce and market the product, now called Green Muscle™. This preventative product works best when it tackles young generations of locusts before they become adults and start to fly and is sprayed like a chemical pesticide. It takes about 7-14 days  to take effect, which is why it is considered preventative, although locust stop feeding after 3-4 days post infection.
In October 2020, talking about Green Muscle at a CABI-hosted side event at the World Food Prize, Yann Miège, Head of International Sales at Éléphant Vert, commented how this year's locust crisis in Africa saw Green Muscle used at its largest ever scale. In Somalia, the FAO organised spraying of Green Muscle over more than 100,000 hectares; no chemical pesticides were used.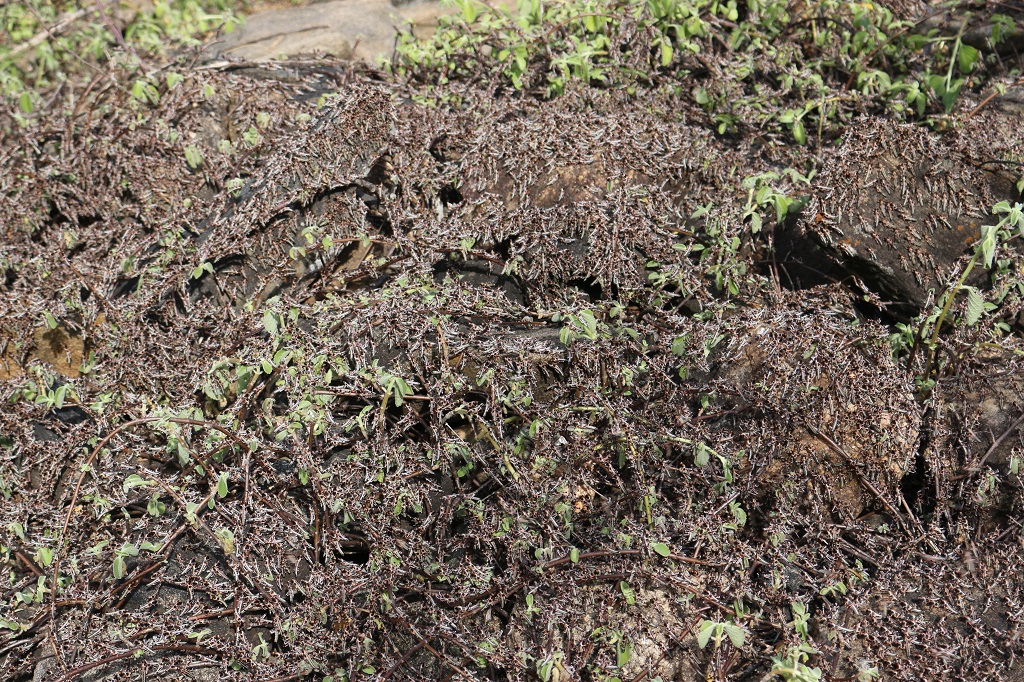 Sharing knowledge to combat the locust
During the same month, CABI also joined forces with the Mercy Corps AgriFin programme to reach over 5 million farmers in Kenya and Ethiopia with advice on how to identify and tackle locust swarms which threatened to destroy their crops. Staff working from CABI's Centre in Nairobi, Kenya, teamed up with the Skoll Foundation-funded AgriFin programme – in conjunction with Ethiopia's Agricultural Transformation Agency (ATA) – to roll out a mass multimedia awareness campaign using TV, radio, print, online and mobile text messaging.
Among the materials created were eight radio spot messages, 50 mobile SMS messages, television talking points and a 10-minute video script developed for us by ATA and Mercy Corps in Ethiopia. This was then pre-tested via the CABI-led Plantwise plant doctor telegram network in Kenya, with feedback from the plant doctors and farmers being incorporated back to enrich the content.
What next?
CABI is leading a drones project to control locust from the skies. With initial trialling taking place in Kenya, the initiative will test the use of drones as a new technology to complement traditional desert locust management measures. Specifically, the technology works by equipping Unmanned Aerial Vehicles (UAVs), or drones, with specially-designed and calibrated spraying equipment that enables mapping and precision spraying.
---
For more information about biopesticides, see CABI's BioProtection Portal
Click here for more information about CABI's work on invasive species; also visit CABI's Invasive Species Compendium
All images ©CABI (Ivan Rwomushana)
Related News & Blogs
Flattened spotted lanternflies fill the streets of New York City as civilians join the race to stop the pests. Credit: Ali Cherkis for The New York Times Across New York City, large marks and smears of red-like paint are lining the streets. They're app…
26 September 2023