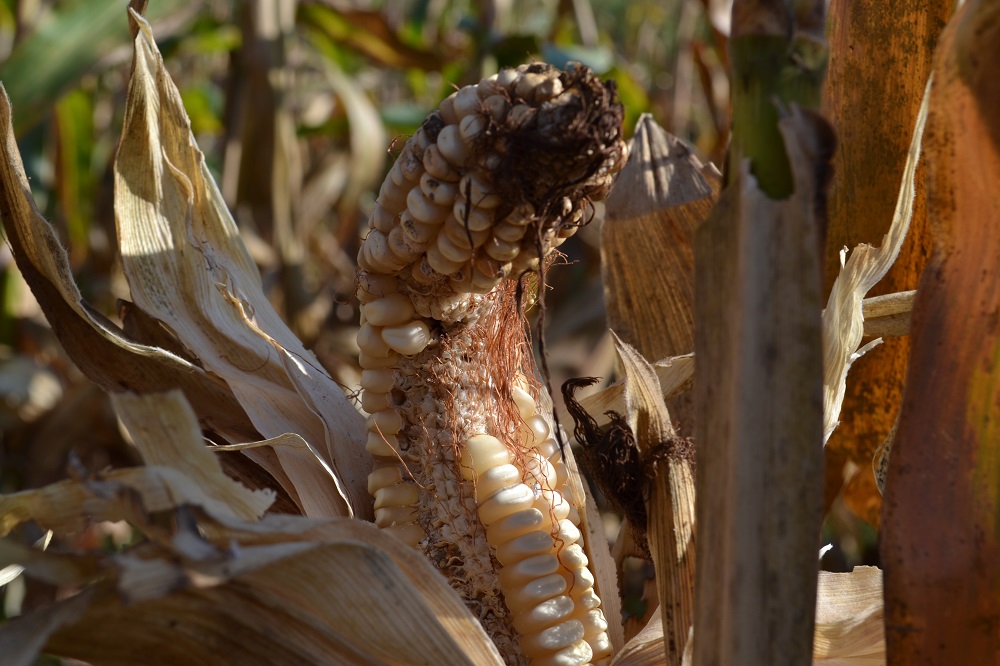 CABI has hosted a virtual workshop focused on researching biological controls to fight the devastating fall armyworm (Spodoptera frugiperda) in Africa as lead of the fall armyworm sub-group of the IOBC-Global International Working Group of Ostrinia and other maize pests (IWGO).
Dr Marc Kenis and Dr Dirk Babendreier, who are based at CABI's Swiss Centre in Delémont, chaired two half-day sessions – including 12 presentations exploring FAW control strategies using parasitoids, predators and nematodes with the aim of supporting scientific coordination and collaboration.
The presentations were:
'Invisible allies in the fight against fall armyworm Spodoptera frugiperda in different agroecologies in Cameroon: the need to know and conserve beneficials', presented by Komi Fiaboe, International Institute of Tropical Agriculture (IITA), Yaounde, Cameroon.
'Conservation biocontrol of FAW in Zambia', presented by Léna Durocher-Granger, Wageningen University and Research, Wageningen, Netherlands.
'Natural enemies of the fall armyworm, Spodoptera frugiperda (Lepidoptera: Noctuidae) within Agro-ecological zones of South Kivu Province, Eastern DR Congo', presented by Marcellin Cuma Cokola, Functional and Evolutionary Entomology, Gembloux Agro-Bio Tech, Liege University, Gembloux, Belgium.
'Effect of chemical- and biopesticides on larval parasitism of fall armyworm in Ghana', presented by Dirk Babendreier, CABI, Delémont, Switzerland.
'First report of native parasitoids of fall armyworm Spodoptera frugiperda Smith (Lepidoptera: Noctuidae) in Mozambique', presented by Albasini Caniço, School of Agriculture-University of Lisbon, Lisbon, Portugal.
'Fall armyworm induced early herbivory cues: implications for parasitoid recruitment', presented by Amanuel Tamiru, International Centre of Insect Physiology and Ecology (icipe), Nairobi, Kenya.
'Parasitism of locally recruited egg parasitoids of the fall armyworm in Niger', presented by Malick Ba, ICRISAT, Niamey, Niger.
'Assessing the potential of inoculative release of Telenomus remus to control the fall armyworm, Spodoptera frugiperda in real field condition in Ghana', presented by Lakpo Koku Agboyi, CABI, Accra, Ghana.
'Four egg parasitoid species of the fall armyworm, Spodoptera frugiperda found in Zambia, and their biological control potential', presented by Lian-Sheng Zang, Institute of Biological Control, Jilin Agricultural University, Changchun, China.
'Field trials in Africa demonstrate the control of the fall armyworm using formulated entomopathogenic nematodes', presented by Patrick Fallet, University of Neuchâtel – FARCE, Neuchâtel, Switzerland.
'The fall armyworm can overcome biological control agents using plant defenses', presented by Ivan Hiltpold, University of Delaware, Newark, US.
'On-going work on classical biological control of fall armyworm at CABI', presented by Marc Kenis, CABI, Delémont, Switzerland.
The full programme and full details of the abstracts can be found on the IWGO website here.
Additional information
Main image: Maize damage caused by fall armyworm (Credit: CABI).
Find out more about CABI's work combatting the fall armyworm here.
Related News & Blogs
CABI has worked on invasive species for over 100 years, developing practical ways of tackling the biggest threats. Our scientists are world leaders in biocontrol research – an approach that uses invasive species' natural enemies, like insects and fungi…
6 December 2023