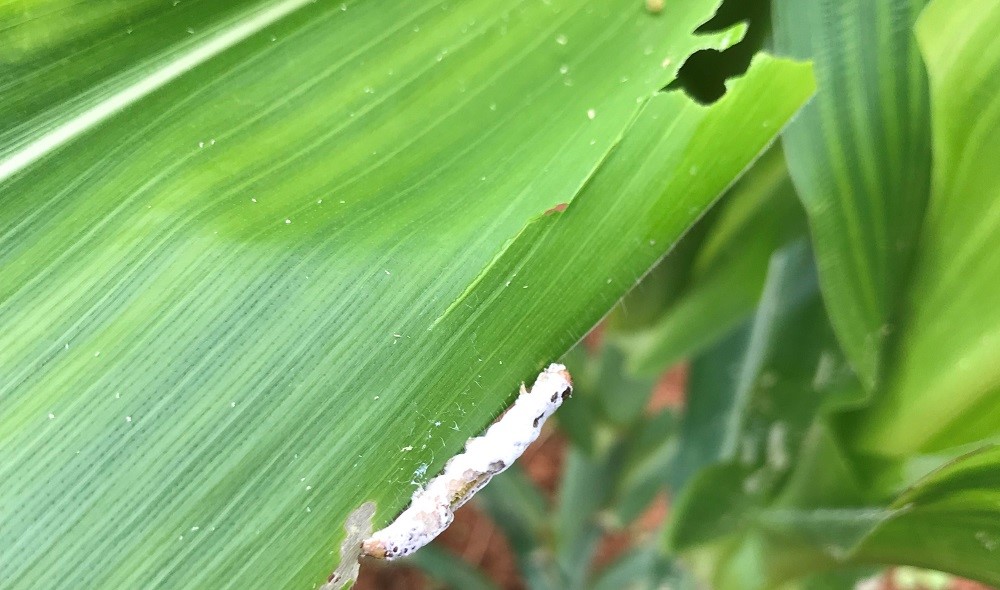 CABI scientists have shared their expertise on the use of safer-to-use and more sustainable biocontrols of the fall armyworm (Spodoptera frugiperda) as part of an ASEAN Technical Workshop Series on how to tackle the devastating crop pest.
The ASEAN Action Plan on Fall Armyworm Control is partnering with Grow Asia, CABI, IPM Innovation Lab, Biorationale, the International Rice Research Institute (IRRI), the International Crops Research Institute for the Semi-Arid Tropics (ICRISAT) and the Chinese Academy of Agricultural Science (CAAS) to deliver this innovative 9-part series.
The idea is for the workshops to help identify at least one laboratory, training, or research centre in each Southeast Asian country, where possible, to help support the work of providing practical information and advice for practitioners in the field interested in using biocontrol strategies as part of an Integrated Pest Management (IPM) approach to controlling fall armyworm (FAW).
Dr Feng Zhang, Dr Roger Day and Dr Sivapragasam Annamalai delivered a presentation, entitled 'FAW Biological Control: Farmer acceptance and scale-up issues,' at the meeting which also included Dr Tan SiangHee (CropLife Asia), Dr T.M. Manjunath (India) and Dr Rica Joy Flor (International Rice Research Institute).
In the CABI presentation, the scientists spoke about the challenges of implementing biological controls for FAW with a special focus on farmers' perspectives.
For example, with reference to the CABI-led paper – published in Pest Management Science – 'Why don't smallholder farmers in Kenya use more biopesticides in Kenya' by Dr Kate Constantine et al, Dr Zhang highlighted how farmers know biological controls are safer but rarely use them.
He added that, compared to biological controls, pesticides are perceived to be cheaper, broader spectrum, more easily available, quicker to work and more effective. Dr Zhang said we need to continue to develop effective biological controls, make sure they are available and affordable, and build farmers' awareness that biologicals work differently from chemicals.
Similarly, looking at the main challenges for the adoption of bio-based solutions in Myanmar, Dr Zhang pointed out that 28% of farmers surveyed had a lack of knowledge of biocontrol products, 18% thought they take too much time to work and 14% cited a lack of support from the government.
Other issues discussed during the webinar included the need for different actors – farmers, researchers, regulators and registrars, manufacturers, distributors and retailers – to understand each other's role in the use of biocontrols and biopesticides to manage crop pests and diseases.
The next session in the series is 'Biopesticide efficacy Part 2: Effective design of biopesticide trials' which takes place at 04:00 PM SGT (GMT+8) on 8 April, 2021. Find out more and register here.
Additional information
Main image: Fall armyworm lava attacked by a fungal pathogen in maize field (Credit: CABI).
You can read the presentation by Dr Zhang, Dr Day and Dr Annamalai on the SCRIBD platform here.
Related News & Blogs
A potentially game-changing approach used by CABI scientists in Switzerland could help populations detect Asian hornet nests and destroy them
25 August 2023