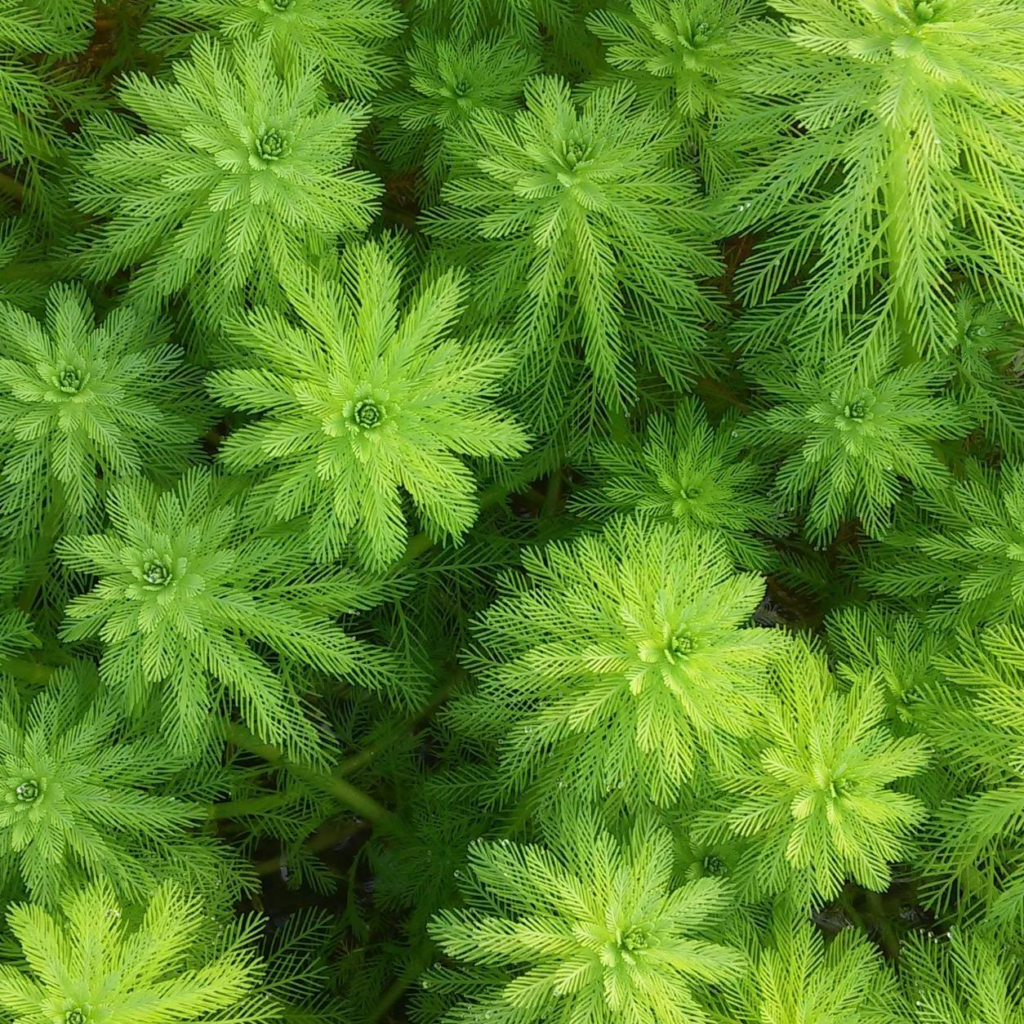 Myriophyllum aquaticum, commonly known as parrot's feather, is an invasive aquatic weed. It can have roots underwater in depths of up to 1.5 metres with shoots that appear 20-50cm above the water surface. This makes it both a submerged and emergent plant. It is native to South America but is a popular garden and aquarium plant with a long history of invasion worldwide.
Parrot's feather thrives in habitats prone to disturbances like fluctuations in water level. This makes it extremely difficult to control. Any mechanical method that fragments the plant (e.g. mowing or chaining) will actually favour its growth and spread.
Herbicides are not a safe option either because of restrictions in the sensitive wetland habitats that parrot's feather invades, and also because the plant has an emergent and submerged form.
A survey carried out in California in the early 90s estimated a cost of USD 215,000 over a two-year period – that would be approximately USD 428,000 today.
Dense mats (and other negative effects)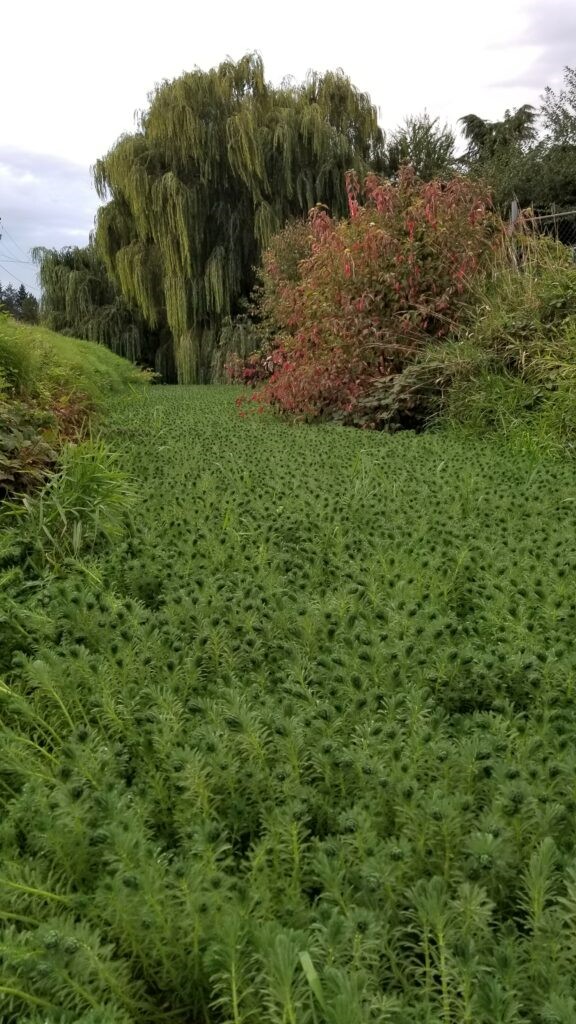 Due to the absence of male plants in the invaded range, the spread of parrot's feather is entirely vegetative. The plant can form dense impenetrable mats. This reduces the number of native species, water quality, and habitat quality. It also negatively affects recreational activities like swimming and boating.
In invaded urban areas such as in Cape Town, South Africa, it significantly increased flood risk by clogging canals, ditches, and storm drains.
However, in South Africa the biological control of parrot's feather has been highly successful and the invasion is now rendered largely insignificant. The still undescribed leaf-feeding chrysomelid Lysathia sp. was released there in 1994 as a biocontrol agent. Both adults and larvae cause extensive defoliation of parrot's feather by damaging its emergent stems.
Even though the agent cannot feed on the submerged stems, adult Lysathia sp. return to defoliate the new emergent stems, eventually depleting (usually within three years or less) the carbohydrate storage of the plant and the mat collapses.
Biological control
CABI Switzerland and CABI UK have been working in collaboration to develop biological control programmes for Canada and the UK respectively, sharing information and knowledge across the centres.
There are a couple of potential biological control agents that are worth further investigation: the leaf-feeding flea beetle, Lysathia sp. and the stem-mining weevil, Listronotus marginicollis. Both species are native to South America and have been developed as part of the biological control programme for parrot's feather in South Africa.
Canada
Parrot's feather was first recorded in Canada in 1980. Since then, it has been recorded at multiple sites throughout the Lower Mainland and on Vancouver Island in Canada, and into Washington and Oregon in the United States. Here it is becoming increasingly problematic in shallow streams, irrigation ditches, ponds, and shallow lakes.
With funding from the British Columbia Ministry of Forests, Land, Natural Resource Operations, and Rural Development, in 2021 CABI began developing a biological control programme against parrot's feather in the Lower Mainland. Through the Washington State Department of Ecology and Washington State Department of Agriculture, the USA is now also included in the project consortium.
There is also a third biological control agent option: Phytobius vestitus. This weevil, which is native to North America, was recently identified in Louisiana damaging parrot's feather to the extent that it was managing it in certain locations.
United Kingdom
Parrot's feather was first recorded in the wild in the UK in the 1960s and is now relatively widespread, particularly in the midlands and south of England. Like in much of its invasive range, the weed is found growing in freshwater lakes, streams, ditches, ponds and canals.
Since 2021 CABI UK have been funded by UK Department of Food and Rural Affairs (Defra) to investigate the potential for biological control, paying particular attention to Lysathia sp. and L. marginicollis.
Tests so far
All the insects have the potential to be effective and safe biological control agents and the project teams will be evaluating them. However, before any agent can be considered for safe release, host-range testing of plant species relevant to the region, will have to be conducted.
Lysathia sp. was successfully imported into quarantine at CABI's labs in Switzerland and the UK from South Africa and rearing is ongoing. It has already been tested against five plant species within the Haloragaceae plant family and additional testing continues.
Since Canada and the UK are much cooler than their native habitat, climate may be a limiting factor for these agents. Thermal studies will determine whether they would survive on release.
In addition, Fundación para el Estudio de Especies Invasivas (FuEDEI) in Argentina are carrying out studies on the biology and host range of L. marginicollis in the native range. The aim of this collaborative work is to eventually ship the weevil to CABI for further testing.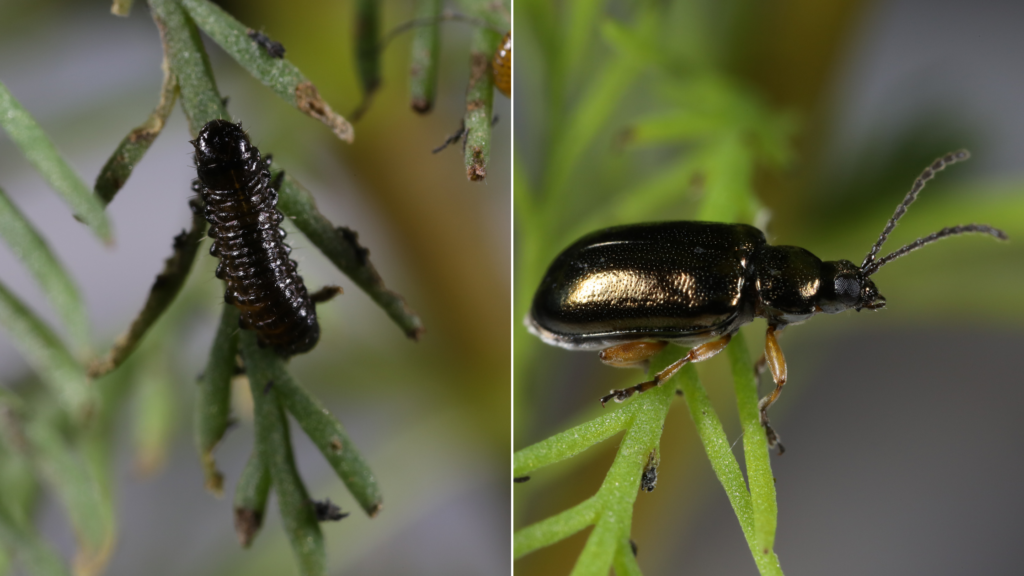 Project leaders, Dr Philip Weyl for CABI Switzerland and Dr Sonal Varia for CABI UK, are hopeful that with continued promising results, their teams will be able to develop a full test plant list to include species that share the same habitat and are considered at risk.
---
Find out more
Biological control of parrot feather in North America
Invasive Species Compendium datasheet: Myriophyllum aquaticum (parrot's feather)
Related News & Blogs
CABI has worked on invasive species for over 100 years, developing practical ways of tackling the biggest threats. Our scientists are world leaders in biocontrol research – an approach that uses invasive species' natural enemies, like insects and fungi…
6 December 2023