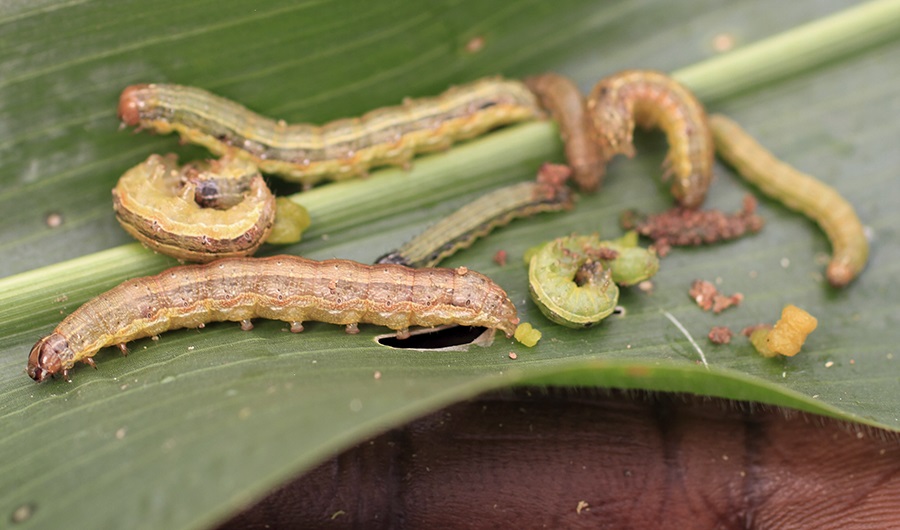 Scientists at CABI's regional centre in Malaysia are making good progress in evaluating baculovirus-based biological solutions to manage a range of crop pests including fall armyworm, beet armyworm and diamondback moth.
Dr Muhammad Faheem, Integrated Crop Management Advisor at CABI, has been busy carrying out initial bioassay studies to use Fawligen against local populations of fall armyworm (Spodoptera frugiperda).
Early bioassay results indicate that Fawligen showed varying performances depending on dosage but all rates demonstrated good control of fall armyworm compared to using no treatment at all. Later its efficacy will also be tested against FAW population on the maize crop fields.
CABI is working in partnership with AgBiTech – a global leader in biological solutions to help create healthy food systems – to test the success of the company's Fawligen product in the management of fall armyworm on maize and beet armyworm (Spodoptera exigua) on shallot vegetables.
The scientists are also testing the efficacy of AgBiTech's Lepigen against diamondback moth (Plutella xylostella) on cabbage in Cameron Highlands, Malaysia.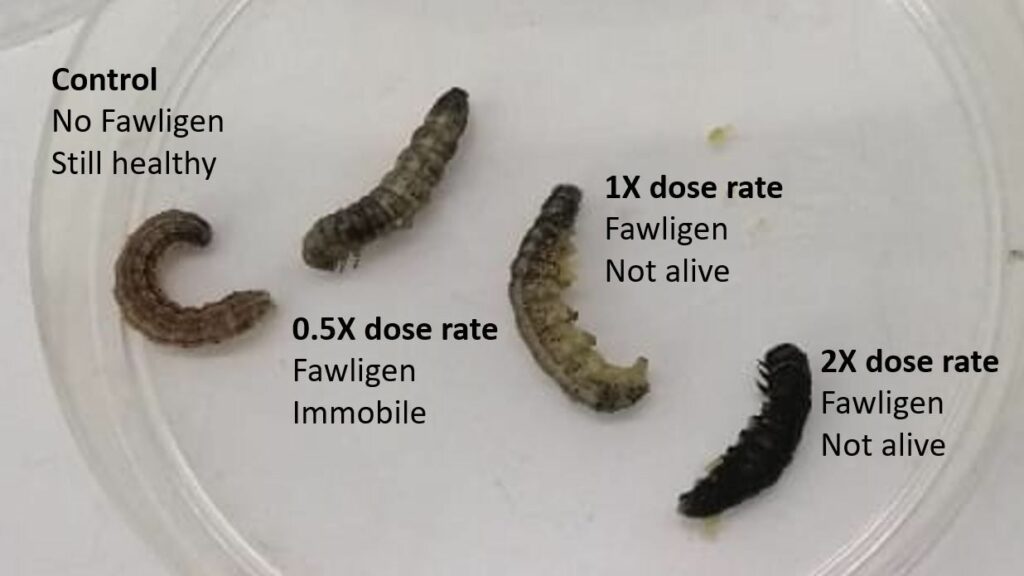 CABI's regional centre for Africa has already worked with AgBiTech to evaluate Fawligen which was approved by the Pest Control Products Board (PCPB) and registered to control fall armyworm in Kenya. Fawligen has also been granted an emergency use permit to fight fall armyworm in Australia.
The fall armyworm has affected several African and Asian countries with losses on maize ranging from 8.3 to 20.6 million tonnes annually. Meanwhile, the diamondback moth is a major widespread pest of crucifers grown in the Cameron Highlands and lowland of Malaysia causing up 90% yield losses. Globally, the pest of estimated to cost up to US $5 billion a year in damaged crops.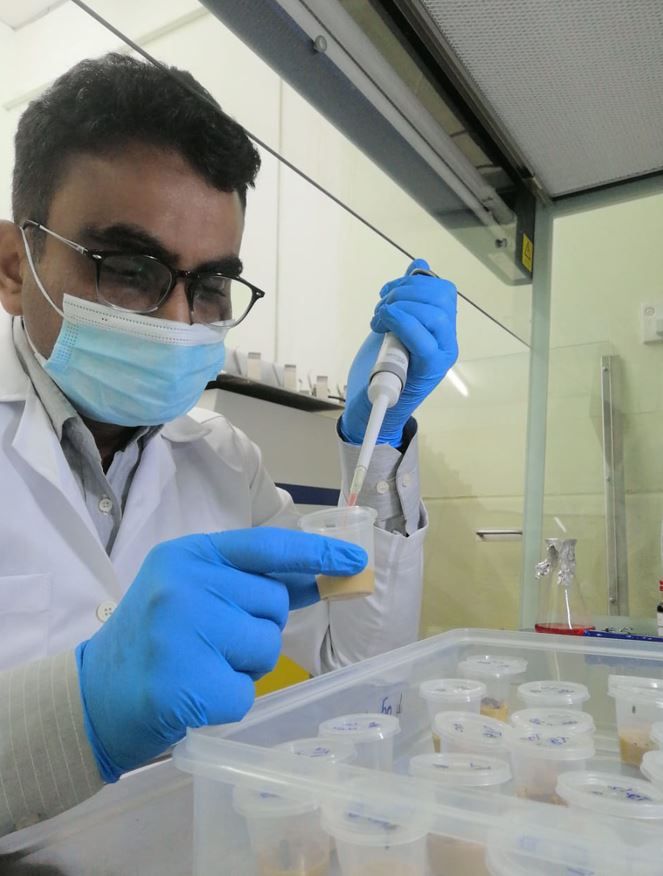 After successfully introducing its range of baculovirus-based biological solutions in North and South America, Africa and South Asia, AgBiTech is entering the markets in South East Asia through multiple strategic partnerships in the region.
The company has signed agreements with PT Dewari Agro Sakti (DewAgro) in Indonesia, Leads Agri in the Philippines and HSC Production and Trading Joint Stock Company in Vietnam. In addition to these partnerships, AgBiTech has also signed agreements with CABI in Malaysia as well as SGS Indonesia to carry out evaluations and trials of multiple products targeting the aforementioned pests.
The work by CABI is led by Dr Muhammad Faheem, Integrated Crop Management Advisor at CABI, with support from Dr Hongmei Li, Dr Sivapragasam Annamalai and Dr Feng Zhang, Regional Director, East & South-East Asia. Dr Shachi Gurumayum, Head of Business Development, will lead the engagement for AgBiTech.
Dr Faheem said, "Preliminary results show that Fawligen may well be an effective biological control against fall armyworm but we now need to test whether or not it is also effective against other crop pests of interest.
"Biopesticides, such as Fawligen, can be a highly effective alternative to pesticides and – when used in conjunction with good crop management – can help to keep fall armyworm levels under control."
Additional information
Main image: Fawligen is being investigated as a possible biological control against a range of crop pests including fall armyworm (pictured) and diamondback moth and beet armyworm (Credit: CABI).
Other relevant story
See also'CABI to assess biological controls in fight against diamondback moth, fall and beet armyworms in Malaysia.'
About CABI's regional centre in Malaysia
CABI's regional centre in Malaysia works across the whole of South East Asia. This region is still largely agriculture-dependent, very biodiversity-rich and environmentally-fragile.
This centre's work is wide-ranging. It includes sustainable pest and disease management, invasive species prevention and management, and work around plant health, biosecurity and sanitary and phytosanitary (SPS) issues. Also important is work looking at sustainable production techniques and commodity chains, as well as information management and access to knowledge.
For more information, visit https://www.cabi.org/what-we-do/cabi-centre/malaysia/
About AgBiTech
Since 2002, AgBiTech has been delivering commercially proven products that help make farming more profitable and sustainable. AgBiTech combines field experience with innovative science and proprietary technology, working with farmers, advisors and researchers to develop products that deliver highly effective biological insect management solutions. AgBiTech manufactures all of its products in-house, with a tireless focus on quality and efficiency, allowing it to produce consistent and cost-effective biological products that have established market leading positions. For further information, visit www.agbitech.com
Related News & Blogs
CABI has worked on invasive species for over 100 years, developing practical ways of tackling the biggest threats. Our scientists are world leaders in biocontrol research – an approach that uses invasive species' natural enemies, like insects and fungi…
6 December 2023