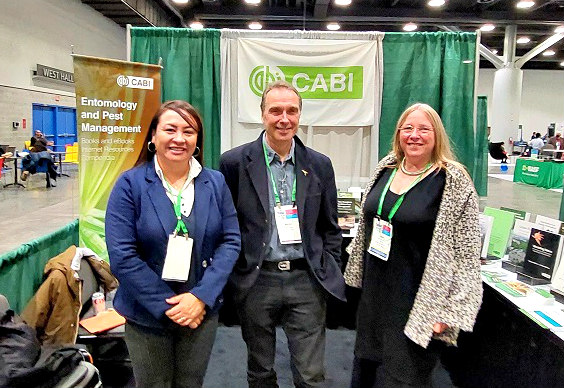 CABI scientists have shared their expertise in safer-to-use and more sustainable biological control agents for the global management of crop pests and diseases which can threaten the livelihoods of smallholder farmers and food security.
Dr Yelitza Colmenarez, CABI's Centre Director, Brazil, and Dr Adeney Bueno of Embrapa-Brazil, jointly organised a symposium in Vancouver, Canada, entitled 'Global Challenges and Advances in Pest Management Toward a Sustainable Agriculture' at a meeting of the Entomological Society of America (ESA).
As part of a range of presentations, Dr Colmenarez was joined by Dr Carlos Vasquez, of the Technical University of Ambato-Ecuador, and Dr Natália Corniani, Integrated Crop Management Advisor at CABI in Brazil, who spoke about the biological control for sustainable food production in Latin America as part of the global CABI-led Plantwise programme.
Farmers' crops are increasingly at the mercy of climate change, pests and diseases. Plantwise is helping countries predict, prepare for and prevent potential threats and reduce crop losses.
It does this through a network of plant clinics where plant doctors diagnose crop pest and disease problems before offering more sustainable biological control solutions as part of an Integrated Pest Management (IPM) plan.
Meanwhile, Dr Ivan Rwomushana, CABI's Senior Scientist, Invasive Species Management, based at CABI's Regional Centre for Africa, gave a presentation about implementing classical biological control in Africa – with the case of papaya mealybug control as an example.
Other presentations were also given by CABI scientists. This included Dr Malvika Chaudhary who is Regional Coordinator for Plantwise in Asia. She looks after programme partnerships and activities which focus on food security.
This includes testing tools and developing manuals for plant protection. She is also working on the CABI BioProtection portal, which promotes the utilization of biocontrol and biopesticide products around the world.
Dr Tim Haye and Dr Lukas Seehausen, who are based at CABI in Switzerland also presented at the symposium. Dr Haye is an expert in the biological control of the brown marmorated stink bug while Dr Seehausen's work involves research in the fight against the devasting fruit fly Drosophila suzukii.
Dr Colmenarez said, "The symposium was an opportunity for some of the world's leading experts in the field of the biological control of crop pests and diseases to share the latest research in the ongoing challenge of sustainable food production.
"The need to find more safer-to-use and environmentally friendly ways to manage the threats posed to farmers' yields and profits has never been more pertinent especially in light of our growing global population and climate change pressures."
Additional information
Main image: Dr Yelitza Colmenarez, Ward Cooper, Commissioning Editor at CABI, and Dr Joan Van Baaren from Rennes University who visited the CABI stand at the symposium (Credit: CABI).
CABI's work on Invasive Species
Through its work with donors and partners, CABI is helping to manage the spread of invasive species, a problem that costs the world almost 5% of global gross domestic product or an estimated US$1.4 trillion per year.
Find out more here.
Related News & Blogs
Flattened spotted lanternflies fill the streets of New York City as civilians join the race to stop the pests. Credit: Ali Cherkis for The New York Times Across New York City, large marks and smears of red-like paint are lining the streets. They're app…
26 September 2023