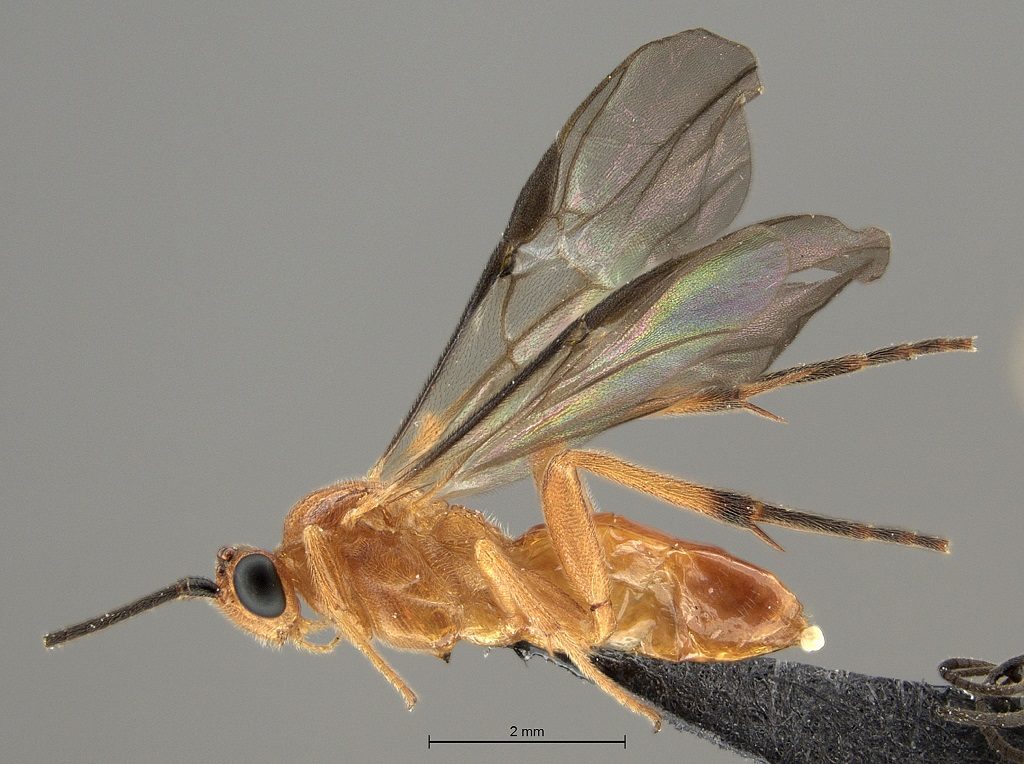 In a recently published study led by CABI, researchers assessed, under lab conditions, the effect of the endoparasitoid wasp, Coccygidium luteum on the leaf rate consumption of its host – fall armyworm larvae.
Published in Insects, the paper found that the leaf consumption rate of parasitized fall armyworm larvae gradually declined compared to unparasitized larvae with an overall consumption reduction of 89%.
C. luteum parasitizes different Lepidoptera species in Africa. A survey carried out in Ghana in 2018 identified C. luteum as one of the major natural enemies of fall armyworm and was then also identified in Kenya and Tanzania as a common parasitoid. The wasp is widely distributed in Africa, having been recorded in 20 countries across the continent. However, there is limited knowledge of the efficacy of native natural enemies of fall armyworm and their potential use in integrated pest management (IPM).
Biological control is one of the best options for the sustainable management of fall armyworm, which has devasted crops across Africa since its confirmed arrival in West Africa in 2016. The invasive caterpillar attacks more than 100 species of plant including rice, sorghum and sugarcane but favours maize. When the pest first hit farmers, governments provided emergency chemical control. This is, however, unsustainable and carries a risk of insecticide resistance and adverse effects on environment which could be reduced by adopting IPM strategies.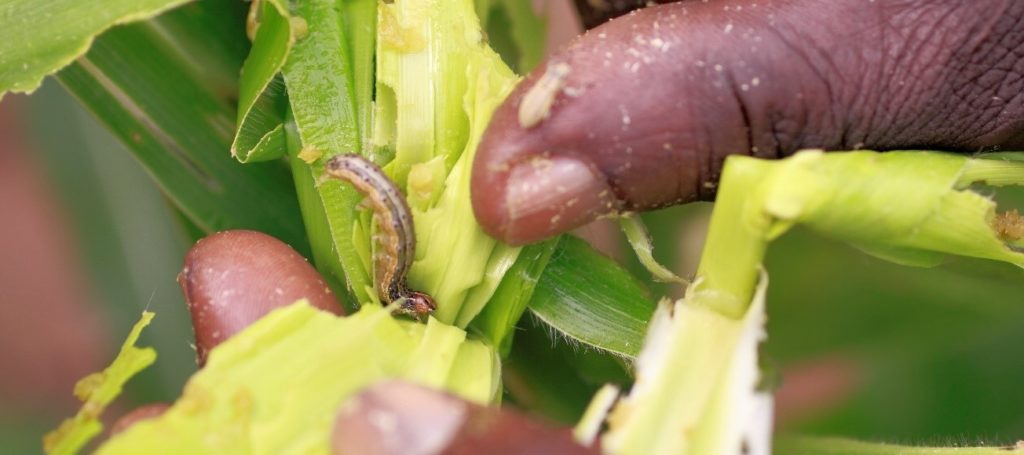 IPM in Africa should be based on the judicious use of pesticides and lower risk methods, such as biopesticides, biological control and agronomic practices. In terms of biological control, according to the paper, there are major constraints in Africa such as limited knowledge on natural enemies adapting to the pest as well as the capacity of exotic ones to adapt under climatic conditions in Africa.
That in mind, the study assessed, under laboratory conditions, the effect of C. luteum on the leaf consumption rate of its host. Fifty first instar fall armyworm larvae were exposed for C. luteum to lay its eggs, then the maize leaf consumption rate of parasitized larvae was compared to 50 unparasitized larvae from the same cohort.
The wasps completed a generation, from egg to adult emergence, in 16.7 days. During this time, the leaf consumption rate of parasitized fall armyworm larvae slowly declined (compared to unparasitized larvae) and the overall consumption reduction by parasitized fall armyworm larvae was 89%.
"The results of this study show that this wasp, C. luteum, is able to reduce the leaf consumption rate of fall armyworm on maize," said lead author on the study, Lakpo Koku Agboyi, CABI project scientist.
"Given that it is present in Western, Central, Eastern and Southern subregions of Africa, it could be considered as a potential parasitoid candidate for augmentative and conservation biocontrol strategies against fall armyworm," he added.
The next steps are to assess whether an efficient and cost-effective rearing technique can be developed, and to carry out an assessment of environmental factors and cultural practices affecting field populations and the fitness of the parasitoid.
The findings show that C. luteum could reduce damage caused by fall armyworm to maize farms, but prior to its use in biological control programmes, further studies are needed to assess potential parasitism rates in the field and develop a cost-effective mass production system.
Read the paper in full with open access:
Agboyi, L., Mensah, S., Clottey, V., Beseh, P., Glikpo, R., Rwomushana, I., Day, R. and Kenis, M. (2019). Evidence of Leaf Consumption Rate Decrease in Fall Armyworm, Spodoptera frugiperda, Larvae Parasitized by Coccygidium luteum. Insects, 10(11), p.410. [https://doi.org/10.3390/insects10110410]
For more information:
WaspWeb: Coccygidium luteum (Brullé)
CABI study identifies safer options for fall armyworm control in Africa
Fall Armyworm: Potential biopesticides for the management of fall armyworm (Spodoptera frugiperda) in Africa
Related News & Blogs
Flattened spotted lanternflies fill the streets of New York City as civilians join the race to stop the pests. Credit: Ali Cherkis for The New York Times Across New York City, large marks and smears of red-like paint are lining the streets. They're app…
26 September 2023