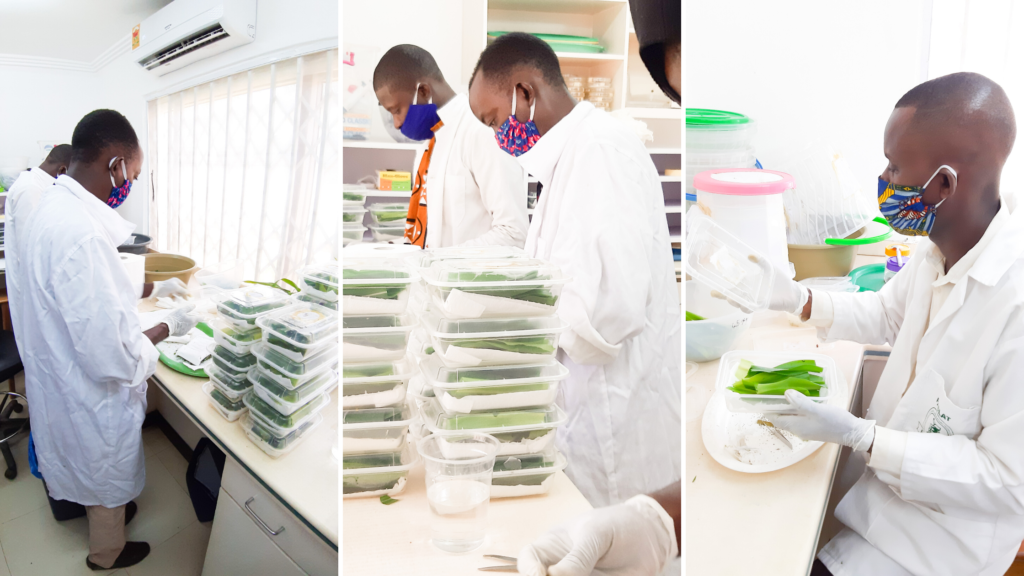 Through its global Action on Invasives (AoI) programme, CABI has refurbished a laboratory housed by the Plant Protection and Regulatory Services Directorate of Ghana's Ministry of Food and Agriculture (MoFA-PPRSD). The lab supports research efforts aimed at discovering and promoting locally practicable biological control solutions for managing invasive species in Ghana. The refurbishment consisted of renovation works on some of the physical structures of the laboratory as well as provision of relevant equipment including a sterilizer cabinet, storage, parasitism cages, humidifier and other consumables needed for the daily operations.
Since its detection in Ghana in late 2016, the Fall Armyworm (FAW) has had significant negative impact on maize production in Ghana. Over 600,000ha of farmland was affected in 2017 and 2018 leading to an average annual yield loss of 26.6 percent, valued at $177 million. Management options adopted by the government have largely relied on chemical pesticides which have raised considerable concern due to the potential threats these products pose to human health and environmental safety.
In response to this need, CABI has worked in close collaboration with PPRSD and other partners since 2018 to research and test the availability and viability of various biological control agents for managing devastating pests. The refurbishment of the MoFA-PPRSD lab therefore comes as a timely boost to support these efforts.
The collaborative effort has led to the identification of natural enemies of FAW already existing in the country which include ten species of parasitoids. Two of these – Telenomus remus Nixon and Coccygidium luteum (Brullé) – have been found to be effective for FAW population control due to their voracious parasitic action on FAW egg masses and larvae respectively.
Development of an augmentative approach using these parasitoidsis continuing in the lab. The main challenge is to find an economically viable method for mass rearing for use in smallholder systems.
The refurbished laboratory is expected to play a key role in ongoing efforts to develop and test cost effective mechanisms for mass rearing and release of these natural enemies as part of an integrated pest management (IPM) approach to sustainably manage the FAW across the country in the foreseeable future.
Read more:
Study finds endoparasitoid wasp can reduce fall armyworm leaf consumption rate by up to 89%
CABI study identifies safer options for fall armyworm control in Africa
All images provided by author for CABI
This work has been funded by the UK Department for International Development (DFID) and the Directorate-General for International Cooperation (DGIS) under the Action on Invasives programme.
Related News & Blogs
A new study led CABI scientists has examined the potential for collective action to fight the fall armyworm (FAW) pest with biological controls in rural Zambia. The research, which was conducted in partnership with colleagues from the Zambia Agricultur…
30 May 2023