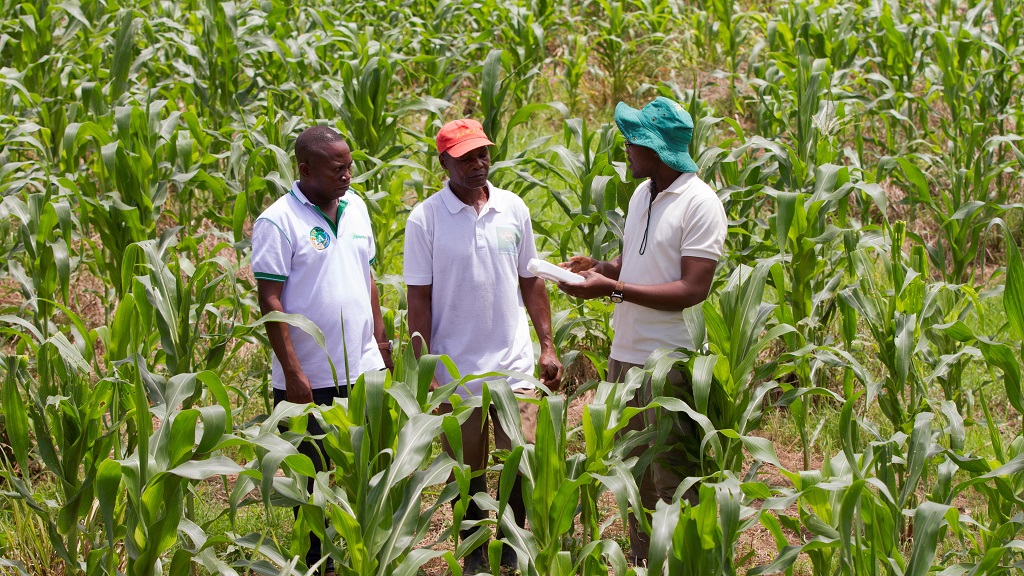 The invasion of a highly destructive plant pest can have a devastating effect on farmers' crop production, natural ecosystems and economic trade. In Africa, where a large proportion of people live in rural areas and rely on subsistence agriculture, invasive species can cause severe damage and seriously impact food and nutritional security.
Fall armyworm is a highly destructive pest that favours feeding on the leaves, stems, and cobs of maize but also attacks other crops including rice, sorghum, sugarcane, vegetable crops, and cotton. It is native to tropical and subtropical regions of the Americas but was first reported in West Africa in 2016 where it went on to conquer the continent, sweeping across Asia, and most recently was confirmed in Australia.
In 2019, a Framework for Strategic Communication during Pest Outbreaks was developed to support learning from the fall armyworm outbreak and offer guidance to countries on managing communications about future pest outbreaks.
Looking back on the outbreak of fall armyworm in Africa, it is now clear to see that countries were not prepared for an invasion on that scale. Aside from outbreaks such as the desert locust and the African armyworm which are limited to an extent by climatic conditions, countries haven't seen such a major pest outbreak in recent memory. The challenge for governments and organisations to respond to the emergency whilst researching and developing solutions has been significant.
An efficient coordination and communication system can support the management of pest outbreaks while at the same time mitigating their social and economic impacts. The purpose of the Framework is to enable governments to harness communication to respond to, manage and mitigate future pest outbreaks such as the fall armyworm, while reducing the costs of the pest management strategy being implemented by the government.
The Framework is the result of a consultative process which started at a high-level workshop convened by CABI in Zambia in 2018 titled 'Fighting the Fall Armyworm through strategic communication and cross-sectorial knowledge management.' The workshop brought together communication and knowledge management stakeholders with key agricultural government representatives from across Africa and representatives from leading organisations to critically review the role of communication to date, identify lessons learned, develop collaborative future plans, and identify research and knowledge gaps for future study.
Using the example of the fall armyworm invasion in sub-Saharan Africa, the Framework illustrates on-the-ground experiences of a pest invasion by affected countries and highlights some of the key learning points for future invasions in those and other countries. It includes short case studies on the Ghanaian and Zambian experiences.
Key informant interviews with African Union, FAO, CIMMYT, CABI, IITA, Farm Radio International and the Ministries of Agriculture in Uganda and Ghana contributed significantly to the document which was completed in the last quarter of 2019 and is now being shared with partners, and affected countries – particularly in Asia where the pest has most recently established.
The Framework is aimed at government policy and decision makers responsible for designing and implementing response mechanisms to pest outbreaks, as well as other key users, who can support its adoption and implementation. It supports guidance given by the International Plant Protection Convention (IPPC) on phytosanitary measures for pest surveillance, risk identification, reporting and management, and complements the recently published IPPC Guide to Pest Risk Communication.
"The Framework looks at main communication challenges faced by governments during the fall armyworm outbreak and offers users a set of key concepts, guiding principles and tools for planning strategic communication interventions in support of wider response efforts," said Tamsin Davis, Development Communications Manager at CABI.
"The fall armyworm outbreak gave us a valuable learning opportunity and the hope is that we take those lessons forward and this framework will help to ensure countries a better-prepared for any major pest outbreaks in the future," she continued.
The Framework has already been shared with partner organisations in Bangladesh, who began implementing communication activities for the first 2020 season which started in February.
View and download the framework
Find out more:
Fall armyworm in Africa: communicating out of a crisis
Reaching more farmers with fall armyworm knowledge and information through ICT-enabled extension
Related News & Blogs
CABI has worked on invasive species for over 100 years, developing practical ways of tackling the biggest threats. Our scientists are world leaders in biocontrol research – an approach that uses invasive species' natural enemies, like insects and fungi…
6 December 2023