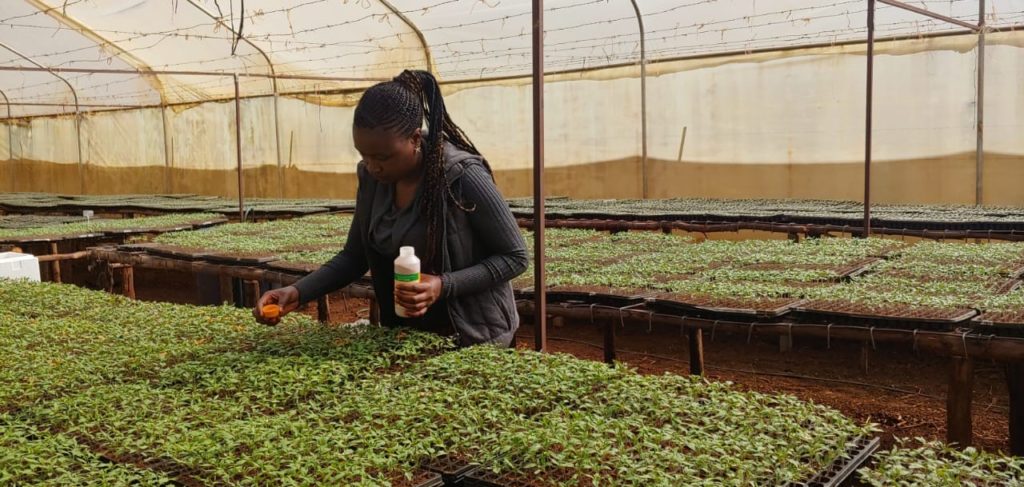 Tomato is an important crop in meeting domestic nutritional food requirements as well as in income generation and creation of employment for both rural and urban populations in Kenya. However, tomato production is facing serious challenges from the invasive pest, Tomato leafminer (Tuta absoluta.)
Since 2014, T.absoluta has become the most serious threat to the sustainable production of tomato in Kenya, affecting nearly 98% of farmers. Close to 96% farmers apply chemicals to manage T.absoluta but only 27% report any effectiveness from chemical use. Different biological insect pest and disease management strategies for the management of T.absoluta have been developed and validated through trials both in a greenhouse and farmers' fields but have not been demonstrated to farmers.
CABI and Koppert Kenya, with funding from the Netherlands Ministry of Agriculture, Nature and Food Quality, are exploring the use biological approaches by farmers for the sustainable management of tomato leafminer in Kajiado and Nairobi, Kenya particularly the use of the predatory mirid Macrolophus pygmaeus (MIRICAL) and the pheromone trap system (Tutasan + Pherodis).
CABI has just concluded a cost:benefits study for use of these two IPM methods. Preliminary results from the study conducted in December 2019, showed that farmers spray weekly and that spraying is a routine and not informed by the presence or absence of T. absoluta or other pests. Farmers have a weekly schedule that they follow to ensure they spray once a week and in instances where they perceive infestation is heavy, they spray twice a week. Spraying was reported to start right after germination by 97% farmers and stops at harvesting by 67% farmers. On average, farmers were spraying 9 times per acre per season but there are farmers spraying as high as 32 times per acre per season. Farmers used on average 24 knapsacks with some using over 100 knapsacks of pesticides per acre per season
The study further showed that 7% of farmers used biopesticides and botanical pesticides, pheromone lures and traps, field sanitation (e.g. uprooting); and while 39% were aware of natural enemies for the management of pests and of those, only around 10% were doing something to protect natural enemies.
However, 98% of farmers were willing to buy and try integrated pest management (IPM) products such as biopesticides, botanicals or pheromones and predatory bugs for the management of T.absoluta even for a premium price. About 95% of farmers reported that they would buy predatory bugs and conserve natural enemies on their farms if they were effective in managing T.absoluta.
During the survey, we received a number of anecdotal statements about the potential of IPM in the management of Tuta absoluta. "We want to use the IPM technology, it is coming at the right time and will go a long way in solving our major problem in tomato farming, the Tuta absoluta," said Paul Waweru, a tomato farmer in Kimana.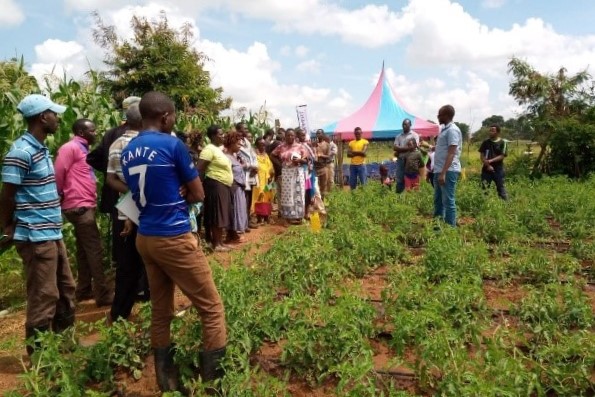 "We spend a lot on spray chemicals for a lack of alternatives. It is costly but we have no other option but spray to control it. I understand that with the IPM and bioproducts, you spend less and spray less and these are the types of technology we want to use in our farms since they are also friendly to human and environment," he continued.
Mr. Ongeri, farm manager, Shabangu Farm, Juja are already using some IPM methods for managing Tuta absoluta and looks forward to more effective metnods. "On our farm we already use IPM but seek more effective IPM technologies and bioproducts to manage Tuta absoluta rather than chemical use. The challenge is always availability," he adds.
The change of mindset and willingness by tomato farmers to embrace the use of IPM practices and bio-products, will be a milestone in the fight against invasive species like Tuta absoluta in Kenya and other countries the world over. This is one of the aims of this project, to provide useful lessons to build upon while developing similar interventions in future.
Find out more
Project page: Demonstrating biological approaches for sustainable management of tomato leafminer in Kenya
Invasive Species Compendium: Tomato leafminer portal
CABI Evidence Note: Tomato leafminer (Tuta absoluta): impacts and coping strategies for Africa
Plantwise Blog: How can tomato farming be improved in Kenya? Study finds producers face a 'myriad of constraints'
Watch: Tuta absoluta in Kenya
Related News & Blogs
Flattened spotted lanternflies fill the streets of New York City as civilians join the race to stop the pests. Credit: Ali Cherkis for The New York Times Across New York City, large marks and smears of red-like paint are lining the streets. They're app…
26 September 2023