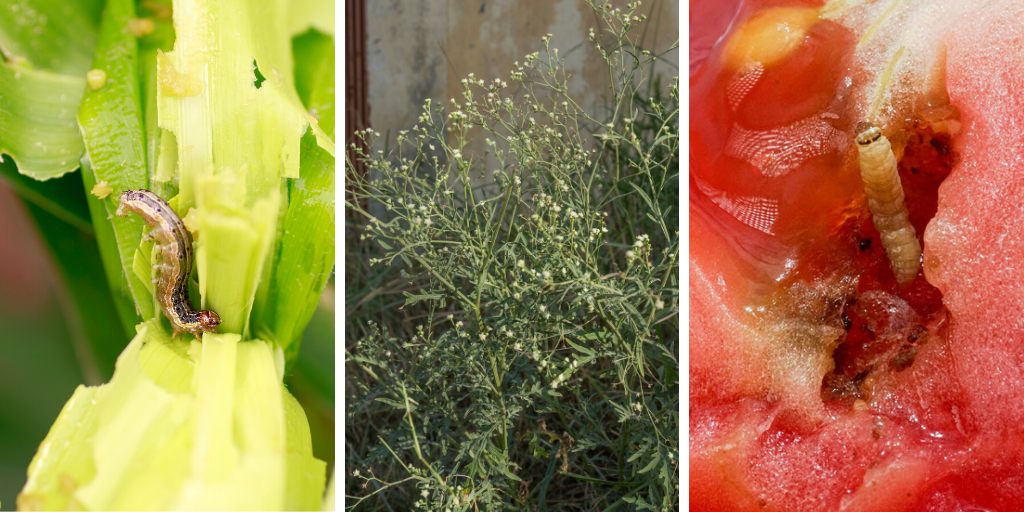 As the global COVID-19 pandemic continues, CABI is ensuring that efforts to combat invasive species are continuing. The CABI centre in Pakistan organized a one-day online workshop on the development of Pest Management Decision Guides (PMDGs) and Technical Briefs on the invasive pests: fall armyworm, parthenium weed, and Tuta absoluta.
The workshop was conducted online in early April via Zoom and was attended by officials from the Agriculture Department of Pakistan, representatives from the private pesticide industry, officials from CIMMYT, and academic researchers from several agricultural universities. The workshop was inaugurated by CABI's Regional Director, Dr. Babar E. Bajwa who welcomed all the participants to the workshop and gave an overview of CABI's work. He also spoke about the effects of COVID-19 on food security and CABI's contribution in the field of research.
Sessions on each of the invasive pests were delivered by CABI staff; fall armyworm and parthenium weed by Abdul Rehman (Deputy Director, Programmes) and T.absoluta by Dr. Kazam Ali (Biocontrol Research Officer.) Each detailed presentation outlined the identification and management of the pest and then participants also looked over drafts of PMDGs for each in order to decide whether updates were needed. In each case, those involved – researchers and agricultural officials – agreed that updates were indeed required. These will be undertaken by CABI.
Mostly importantly though, in each session, CABI were keen to impress the fact that early response measurements were vital to tackle invasive threats. Invasive species have a devastating impact on native biota and are one of the main causes of global biodiversity loss. Invasive plants, animals, insects and microorganisms that establish in environments outside their natural habitat can reproduce rapidly, outcompeting native species for food, water, and space. Species can be introduced deliberately (e.g. fish farming, pet trade, horticulture) or unintentionally (e.g. travel and trade.)
Parthenium weed is already established in Pakistan and CABI and partners are working hard to manage it through public awareness and biological control research. Fall armyworm and T.absoluta pose a significant threat to Pakistan's agriculture and taking early response measurements against these pests is vital to safeguarding farmers and their crops.
All the participants took a keen interest, asking plenty of questions and taking part in lively discussions. The workshop offered a valuable opportunity for key Pakistani researchers and professionals to gain awareness on the efforts CABI is making on a regional scale for the management of invasive species. By the end of the workshop, there was a marked difference in opinion of most participants that it is time to manage invasive species at the earliest opportunity.
Developing PMDGs at this time is important to ensure that smallholder farmers are still able to get the most up-to-date extension support during the global pandemic. By supporting and facilitating online workshops like this, CABI hopes to ensure that key stakeholders are able to continue this vital work.
---
You can find more information on these invasive pests through dedicated species portals on CABI's Invasive Species Compendium:
Related News & Blogs
Flattened spotted lanternflies fill the streets of New York City as civilians join the race to stop the pests. Credit: Ali Cherkis for The New York Times Across New York City, large marks and smears of red-like paint are lining the streets. They're app…
26 September 2023