The parasitoid wasp Telenomus remus has been mass released as a biological control agent against fall armyworm (Spodoptera frugiperda) in the Americas (where the pest is native) for a number of years. However, fall armyworm is now highly invasive, found across Africa, Asia, and Australia.
Can the lessons learnt from its wide use in the Americas be applied globally?
A recently published paper, led by CABI's Dr Yelitza Colmenarez, reviews the literature on T.remus focusing on practical experiences gained in Latin America with the aim of offering guidance for "improved and potentially global application" of the wasp in integrated pest management programs against fall armyworm.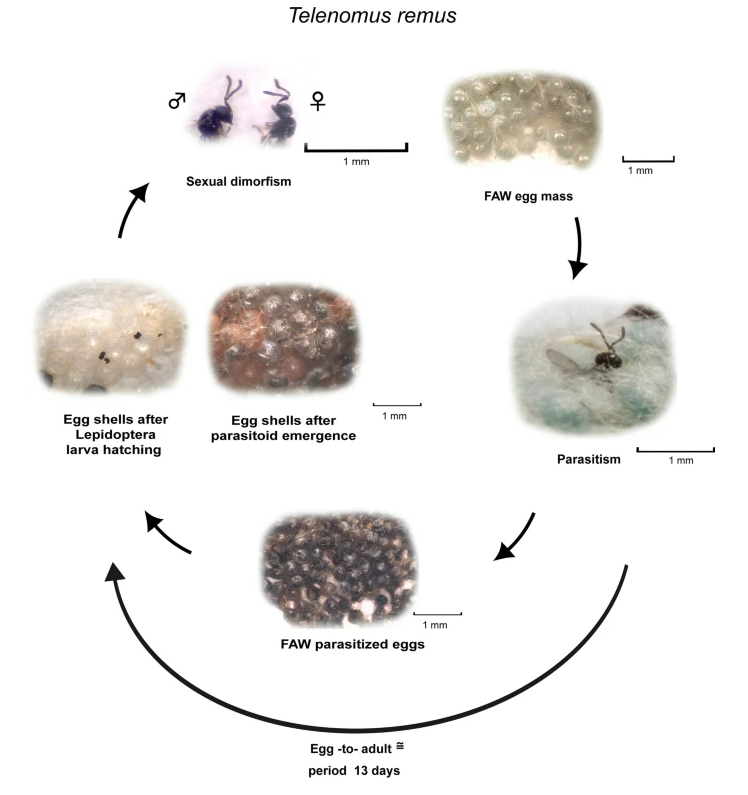 Much of the literature collected by the authors on the history of T.remus in biological control programs was not in peer-reviewed publications and/or in English, making this work very important in the dissemination of information to areas now suffering from fall armyworm damage.
T. remus is an egg parasitoid native to peninsular Malaysia and Papua New Guinea and has been used against various pest species of the genus Spodoptera spp. This tiny wasp not only has high fecundity but it also parasitizes eggs within the inner layers of the egg mass. In addition, it has high dispersal and host search capacities. All of this, plus long-term evidence from Venezuela, make T. remus a perfect candidate in augmentative biological control programs against fall armyworm.
However, there are no ready-to-use packages available to advise farmers on how to use T. remus against fall armyworm and related pests. The authors urge that further studies are needed to "precisely determine optimal release rates, release times and frequencies, number of release points, the best stage and device for releases and other aspects such as how large the fields should be to achieve efficient pest control."
Indeed, the review suggests that releases for individual smallholder farmers owning little land may be inefficient, but that regional approaches could work very well.
It's also important, as with all biological control agents, to assess any possible risks for non-target species. In most countries where T. remus could be considered for future release (e.g. China, India, Australia, and several African countries), the parasitoid has already been found to be present. Nevertheless, should fall armyworm invade new areas where the wasp isn't present, careful evaluation and risk assessment procedures should be followed.
With fall armyworm continuing to cause significant damage to crops, in particular maize, across the globe, establishing augmentative biological control programs using T. remus will help to make crop production more sustainable.
Deploying T. remus as part of an integrated pest management program makes best use of this fall armyworm natural enemy, avoiding broad-spectrum insecticides and their harmful side effects to the environment and human health.
---
Read the paper in full with open access:
Colmenarez, Y.C., Babendreier, D., Ferrer Wurst, F.R. et al. The use of Telenomus remus (Nixon, 1937) (Hymenoptera: Scelionidae) in the management of Spodoptera spp.: potential, challenges and major benefits. CABI Agric Biosci 3, 5 (2022).
Image 'Telenomus remus life cycle on fall armyworm eggs' taken from above article published CC-BY, © the authors
---
Find out more:
Scientists confirm first report of egg parasitoid in Africa to fight devastating fall armyworm
Study reveals 'net' is closing in on more viable biological control options for fall armyworm menace
Related News & Blogs
A new study led CABI scientists has examined the potential for collective action to fight the fall armyworm (FAW) pest with biological controls in rural Zambia. The research, which was conducted in partnership with colleagues from the Zambia Agricultur…
30 May 2023