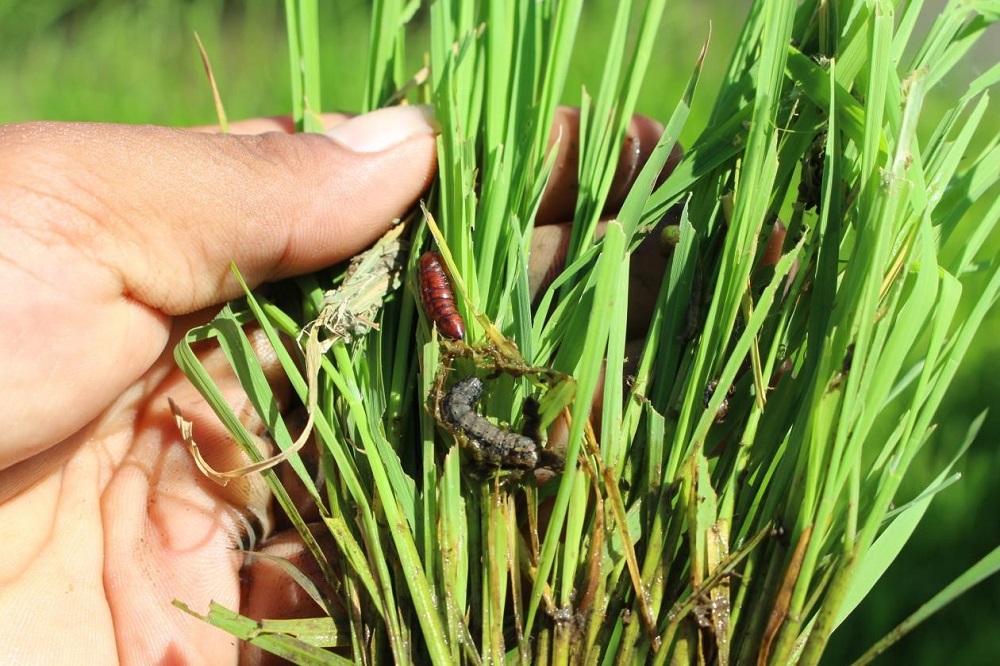 A Pest Alert has been issued for the fall armyworm (Spodoptera frugiperda) pest in the Philippines which can devastate crops – such as rice and maize – if left untreated.
The fall armyworm is a lepidopteran pest native to the Americas that feeds in large numbers on leaves and stems of more than 80 plant species, causing major damage to maize, sorghum, sugarcane but also rice, cotton and other vegetable crops.
The Pest Alert, which is now available on the Rice Handout Series on the PINOYRICE Knowledge Bank, is being disseminated throughout the Philippines so smallholder rice farmers can also identify, monitor and implement management practices on time and reduce losses to the rice crop.
It has been prepared by the Department of Agriculture – Philippine Rice Research Institute (DA-PhilRice), the Department of Agriculture – Bureau of Agricultural Research (DA-BAR), Philippines in collaboration with CABI's East & South East Asia Regional Centre, Malaysia.
CABI is a technical advisor to the DA-PhilRice in conducting a research on fall armyworm invasion in rice and rice-based farming systems and develop adequate early preparedness and mitigation measures to counter its incursions in rice – a staple crop in the Philippines and Asia.
FAW has already been reported in rice as one of the key hosts in other countries like the USA where it is a regular and serious pest mostly in the Southeastern states. However, the fall armyworm was first reported investing rice seedlings in Cagayan in May 2021, where it later spread to other provinces, infesting a total of 13 municipalities in the region. Since then, fall armyworm infestation has been recurring in these areas.
In June 2022, it also started damaging direct-seeded rice at seedling stage in San Jose City, Nueva Ecija and is now found in seedbeds in Maligaya, Science City of Muñoz, Nueva Ecija. Those FAW invasion were published in the Insect Environment journal.
CABI has already arranged few training sessions and webinar on FAW for the DA-PhilRice, DA-BAR and other affiliated institutes of Department of Agriculture.
The life cycle of the fall armyworm and its ability to spread and reproduce quickly, makes it an incredibly successful invasive species.
Since its first appearance in West Africa in 2016, CABI has been taking action against fall armyworm through two key programmes: Action on Invasives and Plantwise and projects specifically on the pest.
CABI's work includes international and national response planning, biological control research and development, mass extension and diagnostic services.
In 2022, CABI, for example, was commissioned by AgBiTech – a global leader in biological solutions to help create healthy food systems – to test the success of the company's Lepigen® against diamondback moth (Plutella xylostella) on cabbage and Fawligen® to fight fall armyworm on maize and beet armyworm (Spodoptera exigua) on salad vegetables.
The Pest Alert for the fall armyworm in the Philippines can be read here.
Additional information
Main image: the fall armyworm (Credit: CABI).
Research Article
Valdez EM, Joshi RC, Rillon GS, Donayre DKM, Martin EC, dela Cruz KB, Sandoval FR, Quilang EJP, Aquino MF, Mariano J, Pascual MK, Faheem M, Annamalai S. Rice: A new host of fall armyworm Spodoptera frugiperda (J.E. Smith) and its strains in the Philippines. Insect Environment. 2023; 26(2): 129-36.
Related News & Blogs
The global battle against invasive pests has found a new champion with pioneering efforts to combat the fall armyworm (Spodoptera frugiperda) in India. This is thanks to a sensor-based pheromone trap – that can be operated remotely anywhere in the worl…
18 August 2023