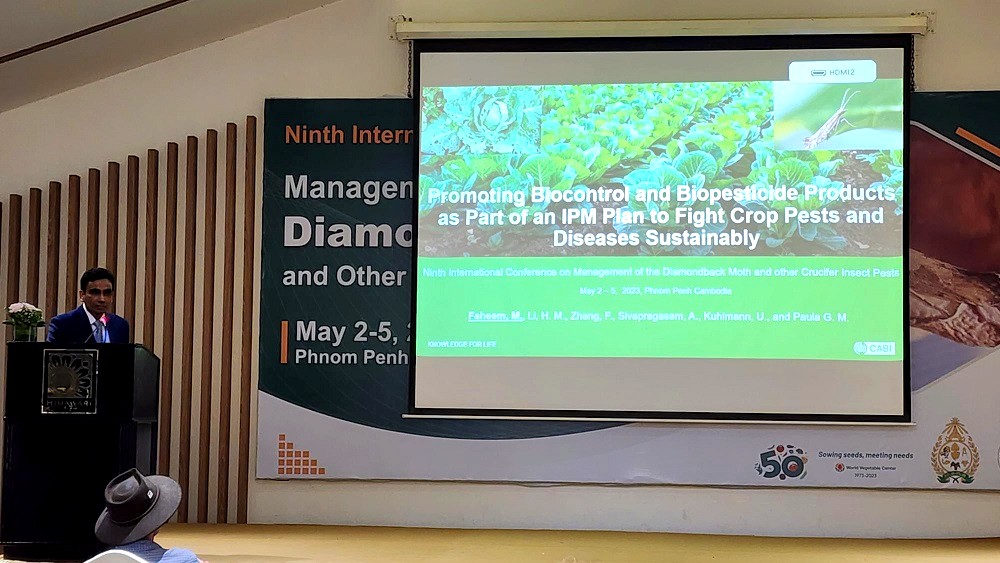 Muhammad Faheem, CABI's Integrated Crop Management Advisor based at its centre in Malaysia, has outlined a more sustainable bio-based control approach to fight the diamondback moth pest (Plutella xylostella) in vegetables.
Dr Faheem, at the Ninth International Conference on Management of the Diamondback Moth and other Crucifer Insect Pests, spoke about how CABI is advocating an Integrated Pest Management (IPM) approach for the diamondback moth which globally costs up to US $5 billion a year in damaged crops.
This includes promoting biocontrol and biopesticide products to manage the pest more sustainably in a bid to reduce losses of crops, such as cabbage, cauliflower, broccoli, mustard, radish, and several leafy greens, of up to 90%.
The conference – organised by the World Vegetable Center in association with Royal University of Agriculture (RUA) in Cambodia and the Taiwan Agricultural Chemicals and Toxic Substances Research Institute (TACTRI) – saw about 80 participants from 18 countries who participated and/or presented 45 research papers on management of  the diamondback moth and other crucifer insect pests.
Mr Faheem delivered a presentation, entitled 'Promoting Biocontrol and Biopesticide Products as Part of an IPM Plan to Fight Crop Pests and Diseases Sustainably,' where he argued that CABI programmes and products could help smallholder farmers mitigate their plant health issues.
Specifically, he outlined how the CABI-led Plantwise programme bridges the disconnect between science and service to farmers – giving them timely access to the information they need through a network of plant clinics and plant doctors.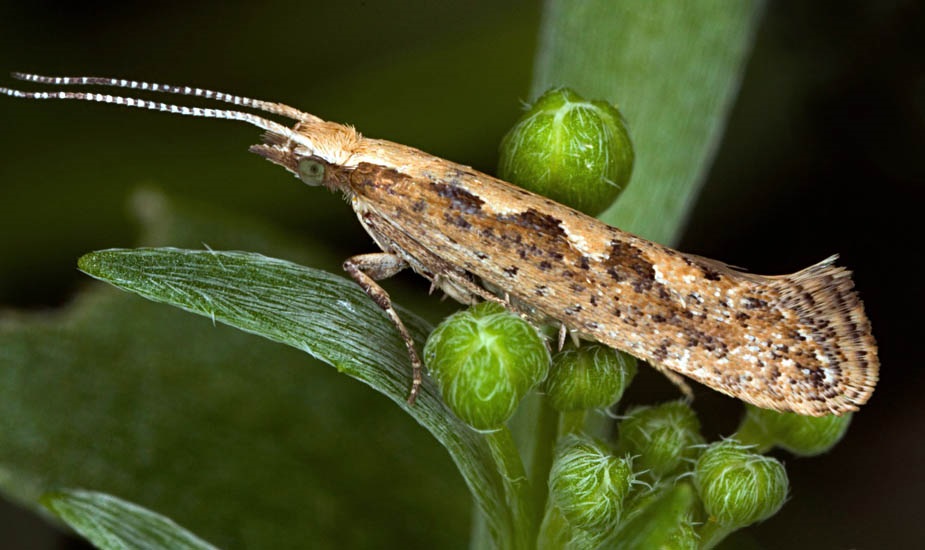 Assisted by resources such as the Plantwise Knowledge Bank, the plant doctors help smallholder farmers diagnose their plant health issues and then suggested ways in which they can be remedied using, where possible, biological control agents and biopesticdes.
Dr Faheem said, "Plant clinics data indicated that the diamondback moth was the most concerning pest in vegetables following black rot, aphids and armyworms.
"Plant doctors are trained to give IPM-based recommendations with combinations of non-chemical, biological and chemical control options."
He added that plant doctors and many extension workers have not previously had access to reliable information on the availability and correct use of effective, lower toxicity registered biocontrol and biopesticide products in their countries.
However, the CABI BioProtection Portal was launched in 2020 to bridge that gap by providing an open access web-based tool with details on all registered biocontrol and biopesticide products in nearly 40 countries around the world.
The portal contains details on more than 4000 registered products and provides bioprotection solutions and guidance on best practices in local languages and English.
Dr Faheem also pointed out how CABI has been conducting efficacy field trials for safer-to-use and more environmentally-friendly biological control products to tackle the devastating crop pests diamondback moth and fall armyworm in Malaysia.
CABI has been commissioned by AgBiTech – a global leader in biological solutions to help create healthy food systems – to test the success of the company's biopesticide product, Lepigen® against diamondback moth on cabbage and Fawligen® to fight fall armyworm (Spodoptera frugiperda) on maize.
The work by CABI was led by Dr Faheem with support from Dr Hongmei Li, Dr Sivapragasam Annamalai and Dr Feng Zhang, Regional Director, East & South-East Asia.

Additional information
Main image: Muhammad Faheem speaks at the 9th international Conference on Diamondback Moth and Other Crucifer Insect Pests (Credit: CABI).
Group photo of participants in the conference (Credit: WVC)
Relevant stories
'CABI to assess biological controls in fight against diamondback moth, fall and beet armyworms in Malaysia.'
'Study shows life table of crop-devastating diamondback moth has changed little in 65 years.'
Related News & Blogs
CABI scientists have shared their expertise in safer-to-use and more sustainable biological control agents for the global management of crop pests and diseases which can threaten the livelihoods of smallholder farmers and food security. Dr Yelitza Colm…
21 November 2022